---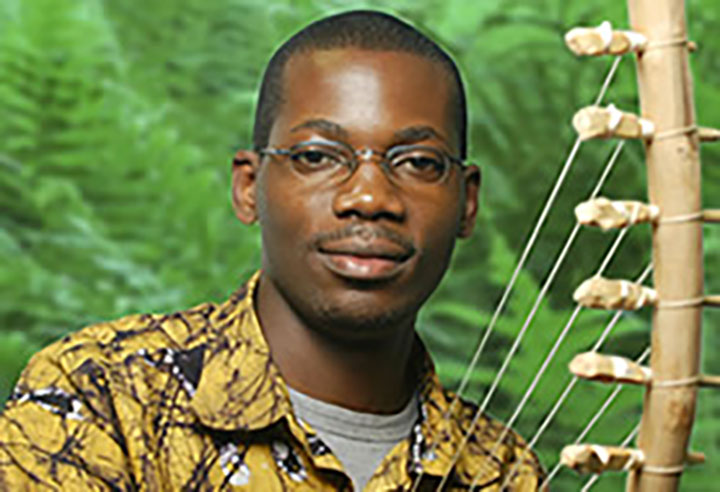 "As a child in his native Uganda, he awoke to the sounds of African drums and horns. Today, he stands as a nexus between the music of East and West, traditional and modern."
---
As a child in his native Uganda, he awoke to the sounds of African drums and horns. Today, he stands as a nexus between the music of East and West, traditional and modern.
Damascus Kafumbe, graduate student in the ethnomusicology program, is a rising star as a world music performer. He's now working on his first CD, "Obudde Bukedde" ("It's Come to Morning"), to be released by Sony–Austria. Instruments he's mastered span time and place, from piano, trombone and French horn to the adungu (Achooli bow-harp), akogo (lamellophone), and endingidi (tube-fiddle).
He has already sounded his ability, through scholarship, to preserve and perpetuate East African musical traditions. He recently returned from Uganda where he did field research for his master's thesis. This past year he was recognized by the Division of Student Affairs and the Office of Multicultural Affairs for scholastic achievement.
Damascus has maintained a balance between his academics—as student and teaching assistant—and performance, serving as director of the FSU African Music and Dance Ensemble, and performing as the featured musician during the College of Music's Ninth Annual Rainbow Concert and for the Tallahassee and African Sister Cities Coalition Fourth Annual African Awareness Month Celebration & Lecture Series.
Damascus Kafumbe is playing hard to preserve and bridge cultures.