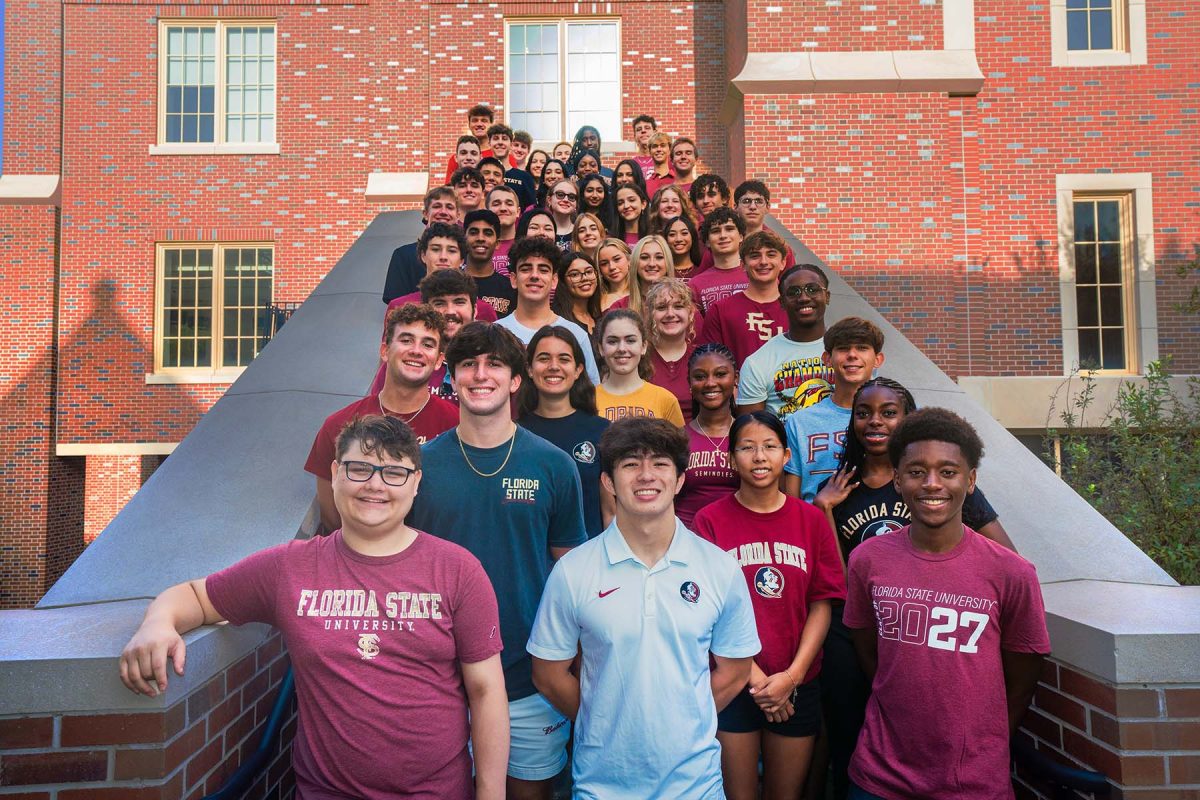 Florida State University will welcome another impressive freshman class to campus this fall as the new academic year starts Monday, Aug. 28.
"We are so excited to welcome this freshman class to Florida State University," said President Richard McCullough. "FSU is a wonderful and beautiful campus — very friendly and welcoming — and we're so proud of our freshman class that's coming here this year. They are among the best students that have ever entered Florida State University, and we are here to make sure that each and every one of them experiences student success at the highest level."
The new class joins the Florida State family as the university continues to set ambitious goals around research and academic excellence, student success, entrepreneurship and innovation.
FSU received close to 75,000 applications for a first-year class of about 6,000 students. This year's admitted students continue to be among the university's most academically accomplished. They boast an average GPA of 4.4, 1350 total SAT score and an ACT composite score of 30.
The admitted class includes first-year students from all 50 states, all 67 Florida counties and 61 countries. Outside of Florida, the top five states for newly admitted students are Georgia, New York, New Jersey, Texas and Illinois.
Twenty-two percent of admitted students are among the first in their families to attend college or university. The five most popular majors for the incoming freshmen are business, engineering, biological science, exploratory and psychology.
FSU is committed to investing in growing its programs for high-achieving students, and that investment is paying off. The Presidential Scholars Program — the premier undergraduate merit scholarship at FSU — will welcome its largest cohort of first-year students in history with 48 joining the program this fall. In addition, the university's competitive Honors Program has grown exponentially from about 400 incoming freshmen to a class of about 600.
The university's graduate programs, which are among the best in the nation, will enroll approximately 3,100 new graduate students this fall, representing a 12 percent increase. Graduate applications were up 33 percent for the new academic year with the university receiving a record 23,035 applications. FSU's graduate enrollment is now close to 10,000 students across all programs.
This semester, FSU also welcomes one of its biggest cohorts of international students with approximately 600 undergraduate and graduate students arriving in Tallahassee. The group hails from 74 nations with India, China and Panama as the three most-represented countries.
Other notable items for the upcoming academic year include:
More than 220 new faculty in disciplines across the university are joining FSU this fall.
This year, 6,700 students will live in FSU's 18 on-campus residence halls. University Housing offers a variety of living styles for undergraduate and graduate students.
Welcome FSU is offering an array of events and activities to kick off the fall semester through Sunday, Sept. 3. These events are a great way for students to learn about campus resources, ways to get involved and how to make FSU and Tallahassee home.
CANCELED – New Student Convocation has been canceled due to weather. Continue to check alerts.fsu.edu for updates regarding campus closures.
The FSU football team opens its season in Orlando against LSU at 7:30 p.m. Sunday, Sept. 3. Students are invited to a watch party in the lower level of the Student Union, featuring multiple viewing screens, giveaways and food.