Florida State University's newest class of graduates was reminded to live a life of passion and service to others during two summer commencement ceremonies Friday, Aug. 4, at the Donald L. Tucker Civic Center.
Madeline Pumariega, the first female president of Miami Dade College (MDC) and former executive vice president and provost of Tallahassee Community College, made her comments as the keynote speaker at both events.
"Have purpose and passion in your life," Pumariega told the graduates. "It is what will fuel you to excellence. It is what will inspire and motivate you every day."
She added that time spent giving to others will be their most rewarding time of all. 
"Invest your time, talent and treasure by making the world a better place," Pumariega said. "You'll never get one second back in your life. Choose where you invest your time wisely. Give back to your community. Mentor someone. Read to a third grader."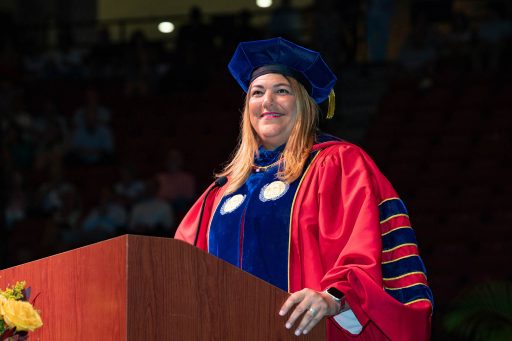 FSU President Richard McCullough presided over each ceremony, which included remarks from Student Body President Jack Hitchcock. McCullough also presided over a doctoral hooding ceremony Friday morning.  
---
Gallery: Summer Doctoral Hooding Ceremony
---
In total, the university awarded more than 3,000 degrees. They included 1,743 undergraduate degrees, 1,034 master and specialist degrees, 163 doctoral degrees, 76 Juris masters and 2 LLM degrees. About 1,800 students participated in the three ceremonies.  
Summer commencement also marked a historic milestone for the university as its total alumni base surpassed 400,000 living graduates worldwide. 
"No matter where you go, chances are you won't be far from a fellow FSU graduate," McCullough told the most recent alumni.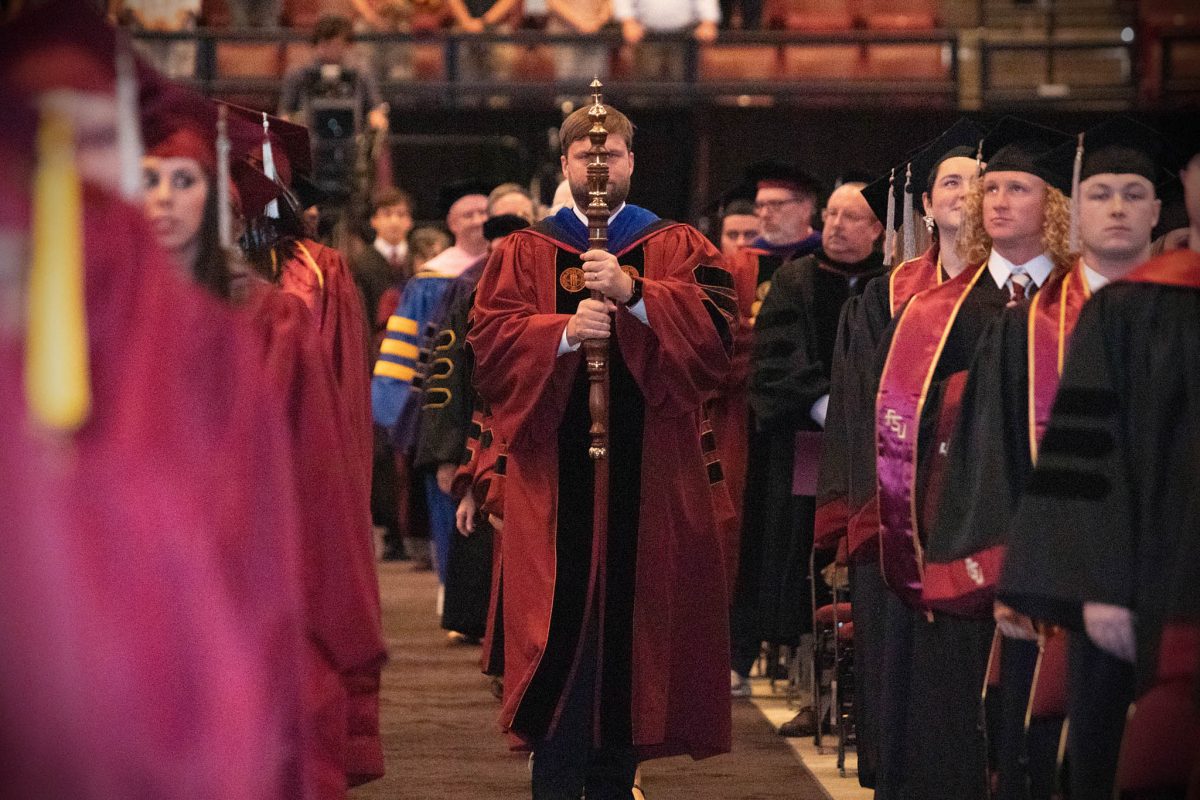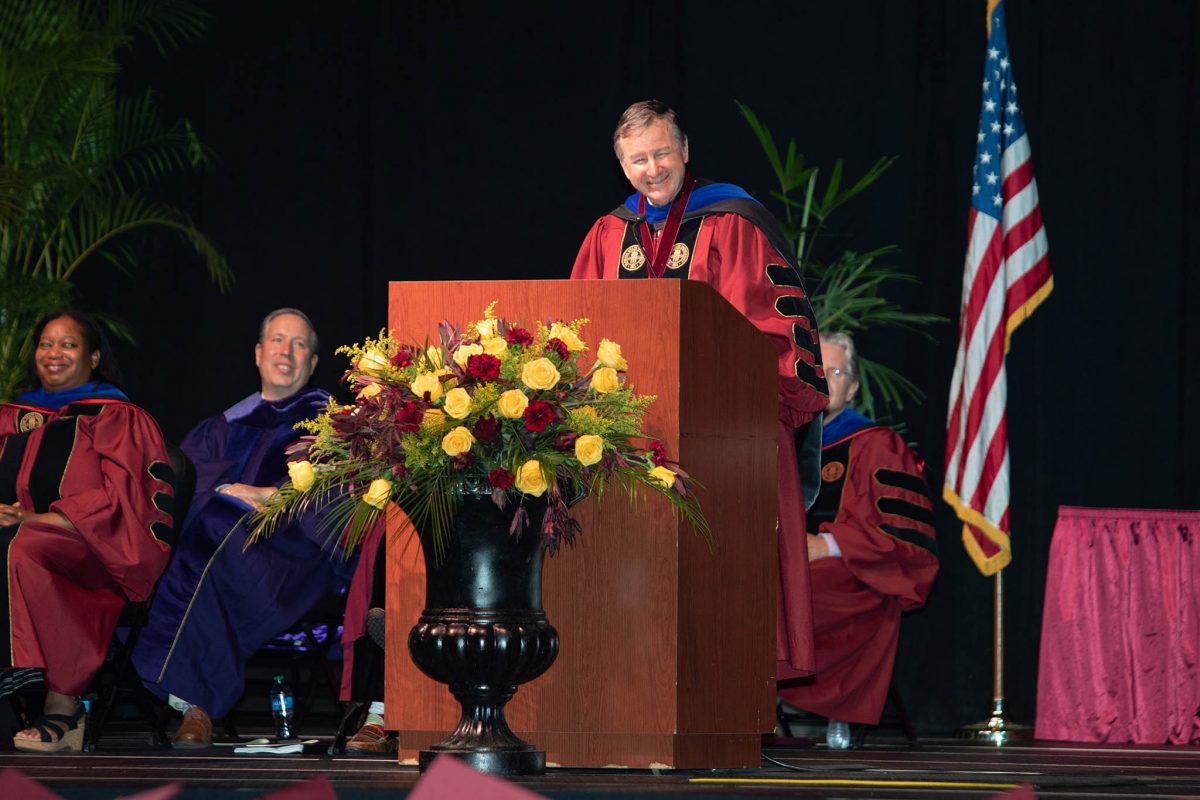 In a speech that drew multiple rounds of applause, Pumariega acknowledged first-generation students, legacy students, those who served in the military and those who juggled work and classes, and she encouraged all graduates to embrace a life of gratitude and empathy. 
"Every time you have a choice, choose empathy," she said. "Smile at that person. For all you know, that might be the only smile they receive all day. "The world needs all of us to shine our brightest light on care and empathy for one another." 
Pumariega's love for academics and service began as a student at MDC, where she spent 21 years rising through the ranks from academic adviser to the president of the college's Wolfson Campus before stepping away to take on new challenges.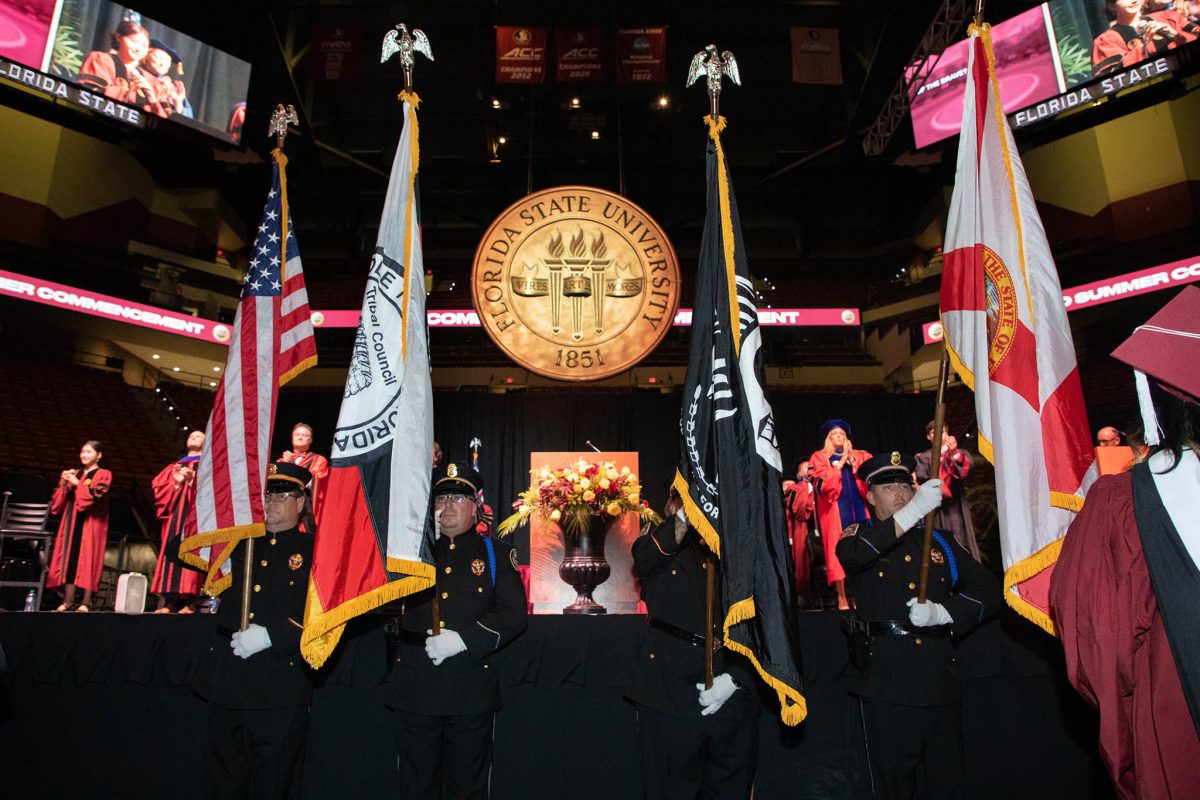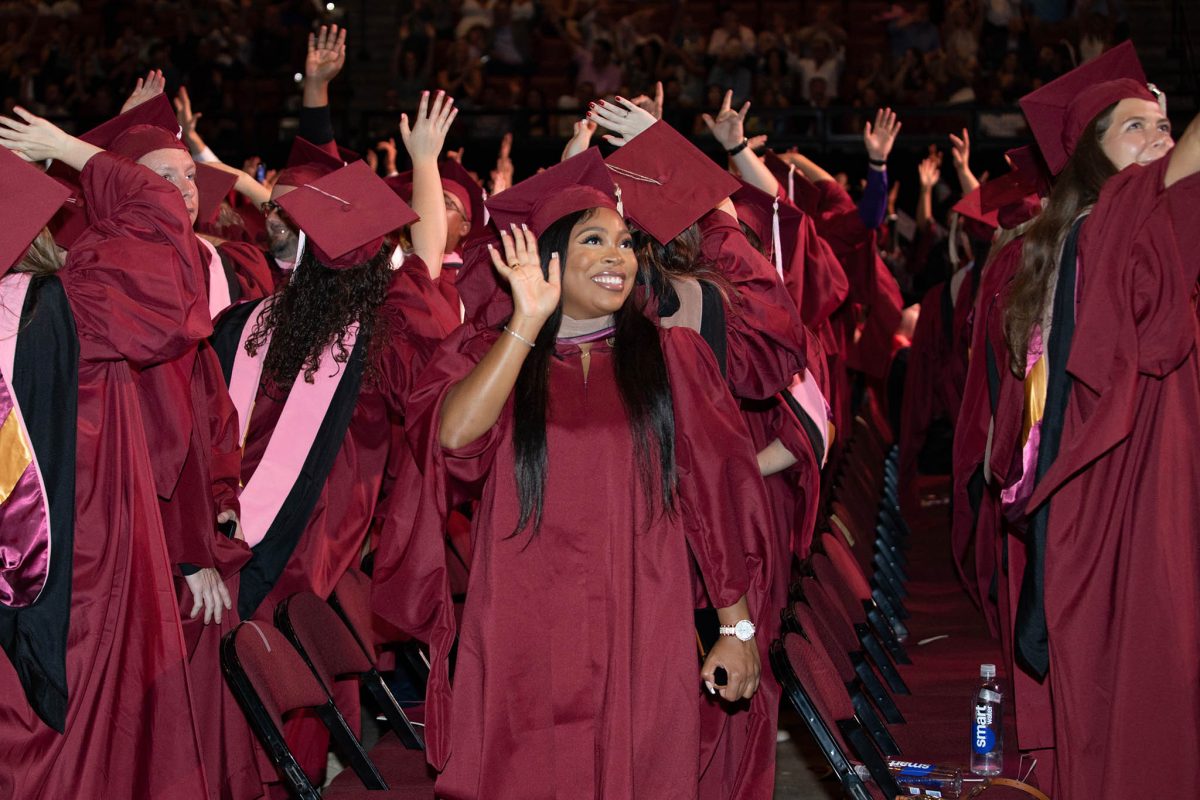 After serving two years as president and CEO of Take Stock in Children, a nonprofit based in Fort Lauderdale, Fla., Pumariega was appointed the first female and Hispanic chancellor of the Florida College System (FCS), which includes 28 public community colleges and state colleges. During her tenure, several of the FCS's colleges rose in the rankings of U.S. News & World Report and other national measures.  
Before awarding degrees Friday evening, McCullough recognized a student who should have crossed the stage with his fellow graduates. Braden Lee Small passed away in June after battling hemophagocytic lymphohistiocytosis. His family attended the ceremony and accepted their son's posthumous bachelor's degree in information technology.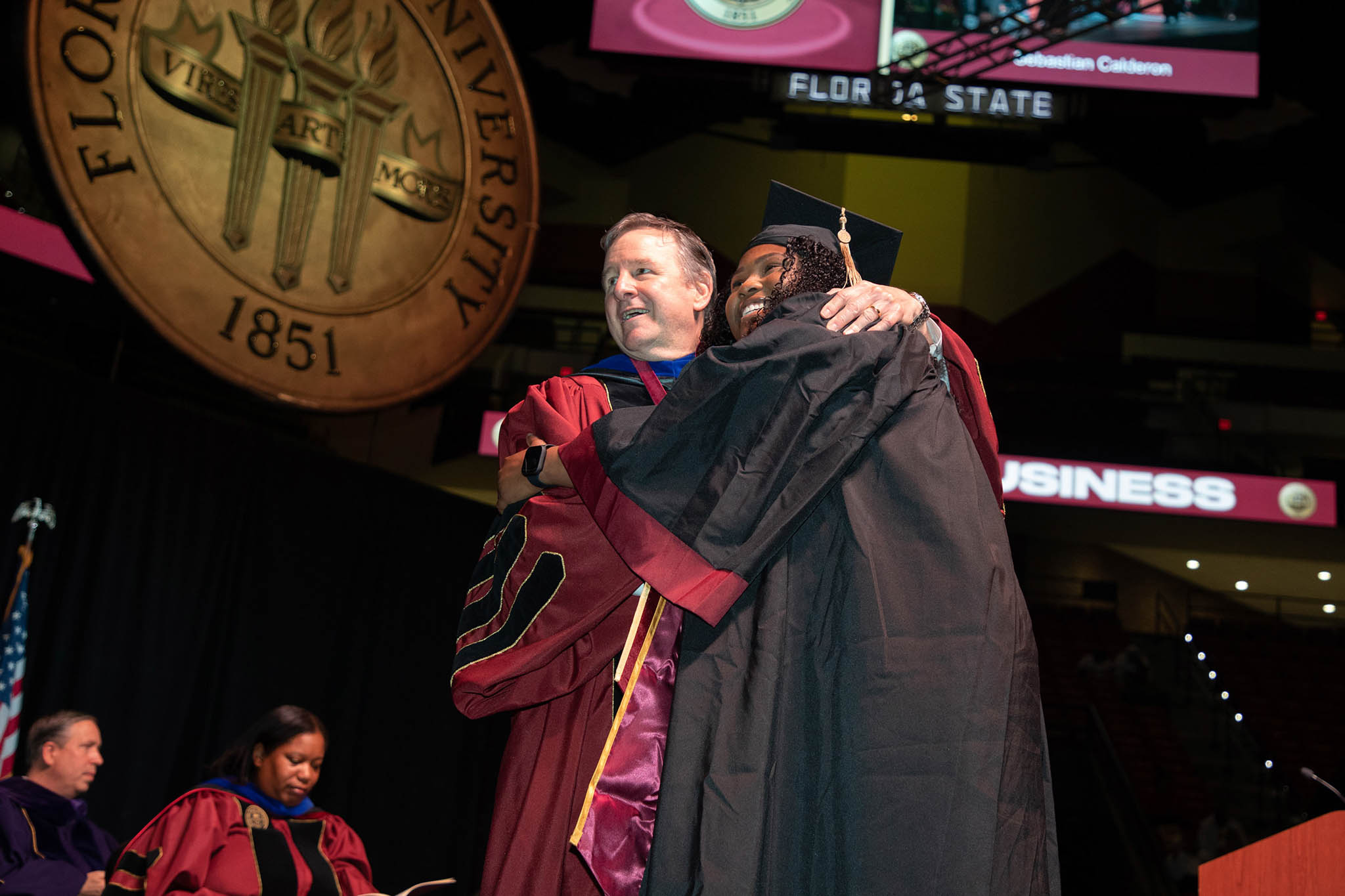 Graduate Spotlights
Having spent most of her life in Orlando, Fla., Alexis Young found her second home at FSU after being drawn in by its campus spirit and the College of Nursing.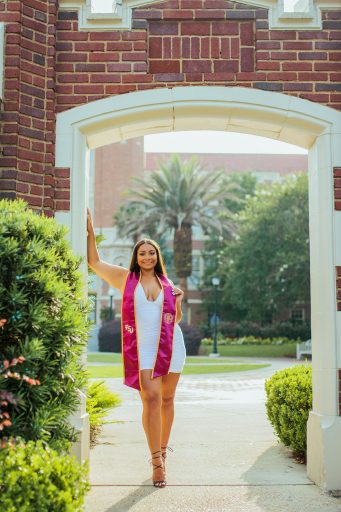 Young wasted no time immersing herself in the nursing community at FSU, earning her bachelor's degree in nursing in three years. 
For Young, the journey to graduation was not without its challenges, given the backdrop of the COVID-19 pandemic. Having experienced the disappointment of missing out on traditional high school festivities during the pandemic, she cherished the opportunity to walk in FSU's summer commencement ceremony.  
"I am so excited to be able to celebrate with my family and soak everything in this time around," she said. "Participating in the commencement ceremony shows the hard work I put into nursing school has finally paid off." 
While at FSU, Young assumed multiple leadership roles. As president of both the Seminole Nursing and Minority Student Nurses Association, she sought to create a supportive environment for fellow nursing students.  
She recently received the DAISY Award for Extraordinary Nursing Students, which recognizes a student who best demonstrates care and compassion for patients and their families. 
Beyond her academic achievements, Young says she will miss game days at FSU. But it's the connections with faculty members and peers she values the most. 
"I wouldn't be anywhere without them," she said. "They helped me become the person I am today." 
Young hopes to start her nursing career in the emergency room. Her long-term goal is to become a labor and delivery nurse, adding, "I hope to inspire and encourage those I come across in my care." 
Andje Louis, a native of Port-au-Prince, Haiti, who moved to Miami in middle school, graduated with a master's degree in information technology after receiving dual bachelor's degrees in political science and international affairs from FSU a year ago.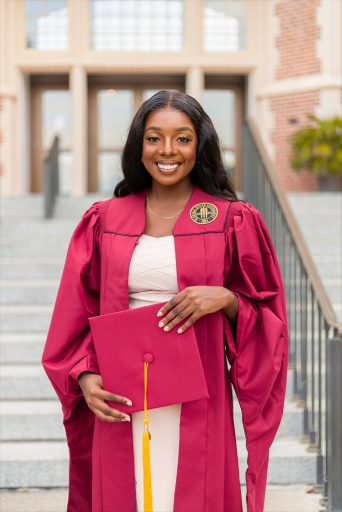 Louis weighed attending other universities in South Florida, but FSU offered something different. 
"One of the reasons why I chose FSU was the novelty of it," Louis said. "I wanted to go somewhere I had never been." 
She spent two years working at FSU Libraries as a data analyst. This experience would serve as a stepping stone to the career she decided to pursue. 
"I like the pace and library culture, so I do see myself in it for a while," Louis said. "Most people, when they hear libraries, they think of just books and quiet. However, there's more to it, especially with data." 
As she graduates, Louis feels a mixture of emotions: accomplishment, gratitude and nostalgia. 
"Walking in the ceremony means I have really completed the whole thing," she said. "I am done. No more Canvas for me! But I will miss the people I have met and worked with. I will miss getting up in the morning to come to campus." 
Jake Walsh earned dual bachelor's degrees in dietetics and food and nutrition science from the College of Health and Human Sciences. Originally from Palm Harbor, Fla., Walsh was active in Army ROTC during his four years at FSU and worked alongside sports dietitians with FSU Athletics.  
At the Institute of Sports Sciences and Medicine lab, he gained experience in exercise and sports nutrition research by working on multiple body composition analysis studies.
Walsh said he dreamed of attending FSU since he was a child. 
"After receiving a four-year Army ROTC scholarship and falling in love with the campus on a tour, I knew FSU was where I belonged," he said.  
Walsh says he's proud of earning two degrees and graduating in the top 500 ROTC cadets in the country.  
"I think I am most proud of the friendships I have made here that will stick with me after college," he said. 
He will attend the U.S. Army-Baylor master's program in nutrition, where he will train to become an Army dietitian.  
Walsh's goal is to be stationed with a special forces unit to provide nutrition care to the Army's most highly trained soldiers. 
"I hope to continue to give nutrition a more prominent role in training to make the Army healthier and more efficient," he said.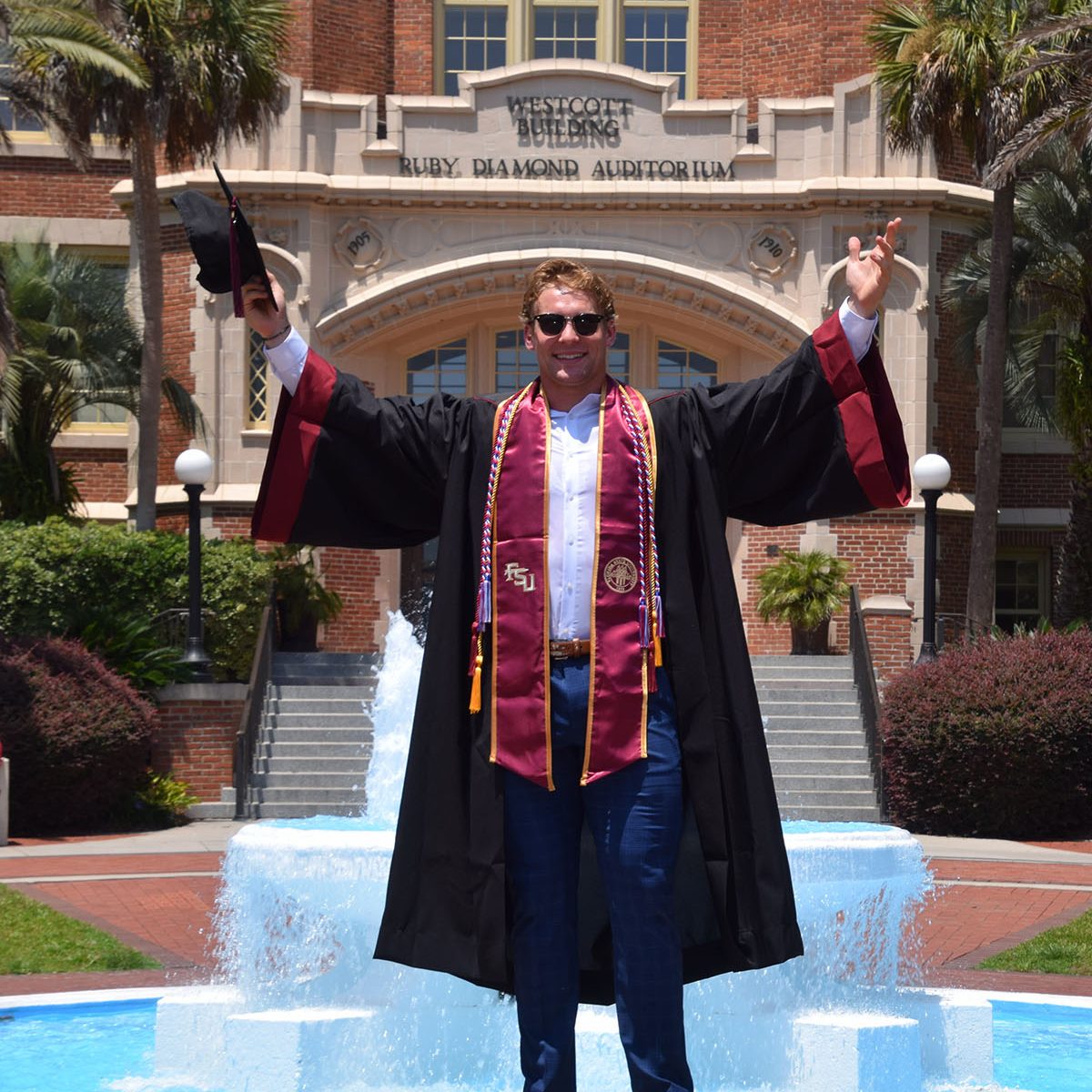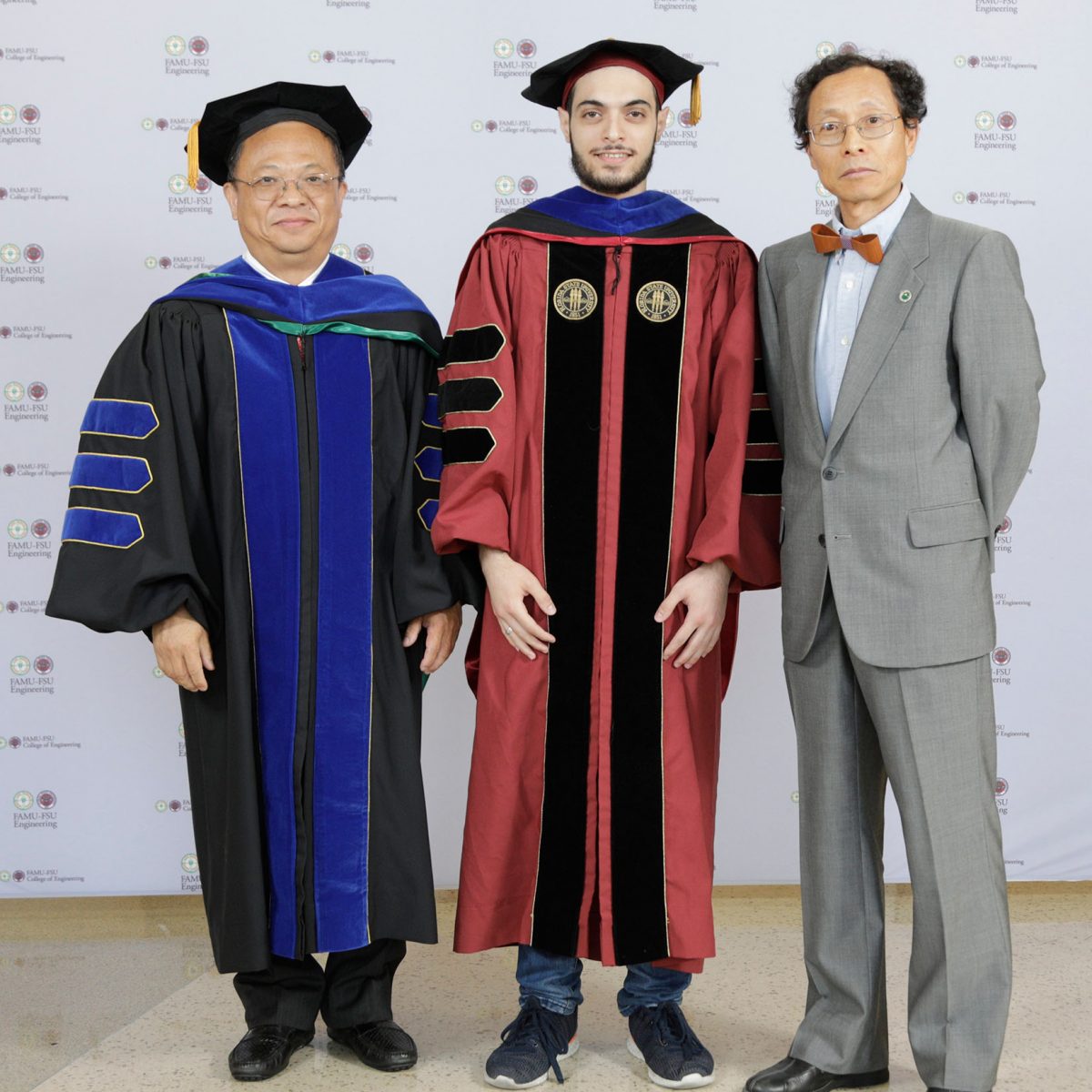 Rami Yehia, who received a Ph.D. in electrical engineering, is headed to Michigan to work in the automotive industry, specifically on electric vehicles. 
"This field is growing at an outstanding pace and is bringing the opportunity to develop the technologies enabling a healthier, green and sustainable environment for future generations," said Yehia, who grew up in Al Bennay, Lebanon, about 35 minutes south of Beirut.  
Yehia, who started his doctoral studies in 2019 after earning a bachelor's in electrical engineering from Notre Dame University-Louaize in Zouk Mosbeh, Lebanon, said he's grateful for the opportunities he received at FSU.  
"The Center for Advanced Power Systems gave me access to tremendous facilities and allowed me to work and study with distinguished faculty at the FAMU-FSU College of Engineering," he said.  
He says he'll miss the community he found at FSU. 
"Attending soccer games, meeting new students every week at the Center for Global Engagement's coffee hour, going to the Leach Recreation Center, enjoying movies at the Askew Student Life Center, watching the FSU Flying High Circus and enjoying breezy walks on campus during spring are certainly activities I am going to miss." 
Travis Wilson, an assistant coach for Florida State softball with nine ACC Championships, five Women's College World Series appearances and a 2018 National Championship, earned his bachelor's degree in interdisciplinary social sciences.  
Originally from New Zealand, Wilson began college after a stint in the Atlanta Braves organization. He later played professional softball in both New Zealand and the U.S. He aspired to coach college softball but was hindered by the requirement for a college degree in job postings. 
Coach Lonni Alameda offered Wilson a coaching role, which eventually led him to pursue a degree. Despite juggling coaching, family responsibilities and being a student, Wilson persevered. 
"It is without a doubt one of the hardest things I have ever done in my life," Wilson said. "At times, I felt like I had way too much on my plate. Many times I did not think I was being the best dad, coach or student I could be. I was pulled in so many different directions, but I just kept plugging away. My priority was always my players when I was at the field and my family when I was home." 
Wilson navigated challenges alongside student-athletes and expressed gratitude to his colleagues, administration and players for their encouragement. 
"This is a special place here. The people make it what it is," he said. 
Read more about Wilson's journey at seminoles.com.