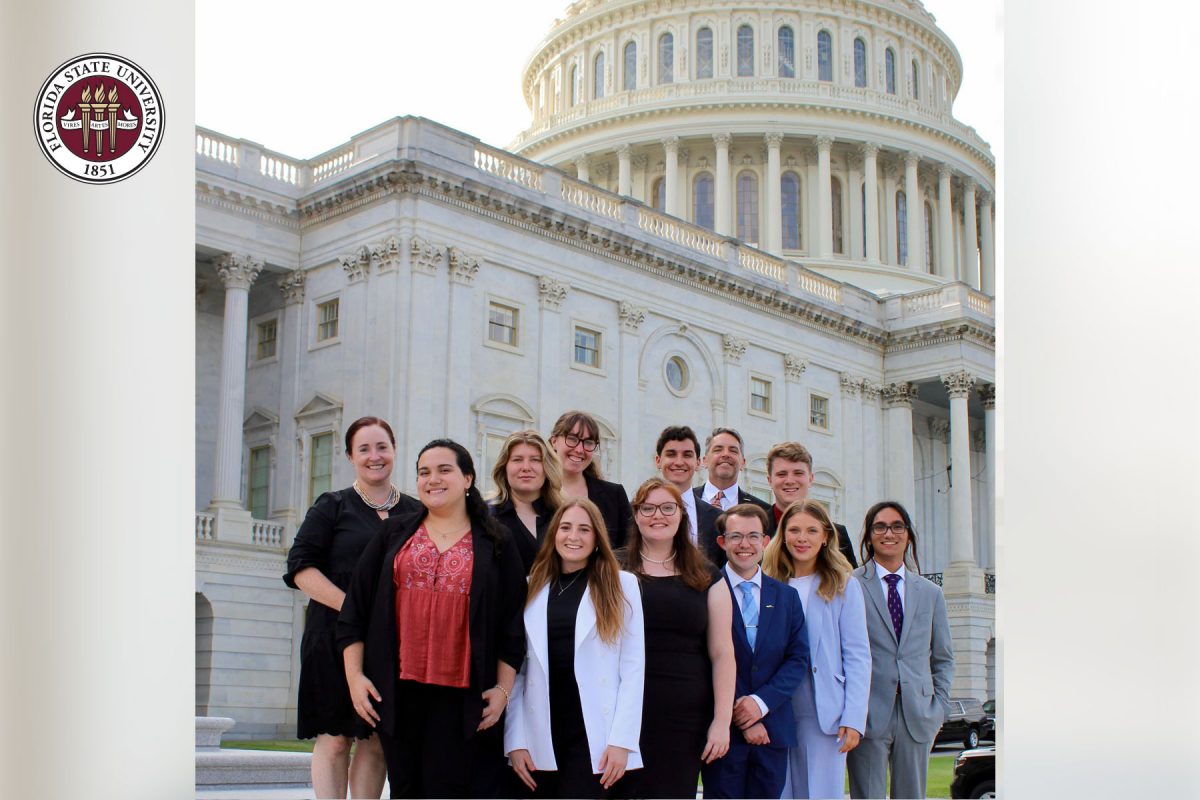 Florida State University undergraduate students in the Department of Political Science's Applied Politics and Policy Learning Experience (APPLE) program concluded the program's inaugural year by meeting with members of Florida's congressional delegation and staffers on Capitol Hill.  
"The Department of Political Science's APPLE program provides undergraduates with unprecedented insight into policymaking processes, as well as exposure to career paths at local, state and federal levels," said Tim Chapin, dean of the College of Social Sciences and Public Policy. "We're grateful to the congressional members and FSU alumni who generously shared their time and experiences with our students in D.C." 
The capstone event marked the end of the program's inaugural year and gave students an opportunity to meet face-to-face with Florida Reps. Neal Dunn (R-Panama City), John Rutherford (R-Jacksonville), and Darren Soto (D-Kissimmee), who shared their insights and experiences before answering questions.  
Students also met with FSU alumni working as staffers on Capitol Hill including Marcus Garza (Class of 2010), McKinley Lewis (2013) and Chaston Pfingston (2021).
Founding Co-Director of the APPLE program and Associate Professor Amanda Driscoll said the meetings on Capitol Hill provided students with an invaluable opportunity to hear from members of the Florida congressional delegation and FSU alumni working as congressional staffers.  
"We created APPLE to provide select FSU political science majors an opportunity to experience local, state and national policymaking firsthand," Driscoll said. "The program seamlessly integrates into the undergraduate curriculum requirements while helping students to build their professional skills and resumés."
APPLE includes a three-semester slate of coursework and engagement activities that provide students with experiential learning opportunities at the local, state and federal level. Students also complete an internship while spending a semester in Washington, D.C. They live and take classes at The Washington Center in the heart of the nation's capital. 
Student internships include placements on Capitol Hill, the U.S. Department of Energy, the D.C. Bar Association and the National Labor Relations Board, among others.   
"APPLE has given me opportunities that would be otherwise unattainable," said Sarah Brophy, who is interning at the National Legal Aid and Defender Association. "Not only has it provided me with an invaluable network of people, both students and professionals but with real world skills that will serve me for the rest of my career." 
The students will return to campus for the fall semester to complete their undergraduate degrees and serve as mentors for the next cohort of APPLE students. 
"We are excited for the second year of the program; we have 13 new APPLE students ready to hit the ground running," said Brad Kile, founding co-director of the APPLE program and director of the Master's in Applied American Politics and Policy Program. "The APPLE program is the first of its kind. There is no other program like it in the country, and we can't wait to see the amazing things our students will achieve next."     
The Department of Political Science is housed in the College of Social Science and Public Policy. For more information, visit coss.fsu.edu/apple.