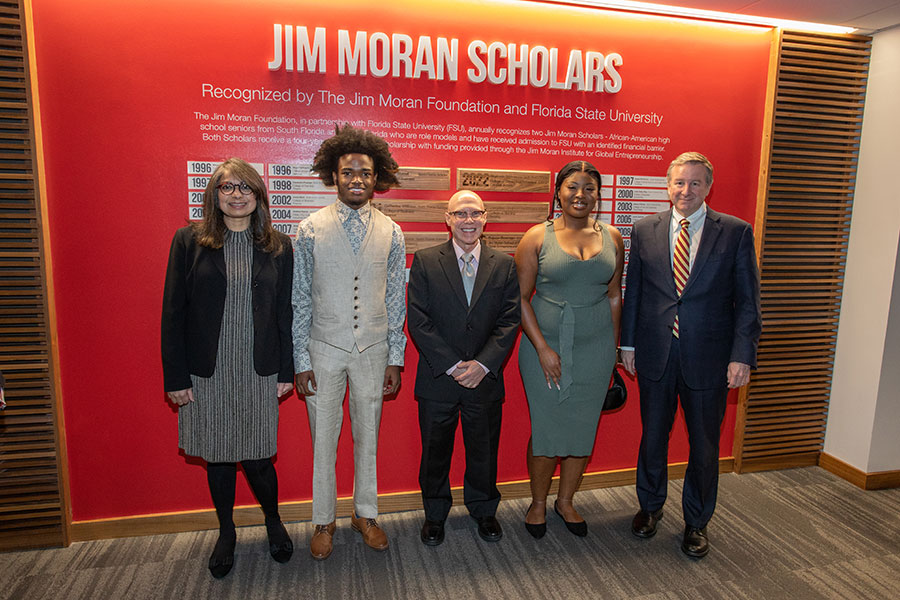 Florida State University feted the 2022 Jim Moran Scholars at a reception Thursday evening.  
A group that included FSU President Richard McCullough and past Jim Moran Scholars joined in the festivities honoring the 2022 scholars, Darrell Worrell and Stephanie Adebaworin. 
"They are among Florida State's best and brightest, and we look forward to everything they will accomplish in the future," McCullough said in a brief welcoming address. 
Jim Moran Scholars receive a four-year, needs-based scholarship with funding provided through the Jim Moran Institute for Global Entrepreneurship. The scholarship recognizes two African American high school seniors — one from South Florida, the other from North Florida— who are role models and have received admission to FSU with an identified financial barrier.   
It's an award that Worrell and Adebaworin — both first-generation college students — said they were grateful to earn.  
"I came from a single-parent household where my mom had five boys," Worrell said. "College is still new to me so having this scholarship relieves the added pressures of working while in college. I can be in college debt-free and actually enjoy the college experience." 
Worrell, who hails from Jacksonville, is set to major in finance and is considering adding another major in management information systems.  
"Jim Moran held himself to a high standard, he was great at what he did. To be recognized with this scholarship shows me that I'm doing something right. It's an honor and I'm grateful to Jim Moran and Mrs. Moran," he said.  
A Miami native majoring in criminology, Adebaworin is the daughter of Nigerian immigrants and, while her parents didn't go to college, she knew early on education was her way to a better life.  
"I saw how growing up my mom had to juggle jobs and how hard that is," she said. "I always wanted to go to college. It was a dream, and I'm really grateful for the scholarship because now it's a reality." 
About the Jim Moran Institute for Global Entrepreneurship
The Jim Moran Institute for Global Entrepreneurship cultivates, trains and inspires entrepreneurial leaders through world-class executive education, applied training, public recognition and leading-edge research. 
Jim Moran was an automotive pioneer and an entrepreneur at heart, who at the age of seven, sold soda pop at sandlot baseball games in Chicago. With a career that spanned more than six decades, he built an amazing chronicle of achievements in the automobile industry. 
His vision for the Jim Moran Institute was to provide opportunities that would help others become more successful business owners. A 1995 contribution from Jim and Jan Moran and JM Family Enterprises established the Jim Moran Institute for Global Entrepreneurship at the Florida State University College of Business. Since 2011, further enhancements to the Jim Moran Institute and its outreach have been made possible by Jan Moran and The Jim Moran Foundation. 
For more information, visit www.jmi.fsu.edu.