Florida State University paid tribute to President Emeritus John Thrasher Saturday with the dedication of a bronze statue that recognizes his important place in the university's long and rich history.  
Thrasher, a two-time alumnus who served as FSU's 15th president between 2014-2021, elevated the university's reputation as a preeminent research institution and guided the university in an extraordinary climb in the academic rankings.  
His statue stands on Westcott Plaza near the iconic Westcott Fountain. FSU's Master Craftsman Studio and principal artist Sandy Proctor created the new monument that captures Thrasher in one of his greatest moments of joy — greeting new graduates during commencement.  
President Richard McCullough welcomed Thrasher and First Lady Jean Thrasher back to campus and thanked them for their warmth, friendship and wise counsel they have shared since he and First Lady Jai Vartikar arrived at FSU.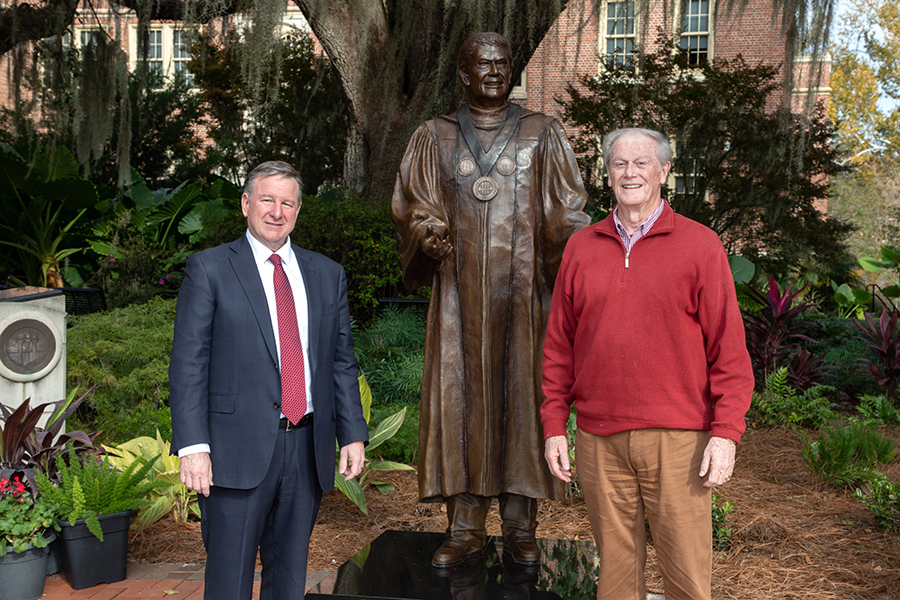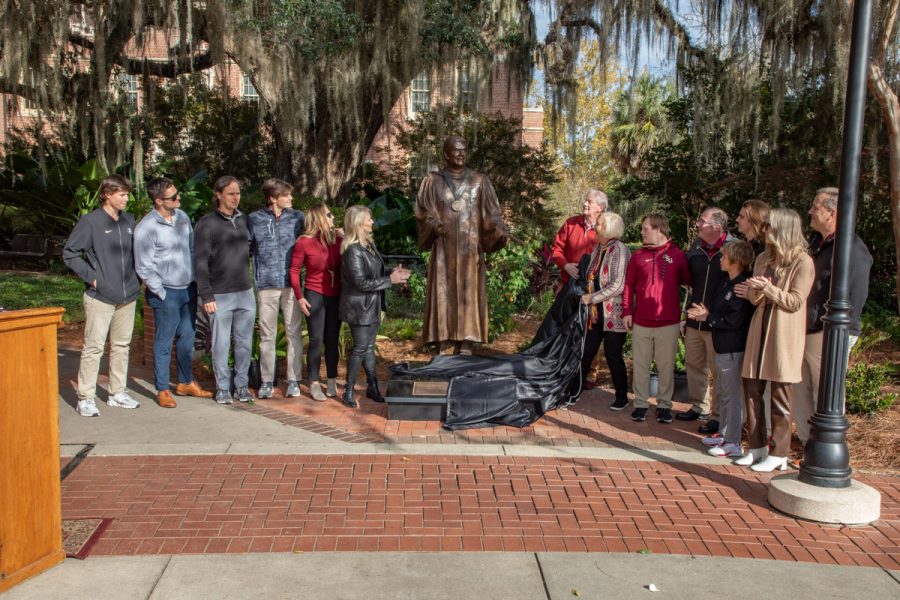 "His bold vision guided FSU's path of unprecedented academic excellence and his strong leadership was a steady force during times of both triumph and tribulation," McCullough said. "Whether celebrating an athletic championship or navigating a global pandemic, he and Jean served the university community with empathy, warmth and good humor." 
During his presidency, Thrasher presided over a successful $1 billion fundraising campaign; advanced the university's academic and research mission; championed diversity, equity, and inclusion; and enhanced student success. 
"I'm personally and professionally grateful for the great things John and his team did to take this university and build the foundation that we have today," McCullough said. "That foundation is where my administration is picking up and taking the university to the next level. Without that foundation, we wouldn't be talking about trying to get into the Top 15 or becoming an AAU university. We would not be in the conversation as one of the best public universities in the nation if it weren't for John Thrasher and his leadership team."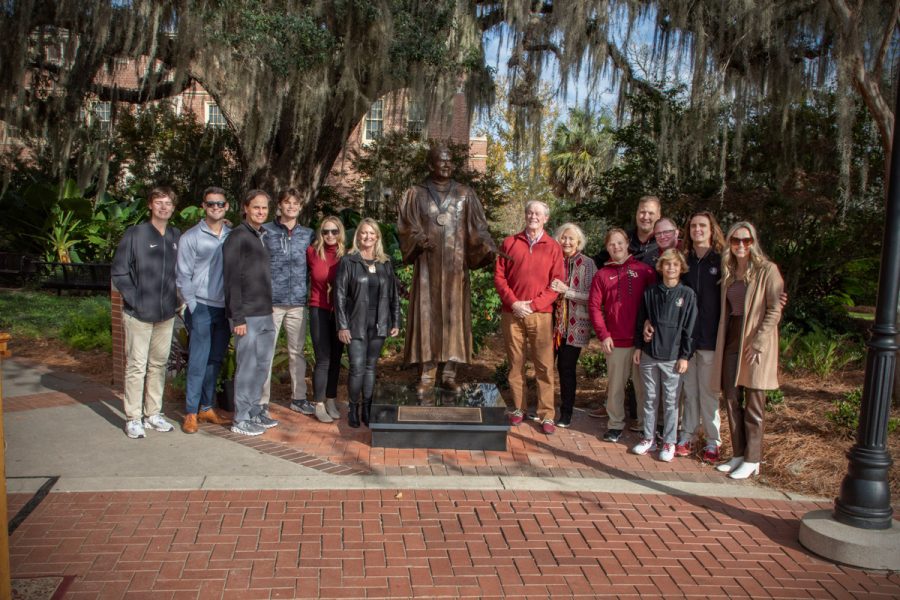 Thrasher arrived at Florida State University in 1961 as a 17-year-old freshman and graduated in 1965 with a bachelor's degree in business. After graduating, Thrasher joined the U.S. Army, where he received the Army Commendation Medal and was awarded two Bronze Stars for his service in Vietnam. He then returned to FSU where he earned his law degree in 1972. He has given back to FSU in many ways, including serving as its first-ever chairman of the Board of Trustees.  
"This is an amazing place; this is a life-changing place," Thrasher said after the statue unveiling. "That's what happened to me. It changed my life, and I know it's changed the lives of so many students who have been here and will continue to come here."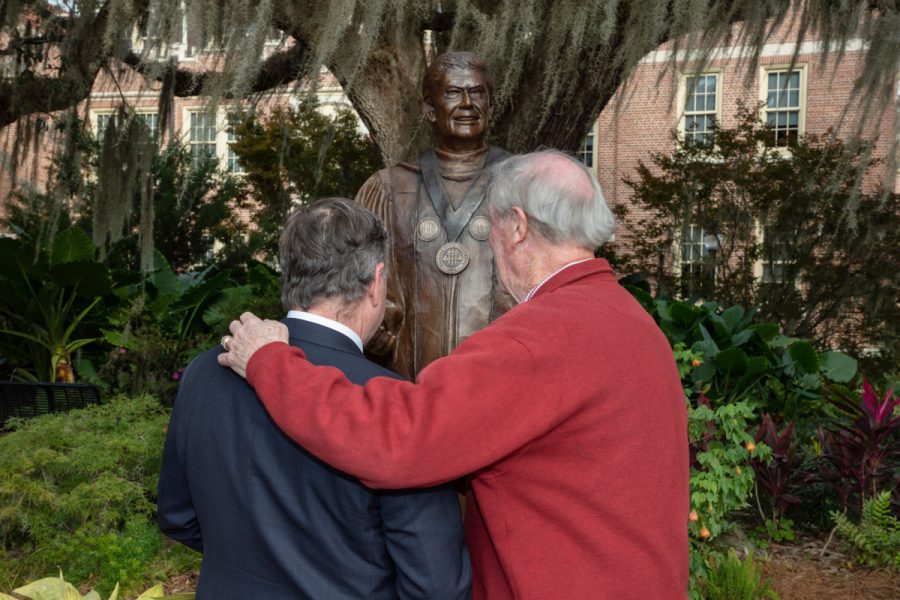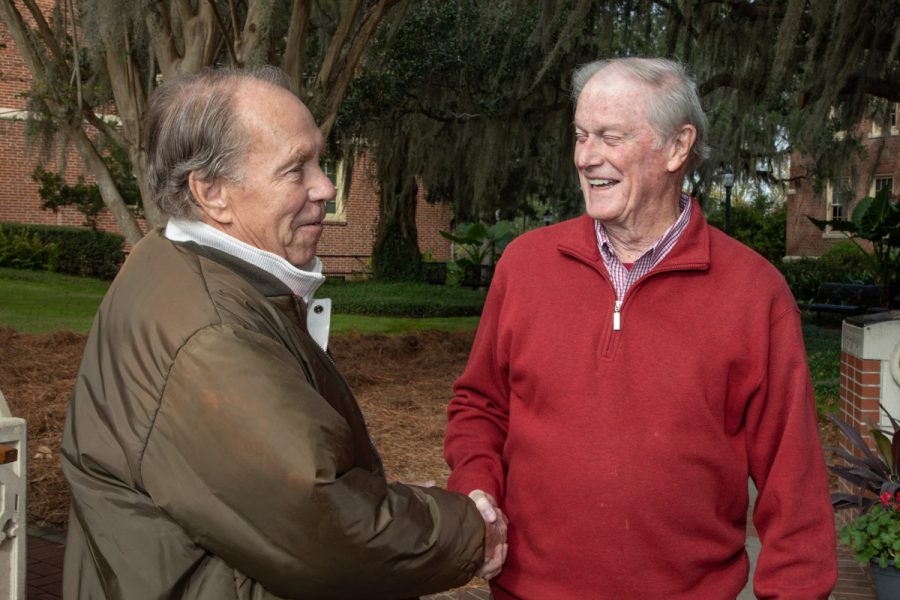 Peter Collins, chair of the FSU Board of Trustees, thanked Thrasher for his contributions for the university and his enduring legacy.  
"You're judged by how you leave a place," he said.  "When you step on this campus, you feel the family atmosphere," Collins said. "Everybody talks about it; everybody talks about the culture. You've left that better than it was when you got here." 
The Thrashers were joined during the ceremony by their children, Jennifer and Don Jordan; Jon Thrasher; and Julie Weinberg, and several of their eight grandchildren. 
"Your statue, Dad, will be a continuous reminder that you will greet all students, staff and alumni with warmth and love that always had for FSU," said Jennifer Jordan, Thrasher's eldest daughter. "Our family is so proud of you. We will enjoy coming to see your statue and reflect on your legacy for years to come."