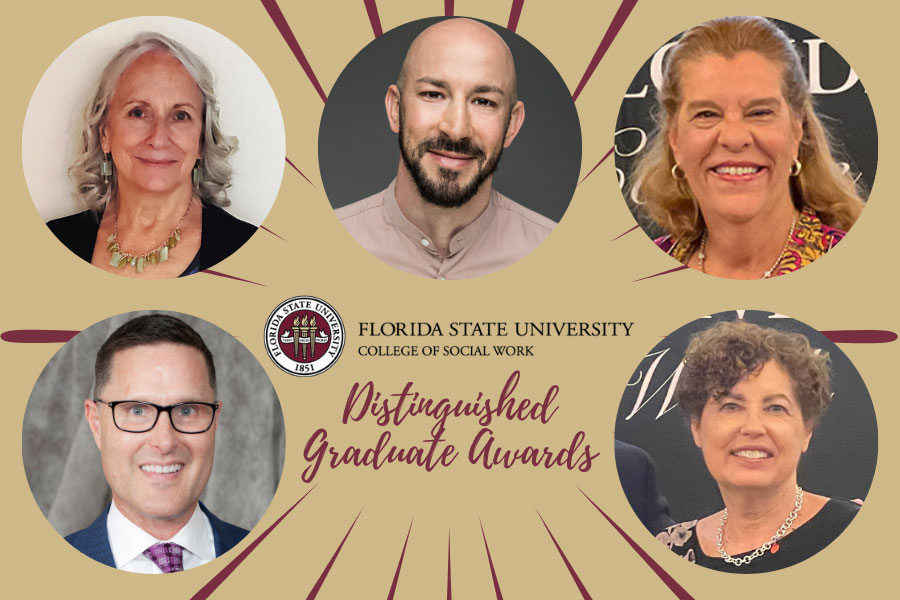 The Florida State University College of Social Work honored five distinguished graduates plus its 2021-2022 student scholars at its 2022 Distinguished Alumni Award and Student Scholarship dinner last week.
The college awarded more than $168,000 in scholarships in 2021-2022 to support undergraduate- and graduate-level social work students with interests in areas including child welfare, social policy, international social work, social work practice and military veterans.
Interim dean Craig Stanley hosted the event along with faculty members Carol Campbell Edwards, Keithen Mathis, Fran Gomory and Vicky Verano.
The college honored the following recipients:
Distinguished Emeritus Alumni Award
Nolia Brandt (BSW, 1972; MSW, 1973; MA, 1993; Ph.D., 2004), a four-time Florida State University graduate who earned undergraduate and graduate degrees in social work along with a master's in creative writing and a doctoral degree in education. Her career took her into both the public and private sectors in areas including human services, medical-social work, criminal justice, advocacy and community development and work in business and entrepreneurship and information technology. Brandt wrote and lobbied for changes in public policy related to program development, funding, service delivery, performance improvement and accountability. She also provided instruction for two universities on instructional design, social work, criminal justice, sociology and business and entrepreneurship. Brandt and her husband, Bill Brandt, built and ran an award-winning information technology business for 25 years. She also taught and coached at the FSU College of Business's Jim Moran Institute for Global Entrepreneurship before retiring.  
Distinguished Young Alumni Award
Wang (Chun) Rosenkranz (BSW, 2013), founder of the I'll Be There Project nonprofit dedicated to empowering and uplifting people through the transformative conduit of kindness. Chun earned his BSW from Florida State in 2013 and master's degree in social work from Columbia University. Upon completion of his degrees, he joined Bronx Defenders working with adolescent males in the criminal justice system. He left the Defenders to establish the I'll Be There Project, which focuses on connection with people experiencing hardships including homelessness, substance use and involvement with the criminal justice system. During the COVID-19 pandemic, Chun was named New Yorker of the Week by NYNews1 for his work with individuals experiencing homelessness and in need of additional resources during the shutdown. Chun begins each new connection with the question, "How can I help?" drawing on his social work education to meet clients where they are.  
Distinguished Social Work Educator Alumni Award
David Jenkins (Ph.D., 1992), a licensed clinical social worker who is dean and professor of the College of Social Work at The Ohio State University with more than 30 years working in social work education. He served as dean of the University of Louisville's Kent School of Social Work from 2016 to 2022, advancing faculty research and teaching support while strengthening diversity, equity and inclusion efforts. He previously worked as a faculty member at Texas Christian University, serving in leadership roles including associate dean, department chair and Master of Social Work program director. Much of his recent research focuses on understanding the experiences of individuals and family forms suffering from marginalization, with a specific interest in the lives of sexual minorities. He earned his bachelor's degree and Master of Social Work degree from Louisiana State University and his doctoral degree in social work from FSU.  
Distinguished Social Work Practice Alumni Award
Angela M. Martinez (MSW, 1975), a licensed clinical social worker and community psychologist with more than 40 years of experience providing individual, couples and family psychotherapy. Throughout her career, Martinez has also designed and executed research, training and consultation programs for national organizations including the National Institute of Mental Health, National Office of Refugee Resettlement and Planned Parenthood. She has also provided services to Miami's fire and police departments, the Department of Veterans Affairs, SouthCom and the Seaport of Miami. Programming developed by Martinez has focused on issues including diversity, equity and inclusion in the workplace such as leadership, empowerment and organizational development. Martinez has also served on the faculty of several South Florida universities, including the past 15 years for Florida International University, where she is a member of the university President's Council. She has consulted internationally in the Caribbean and South America. She earned a bachelor's degree from Barry University (1971), her MSW from FSU in 1975 and a doctoral degree from Union Institute & University (1981).  
Distinguished Social Policy and Administration Alumni Award
Lynn Rosenthal (BSW, 1980), president of the Center for Family Safety and Healing in Columbus, Ohio, that addresses family violence including child abuse, intimate partner violence and elder abuse. She is a social worker with expertise in public policy on gender-based violence. She oversees teams providing medical care, counseling and advocacy home-visit services and well-child care for diverse populations including victims of violence and children in the foster care and child welfare systems. From 2009 to 2015, Lynn served as the first White House advisor on Violence Against Women and a senior advisor to Joe Biden, who was vice president at the time. Prior to her federal service, she held leadership positions in local and state domestic violence agencies. She served as executive director of the National Network to End Domestic Violence from 2000 to 2006. Most recently, Rosenthal was appointed by Secretary of Defense Lloyd J. Austin to lead a 90-day Independent Review Commission on Sexual Assault in the Military, delivering a report and recommendations for the Department of Defense. She also served on the advisory board of the Center for the Study and Promotion of Communities, Families and Children at the FSU College of Social Work.