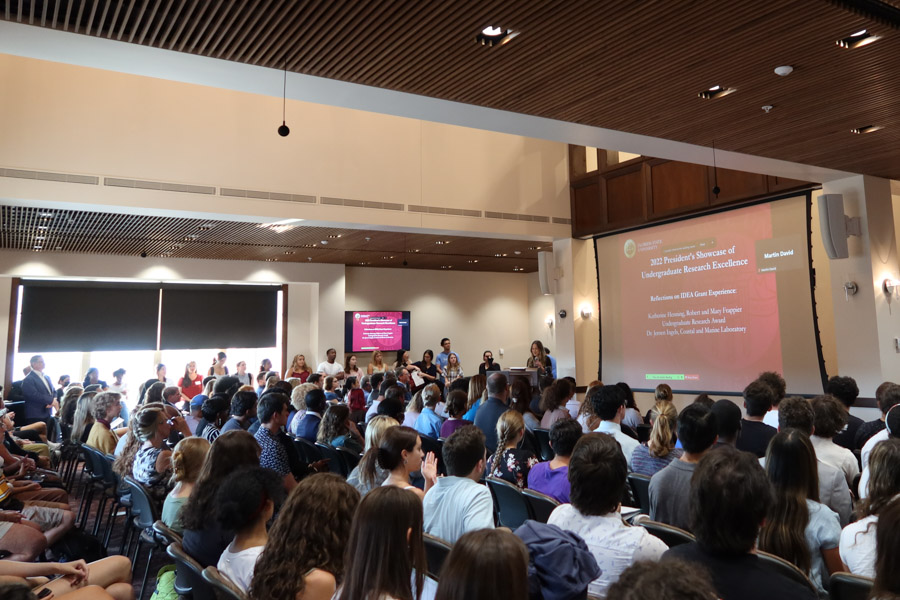 About 30 Florida State University students presented research to more than 700 people last week at the 2022 President's Showcase of Undergraduate Research Excellence.
The event included the presentation of research in person for the first time in three years.
The annual event highlights research from recipients of Tyler Center for Global Studies awards and other prestigious academic programs. The showcase offers students the opportunity to network with professionals and practice their presentation skills as they showcase the research they completed under the mentorship of FSU faculty.
"At FSU, all of the things we want undergraduates to cultivate can be demonstrated through research," said Latika Young, director of the Center for Undergraduate Research and Academic Engagement. "Sharing research with others is a wonderful opportunity for the grant recipients to connect with professionals in their field and practice the skills necessary to expand their network."
This year's showcase featured presentations from five winners of the Tyler Center for Global Studies Award, which supports undergraduate students who conduct research abroad. Students traveled to Cote d'Ivoire, South Korea, Mexico and Germany to conduct research as a part of their IDEA Grant awards.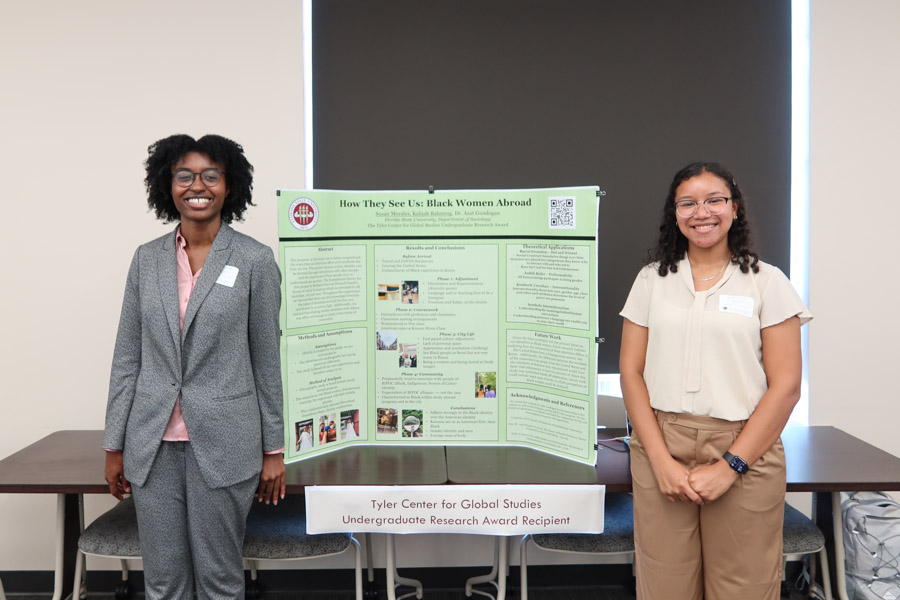 Student presenters Susan Morales and Kalijah Rahming showcased their ethnographic study that took place over six weeks in Seoul, South Korea.
"Once we realized that differences existed between the identity of Black women in the United States and abroad, we began to ask questions and ultimately decided to conduct research on this," Morales said.
Using their mobile phones for documentation abroad, Morales and Rahming focused on identity formation and social construction and how their identity as Black women has been molded by society in the South Korean cities of Seoul, Busan and Gangneung.
"This experience was extremely formative and helped me understand my goals on a deeper level," Morales said. "Without the aid I received from the Tyler Center, this trip would not have been possible, and, therefore, I would not have had this experience that allowed me to solidify what I want to do after college."
Rahming also reflected appreciatively on her research abroad.
"This experience meant the world to me, as I could never have imagined that I would be able to study in South Korea," she said. "The IDEA Grant from the Tyler Center took away some of my monetary stresses, as I knew that that money would be used for my research."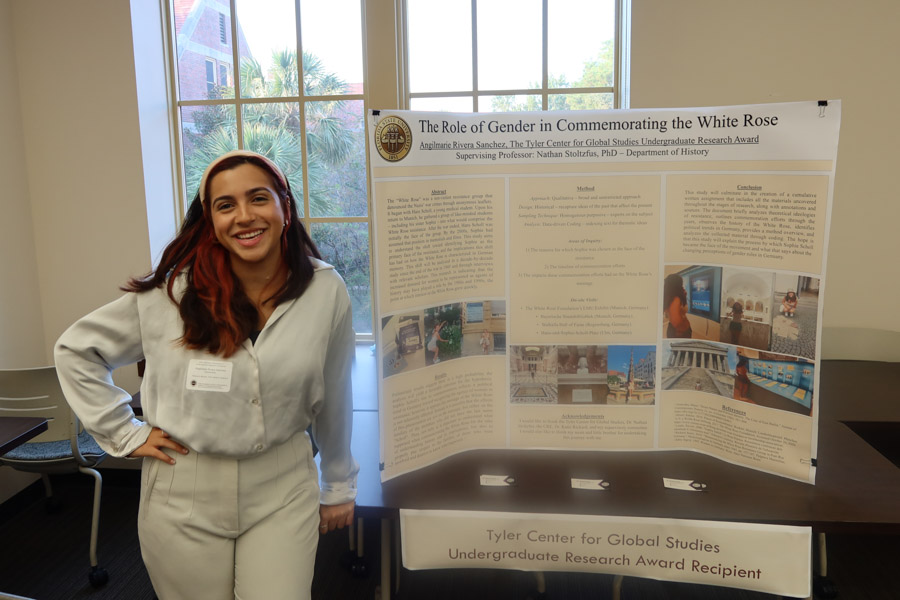 Angilmarie Rivera Sanchez traveled to Germany to conduct research and visit sites of interest for her thesis, which focused on White Rose, a student-led resistance group that denounced the Nazi regime during the Third Reich.
Rivera Sanchez focused on the commemoration of White Rose members such as Sophie Scholl, who is often depicted as the face of the resistance.
Rivera Sanchez, who plans to attend law school, maintains an interest in international human rights.
"I would not have been able to take my research to Germany if it were not for the grant I received," Sanchez said. "I can safely say that being able to work with the material in person is what made my research all the more complete."
This event is a collaboration between the Office of the President and the Center for Undergraduate Research and Academic Engagement.
For more information, visit https://cre.fsu.edu/events/fall/presidents-showcase-undergraduate-research-excellence.