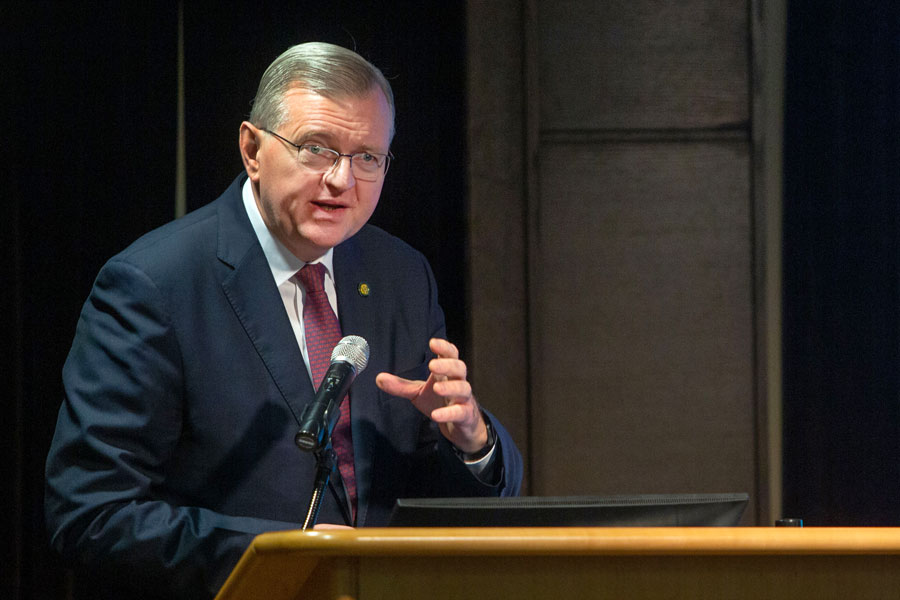 Nestor Forster, Brazil's ambassador to the United States, provided an update on his country and aimed to, as he put it, dispel a few myths on Thursday. 
During a one-hour talk at Florida State University's The Globe auditorium, Forster depicted a bustling Brazil that has rebounded from COVID-19, with its leading economic indicators returning to pre-pandemic levels.  
Propelled in part by emerging, renewable clean-energy technology, Forster said Brazil is expanding its economic reach and that building relationships with research institutions such as FSU is part of that work.  
It's a far cry, he said, from the popular depiction of a Brazil where the Amazon rain forest is wantonly destroyed in the name of grazing space for cattle.  
"I like to challenge the cliches and preconceived ideas," he said at the outset of his presentation. "I deal in policy, not politics. Policy is fact based and data based." 
Forster pointed to numbers that show Brazil is the world's leader in land conservation, with 30.3% of its territory — an area about four times the size of Texas — listed as protected. 
"It's funny that we have this reputation as a country that doesn't care about the environment," he said. "No other country does more to protect its lands."  
Cynthia Green, director of FSU's Center for Global Engagement – which hosted Forster – echoed a call from the ambassador to see strengthened ties between FSU and Brazil. Green said FSU has about six faculty members from Brazil and 38 students, some of whom were in attendance. 
"This is a great opportunity for FSU to establish greater contact with Brazil, and hopefully that leads to future research collaborations and more Brazilian students and graduate students coming here," Green said. 
Forster's trip to Tallahassee included a visit with Gov. Ron DeSantis. While at FSU, he met with President Richard McCullough and Provost Jim Clark and lunched at the Champions Club.
He tweeted Thursday about his meeting with Clark on the "great contribution of Brazilian students and researchers to the academic life of this institution known for its excellence." 
During Thursday's event, Forster commented on the grandeur of Doak Campbell Stadium.  
"We don't have that at any university in Brazil," he said.