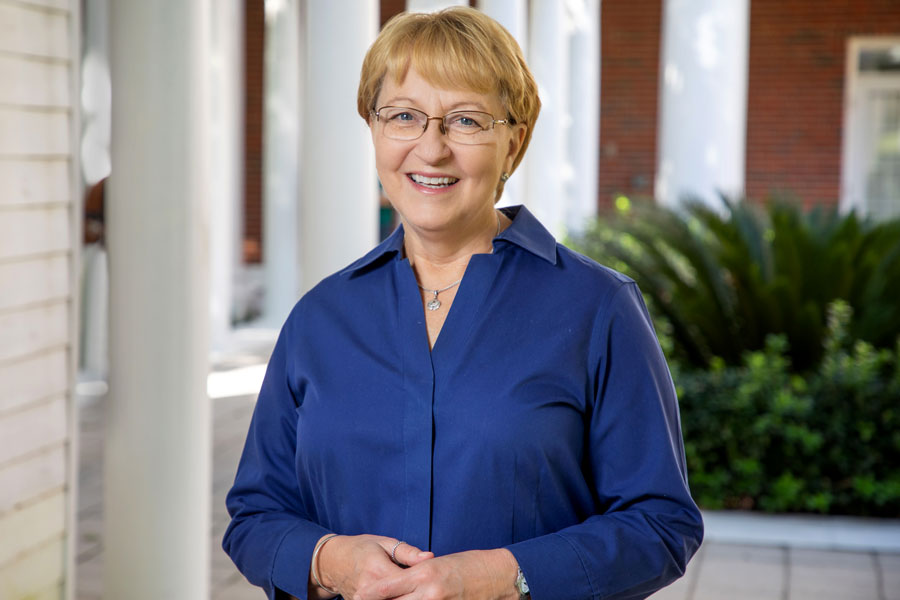 Alisa Duke, assistant director of career services at the Florida State University College of Law, is the 2022 winner of the Max Carraway Employee of the Year Award. 
Duke won the appreciation of colleagues and the attention of FSU President Richard McCullough, who selected her for the honor, for her service to students and contribution to the college's reputation as a top-tier law school. 
"It is always exciting to recognize remarkable employees committed to achieving successful outcomes and fostering collegial relationships," said Renisha Gibbs, FSU's associate vice president for Human Resources and chief of staff for Finance and Administration. "Lisa Duke embodies all of the qualities of the Max Carraway award."  
Since 2008, the Carraway Award has acknowledged outstanding employees whose contributions and excellent service extend across campus.  
As an award recipient, Duke will receive two football tickets, a $1,000 stipend and a reserved parking space for one year. 
"Helping them achieve their goals and dreams is extremely fulfilling," she said of her students. "My ability to thrive and help students is only possible because of the dedication and teamwork of the staff and faculty members at the law school and the help of many alumni who never say 'no' when I ask for assistance on behalf of our students."  
Duke began her FSU career as an adviser with the Career Services and Professional Development Office in 2016. 
She applies her experience as a licensed attorney, with a focus on health care law, to advising and counseling law students and alumni about professional development. Colleagues praise her for her employer outreach and project planning.  
"Ms. Duke is unfailingly helpful and polite, without being obsequious," said Shi-Ling Hsu, the D'Alemberte Professor in the College of Law. 
In her nomination letter, College of Law Associate Dean for Career Services Debra Henley praised Duke's work advising and supporting students.  
"She is [also] a co-founder of the Florida Association of Legal Recruitment Administrators, which enhances FSU Law's standing with employers throughout the state," Henley wrote. 
Several of Duke's nominators highlighted her impact on the college's reputation, calling her a significant contributor to increasing its profile. 
Erin O'Hara O'Connor, dean and McKenzie Professor of the College of Law, commended Duke for strengthening the relationship between the student body and Florida's legal community.  
Precillia M. Soares, senior recruiting manager at Holland & Knight LLP, noted Duke's ability to "put her heart behind everything she does" and said she is adored by students and alumni.  
"Students landing a job call Lisa, usually before Mom and Dad," Soares said.