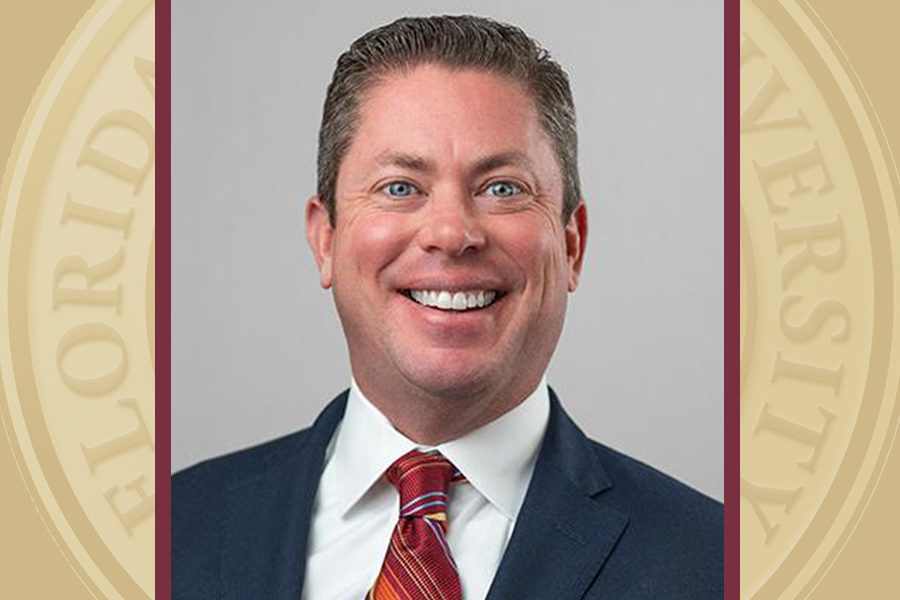 Scott Price, a second-generation Florida State University College of Business alumnus who launched a prominent and award-winning global cybersecurity company, has given back to the college with a $2.7 million gift.
Price, founder and CEO of Tampa-based A-LIGN, committed $2 million to create the Scott G. Price and Family Endowed Scholarship in Accounting, which funds the Scott G. Price Accounting Scholars Program. He also committed $700,000 – in addition to a previous $300,000 gift — to name the Scott G. Price and Family Forum Stairs, a signature connector and seating area in Legacy Hall, the future home of the College of Business.
"FSU has been a part of my life and an identity for who I am since I was a child," Price said. "When you get to a point in your life where you're able to give back to something that gave you so much, you give back."
FSU President Richard McCullough expressed appreciation for Price's generosity.
"We genuinely thank Scott for his support, loyalty and vision and for his love of Florida State University," McCullough said. "His gift will help shape the College of Business for generations to come."
Michael Hartline, dean of the College of Business, lauded Price's gift as "a remarkable investment from a genuine FSU family member and friend."
Hartline said the Price Accounting Scholars Program will allow the college to recruit the best and brightest accounting students to the college. The Department of Accounting already boasts the nation's No. 21-ranked program among public universities, according to U.S. News and World Report.
Price completed bachelor's and master's degrees in accounting during the same year, 1997, long before the university established combined pathways that give academically talented undergraduate students the opportunity to get a head start on a graduate degree.
The Price Accounting Scholars Program includes the Scott G. Price Accounting Pathway Scholarships, an endowment that will fund nine credit hours to high-performing accounting undergraduates that can be applied toward requirements for both their bachelor's degree and FSU's Master of Accounting, or MAcc. It also includes the Scott G. Price MAcc Scholarships, an endowment that will fund eight Price Scholars annually and provide about 50% of their program tuition cost.
"I feel this transformational gift can provide a real shot in the arm to the accounting department," Price said. "I'm excited to see how this funding will continue to elevate our national ranking."
Likewise, he touted Legacy Hall as a facility that will attract the nation's top students and faculty members and help the college continue to climb the rankings of the top U.S. business schools.
Officials established an October groundbreaking on the five-story showcase facility, funded equally by the Florida Legislature and private gifts.
"The alumni had an ability to provide an extra push," Price said about funding for the new building. "It was something that I wanted to be part of to ensure that the start of Legacy Hall became a reality in 2022."
He added: "I'm hoping that the types of gifts made by myself and others encourage current alumni and future alumni to give back to the university as well."
Price pointed out that he attended classes 25 years ago in the college's current academic facility, the Rovetta Business Building. So did his parents, both of whom also earned degrees in accounting. His uncle and cousin did as well.
Price thereby found it easy to become a lifelong FSU supporter who would pursue an accounting degree — or two — in the College of Business. He even served as president of the FSU Accounting Society.
"The accounting department and the accounting program at Florida State have been tremendous assets to our family," he said.
It's about to become an even bigger asset: Price's son, Brooks, just started his freshman year in Tallahassee, and he plans to major in – you guessed it – accounting at FSU. Price's daughter, Adriana, is now a high school junior.
"There are plenty of other great programs at the university, but it's nice to see where he's starting out," Price said about his son.
Twelve years after graduating, Price launched A-LIGN, which boasts a global workforce of more than 600 employees and more than 3,500 global clients, including Alloy, Sprint and Raymond James. In February, the Seminole 100 recognized A-LIGN – for a fifth straight year – as one of the fastest-growing companies owned or led by an FSU graduate.
Price takes a particular pride in his workers: 10% graduated from FSU, which marks another way in which he continues to give back.
Meanwhile, he has remained an active FSU alumnus, including a stint as chair of the accounting department's Professional Advisory Board, on which he has served since 2017.
He's also a lifelong member of Seminole Boosters. To support women athletes, he created the Price Family Softball Scholarship.
In October, he'll join three other alumni – Jim Henderson (BS Accounting & Economics '69), Brett Lindquist (BS Finance & Real Estate '83) and Brian Murphy (BS Accounting & Finance '00) — as inductees into the College of Business Alumni Hall of Fame.
"You want to give back to something that gave you so much, from all facets of the university," Price said. "FSU has played such a special and a meaningful part in my life."