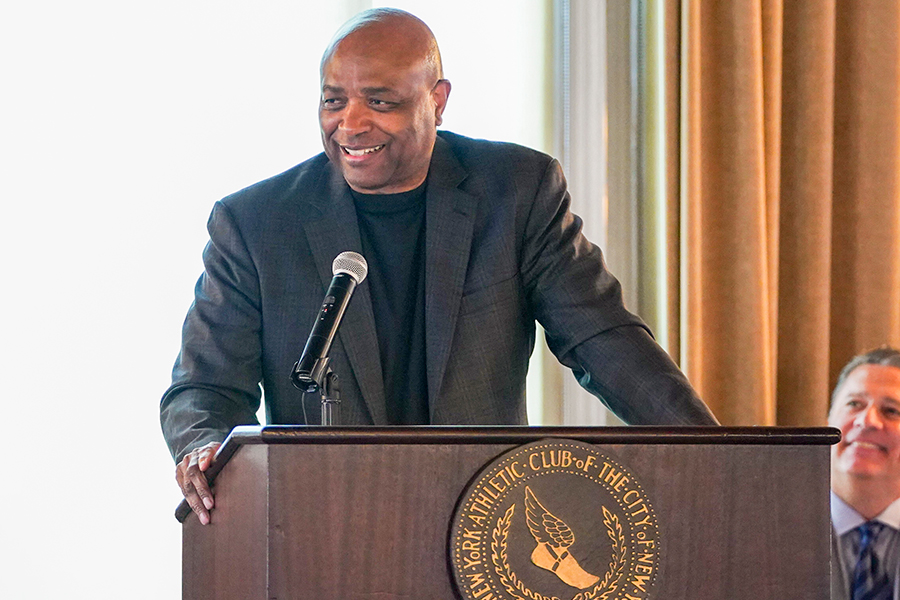 New York Times Q&A with FSU Coach Leonard Hamilton
Florida State men's basketball coach Leonard Hamilton received the Joe Lapchick Character Award presented by the Joe Lapchick Foundation during a ceremony at the New York Athletic Club.
Hamilton was honored with the award which celebrates the life and career of Joe Lapchick, a Hall of Fame coach at St. John's University (1936-47) and the New York Knicks (1947-56), who was well known for his compassion and integrity off the court.  The award is given to coaches who exhibit honorable character and who have impacted the game of basketball as did Lapchick.
"When I got the call, associating me with the Joe Lapchick Award, I was honored to be mentioned in the same sentence," said Hamilton.  "If we know anything about his career, he always fought for what he thought was right, representing the sometimes underserved and disadvantaged, for women's rights and the inclusion of all people in different areas.
"It's an honor, a privilege, and I'm overwhelmed.  I think about all the coaches and players that I've worked with who have created this culture that allowed us to be at this point."
Hamilton is just the fifth head coach from the ACC to earn the award.  He joins Georgia Tech's Bobby Cremins, Virginia's Pete Gillen, Duke's Mike Krzyzewski, and North Carolina's Dean Smith as Lapchick Award winners from the nation's top college basketball conference.
Entering his 21st season at Florida State, Hamilton is the winningest coach in Florida State history (395 wins) and the fifth winningest coach in ACC history (395 wins).  He has been named the National Coach of the Year five times, including most recently in 2021 when he received the Ben Jobe Award as the National Minority Coach of the Year.  Hamilton is a three-time ACC Coach of the Year (2009, 2012 and 2020) and a two-time Big East Coach of the Year (1995 and 199) and is the only coach to be named Coach of the Year in the ACC and the Big East multiple times.
Throughout Hamilton's Hall of Fame career he is most proud of the graduation rate of his players which exceeds 97 percent at Florida State (73 of 75 seniors), 90 percent at the University of Miami (28 of 31 seniors) and 95 percent for his career (101 of 106 seniors).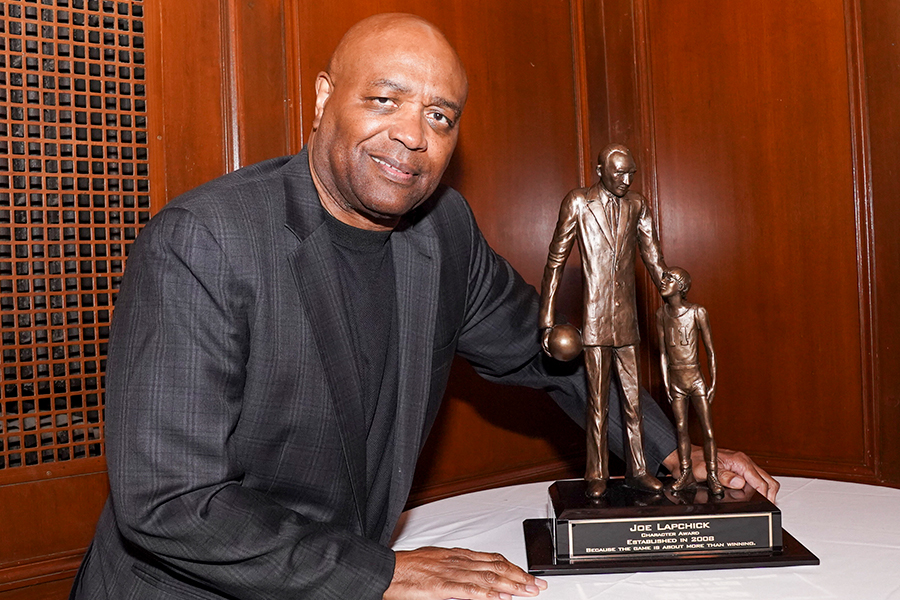 "My father went to the ninth grade. My father was extremely tough. My mother was very bright. I had three brothers and a sister. And I knew the only way I was going to improve my circumstances was I had to get my education.  My father would say I would have absolutely no money for you to go to college. But you need to go and get your degree."
Motivated by mentoring his players to become good people, good husbands, good fathers, and good neighbors, Hamilton continuously reflects on hearing from his players on holidays, following the births of their children, and other big milestones of their lives.
"If all I have are Coach of the Year awards and conference championship trophies, what do I really have?" said Hamilton on the eve of the Lapchick Award ceremony.  "I am motivated by the successes of our former players, and how they represent themselves and their families in the community.
"I hope that when I hang my whistle up, I'll be able to look back at my career and be proud. I'll be proud of the young men and what are doing with their lives, with their families and how successful they're doing in the social aspect of their lives. That's much more important than the awards I have won.  So for me personally, I've never lost sight of the fact that you take in youngsters, and hopefully while they're with you, they're growing to go into the type of young men that we all can be proud of."
Hamilton, who was a finalist for the John R Wooden "Keys to Life" Award in 2000, has been inducted into five different Halls of Fame: UT Martin, 1983; Austin Peay State University, 2000; University of Miami, 2006; Tennessee Sports Hall of Fame, 2013; Florida State Athletics, 2021) and was named as an Alumnus of Distinction by Gaston College (N.C.) in 2015.
Hamilton helped lead Kentucky to the National Championship in 1978 as the first associate head coach in program history.
The award was established in 2008 and has been presented to many of the prominent people in college basketball, including Duke's Krzyzewski, St. John's Lou Carnesecca, Tennessee's Pat Summitt, Georgetown's John Thompson and NC State's Kay Yow.  Broadcasters Dick Vitale and Verne Lundquist, along with writer Jim O'Connell are also Lapchick Award honorees.
Lapchick was the premier center of his time in the 1920s and 30s, playing for the Original Celtics in New York City.  Following his playing career, he coached St. John's from 1936-47 and 1956-65, winning Coach of the Year twice and the NIT four times.  At the time, the NIT was considered to be the collegiate national championship.  Between his two stints at St. John's came his eight consecutive winning seasons with the New York Knicks where he took them to the NBA Finals three straight years finished and with a 326-247 record.
Also presented with the Lapchick Character Award at Friday's ceremony were Val Ackerman (Commissioner of the Big East, first President of the WNBA), Rick Byrd (former Head Coach, Belmont University), and Speedy Morris (former Head Coach at La Salle University).