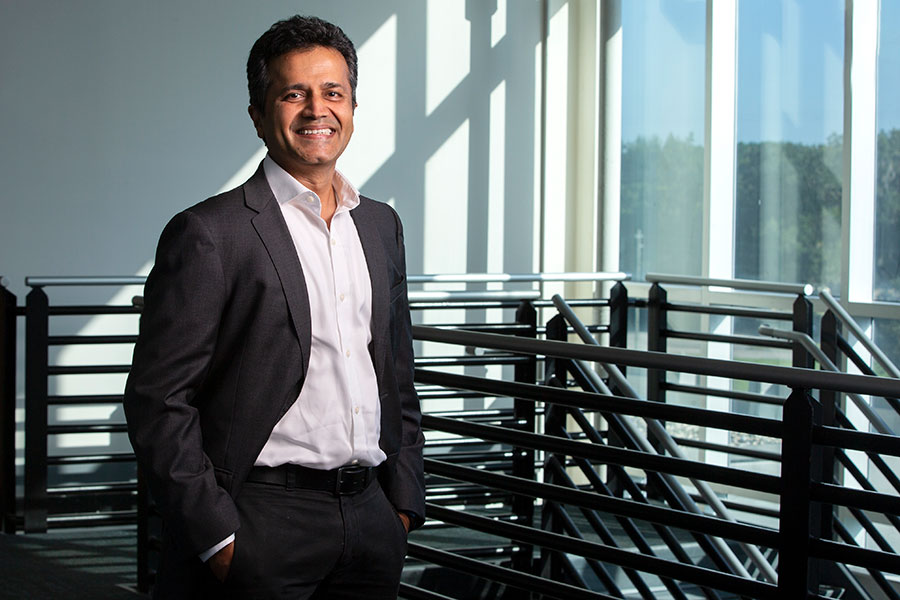 Farrukh Alvi thought he'd spend one year, maybe two, in Tallahassee after coming to Florida State University as a postdoctoral researcher in 1993.
Now, almost 30 years later, having served as a tenured faculty member, director of the Florida Center for Advanced Aero Propulsion, associate dean for research at the FAMU-FSU College of Engineering and interim dean of the college, he thinks it turned out OK.
"It's all kind of been a happy accident" he said.
Alvi, who has degrees from University of California, Berkeley and Penn State University, had initially thought he would work at NASA's Langley Research Center after finishing his doctorate. At the time, his adviser from Penn State was a colleague of then FAMU-FSU Department of Mechanical Engineering Department Chair Anjeaneyulu Krothapalli, who made Alvi an offer. When Alvi asked if he could also teach, his new boss replied in the affirmative and Alvi was sold.
"From day one, I was doing both research and teaching, and I love that combination," he said. "Teaching is not just in the classroom. Teaching is also in the labs with grad students, mentoring them, working with them on their ideas."
"From day one, I was doing both research and teaching, and I love that combination. Teaching is not just in the classroom. Teaching is also in the labs with grad students, mentoring them, working with them on their ideas."

— Farrukh Alvi, FAMU-FSU College of Engineering
Alvi, who holds the Don Fuqua Eminent Scholar Chair and is a professor of mechanical engineering, has spent the bulk of his career focusing on developing flow and noise control technologies that increase the efficiency of high-speed aircraft, automobiles and turbomachinery. He holds 11 patents and has attracted more than $30 million in external funding for research, development and STEM education.
He has also mentored more than 60 graduate students, postdoctoral researchers and scientists. One of those postdoctoral researchers was Rajan Kumar, who is now a professor of mechanical engineering at the FAMU-FSU College of Engineering and the current director of FCAAP.
"Over the years, his role changed from an adviser to a colleague, but one thing that remained the same is our friendship," Kumar said. "He is one of those rare people who gives you advice without making you feel that they are better or smarter than you. He is someone who genuinely cares and helps you achieve your goals."
Kumar served as Alvi's postdoc as Alvi was trying to gather support to create FCAAP.
"I was kind of looking for the next area of funding or the next big project, and the Legislature was looking at funding these Centers of Excellence at the time," Alvi said. "And then VP for Research Kirby Kemper said if I got the grant, that he'd support me every way he could. Kirby was a great champion."
In 2008, the Florida Legislature provided $15 million to develop FCAAP, a partnership among FSU, the University of Florida, the University of Central Florida and Embry-Riddle University with a charge to develop cutting-edge technology in aerospace and aviation while also building the next generation of scientists and engineers. Florida is a major hub for aerospace and aviation activity, with nearly 106,000 Floridians working in those industries.
In 2011, FCAAP was named an FAA Center of Excellence for Commercial Space Transportation Research, and in 2013, the center added a Polysonic wind tunnel that allows researchers to run tests up to Mach 5 — the equivalent of 3,800 miles per hour. The center already boasted several wind tunnels that allowed for aerodynamic and aeroacoustic studies as well as supersonic high temperature jet facilities.
"No other university has all those facilities under one roof," Alvi said. "It's been tremendous for our faculty and students."
---
---
Setting up FCAAP, did make him more interested in administration as well. And in 2016, Murray Gibson, then dean of the College of Engineering, asked Alvi to serve as associate dean of research and graduate studies. Gibson said working with Alvi was both a "pleasure and a privilege."
"He is an outstanding researcher in his own right, has great judgment and organizational skills, and clearly sees the big picture," Gibson said. "The college could not have doubled its funding and its Ph.D. enrollment without his role as Associate Dean for Research and Graduate Education. He and I are both committed to the FAMU-FSU partnership embodied in our college, and we are especially proud that this year we reached for the first time the highest number of black engineering Ph.D. graduates of any school in the nation. "
From 2016 to 2021, the college's external funding increased by almost 60 percent and graduate enrollment by 40 percent. For Alvi, the position was a great combination of research, teaching and administration. Not only did he get to continue working with his own students and collaborators, but he got to help boost faculty from the College of engineering as a whole, and by extension, their students.
"The success of faculty and their students brings me great satisfaction," he said.
Alvi served as interim dean after Gibson stepped down to return to the faculty and returned to the associate dean role after Suvranu De began his tenure as the new permanent dean in July.
"Professor Alvi did an outstanding job shepherding the College of Engineering during the transition period, following Dean Gibson's departure," De said. "He launched multiple new initiatives and promoted faculty and staff in the college. He is not only a researcher and scholar of the highest caliber but an excellent leader whose dedication and support I deeply cherish."
Alvi said he's never had a career plan, but he is excited for the next chapter.
"I don't know what the next step or stage is," he said. "But I love building. I'm an engineer so I make stuff."