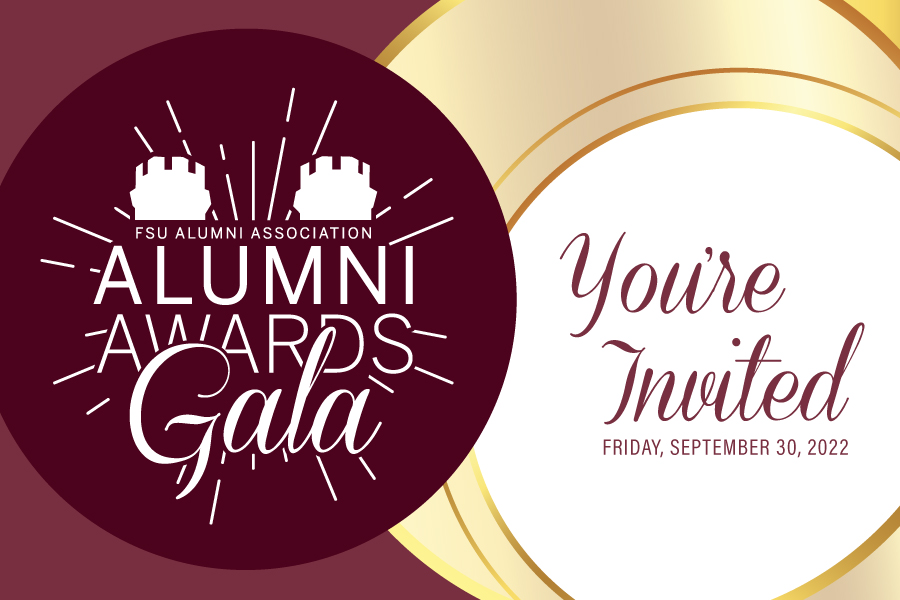 The Florida State University Alumni Association will recognize six distinguished alumni during its annual Alumni Awards Gala on Friday, Sept. 30, the evening before FSU's homecoming football game against Wake Forest.
The event will celebrate five Circle of Gold Inductees, plus Sally Karioth as the recipient of the Bernard F. Sliger Award, the association's highest award.
"Each of our honorees have made lasting impacts in the FSU community and beyond," said Julie Decker, president and CEO of the Alumni Association. "These alumni not only excel in their respective fields, but they also support, teach and mentor the next generation of FSU alumni. We look forward to celebrating them during homecoming weekend."
The FSU Alumni Association's Circle of Gold recognizes prominent individuals who personify the university's tradition of excellence through their service and achievements.
---
The 2022 Circle of Gold honorees are Craig Dewhurst, Dave Lane, Dazi Lenoir Esq., Nancy McKay, and Ahli Moore.
Craig Dewhurst (B.S. '91) has excelled in the insurance industry for over 20 years as a State Farm agent and lobbyist. Dewhurst serves as a business partner for several St. Johns County schools and local youth sports and serves on the St. Johns County Traffic Safety Team. He has served on several boards and committees, including the Seminole Boosters Board of Directors, the Donna Foundation Board of Directors, the Gator Bowl Sports Green Jacket Committee and the Committee of Florida Agents. He was also named a 2020 Seminole 100 honoree. Dewhurst gives back to students via the Jim King Seminole Heritage Foundation Scholarship, his own Craig Dewhurst Agency FSU Scholarship and various other FSU fundraisers.
Dave Lane (B.S. '91) serves as executive vice president of Republic National Distributing Company. Lane formerly served as chair of the FSU Foundation Board of Trustees, during which FSU achieved its first $1 billion capital campaign. Lane has also worked in partnership with the Dedman College of Hospitality to launch a RNDC Certificate in Beverage Management and was instrumental in organizing a $500,000 gift to the college. Lane was a commencement speaker in 2019 and has an endowed scholarship in the College of Social Sciences and Public Policy. He has served as board of education finance chair, vice president and president of the Lake Forest Community High School District in Illinois. Lane also shares insights into the beverage industry while inspiring others to tap into their growth mindset on his podcast "A Toast to Growth," which can be found on Apple podcasts.
Dazi Lenoir, Esq. (B.S. '02, M.S. '03) is chair of the FSU Alumni Association National Board of Directors. Lenoir is a legal and sales professional and the founding and managing partner of Lyons Legal LLC, which specializes in personal injury and wrongful death litigation. Lenoir was named a fellow of the Florida Bar's William Reece Smith Jr. Leadership Academy Class V and completed the Young Lawyers Division Leadership Academy. She has served on several boards and committees, including the Florida Bar Diversity and Inclusion Committee, the Women in the Profession subcommittee and the Georgia Young Lawyers Division District Representative Council. She also has served as secretary and board member for the Seminole Club of Greater Orlando. Lenoir previously served as vice chair of the national board of directors and chair of the board development committee.
Nancy McKay (B.S. '78) was a successful executive in the beauty industry, leading the North American sector for brands such as Estee Lauder, Clinique, Tom Ford and NEST New York before joining the FSU College of Business as an adjunct professor. She most recently shared her marketing expertise as a lecturer for students at the FSU London Study Center. McKay has held roles on various boards and committees in New York and Tallahassee, including the board of governors for the Fashion Scholarship Fund, the Fragrance Foundation advisory board, the National Mother's Day Committee for Save the Children and FSU's College of Human Sciences Board of Governors. She has also served as a member of the Foundation Board of Trustees since 2016 and was the board's third female chair. During her time as chair, the FSU Foundation saw more than $93 million in gifts and pledges from alumni and supporters – the second-highest giving year in a decade. She was a 2016 FSU commencement speaker and has received several awards from FSU, including the inaugural Inspire Award and a Grads Made Good Award.
Ahli Moore (B.S. '93, M.S. '95) is a human performance expert with over 27 years of experience in consulting and organizational development. He is the founder of X-Factor Solutions, through which he has developed and customized performance improvement programs for several Fortune 500 companies. Moore is president of the National Black Alumni Network, of which he's been a member for over 30 years and is a member of the FSU Alumni Association National Board of Directors. He has served on several boards and committees, including the Georgia Council for International Visitors, the City of Stonecrest, Ga., Transportation Advisory Committee, Seminole Boosters, the FSU Foundation President's Club and as chair of the FSU College of Communication and Information Leadership Board. Moore gives back in many ways, including mentoring students through his non-profit organization, Building Future Leaders, through the FSU ProfessioNole Mentors Program and as a life member of Omega Psi Phi fraternity.
The pinnacle award of the evening is the Bernard F. Sliger Award, named after FSU's 10th president. This award is the highest honor bestowed by the FSU Alumni Association and recognizes a member of the community who has made a significant contribution toward the fulfillment of the university's mission.
Sally Karioth (M.S. '72, Ph.D. '77) is a nationally renowned grief therapist and longtime faculty member of the FSU College of Nursing. Karioth has also worked in private practice for over 40 years, focusing on parents who have lost a child.
As a certified traumatologist, Karioth counseled survivors of the 9/11 terrorist attack on the Pentagon and children who lost parents in the World Trade Center. Karioth is frequently called upon as a commentator and expert on global traumatic events, and she speaks to tragedy survivors and mental health officials who are suffering from compassion fatigue. Karioth is an author, TED speaker and has appeared in two award-winning films. She teaches one of the university's most popular courses, "Death, the Individual and the Family."
Karioth is a beloved professor who has received numerous FSU awards, including the Ross Oglesby Award, the FSU Transformation through Teaching award, the Guardian of the Flame Faculty Award, the Burning Spear Award and several other teaching awards. She's a member of the Mortar Board, Omicron Delta Kappa (ODK), Circle of Gold, Phi Kappa Phi and Gold Key, and she has been recognized by the FSU College of Education as an outstanding alumna.
The 2022 Awards Gala will begin at 5:30 p.m. on Sept. 30 at the FSU Alumni Center. To register for the Alumni Awards Gala event, visit gonol.es/gala22.