Florida State University President Richard McCullough arrived on campus in August 2021 with a bold vision of leading one of the top public universities in the nation to even greater heights.
Inspired by FSU's rapid rise in the national academic rankings, commitment to student success, and role as an engine of economic opportunity and social mobility, McCullough wasted no time outlining ambitious goals and setting out to achieve them. He marked his one-year anniversary as president on Aug. 16.
"I knew Florida State was a special place from the moment I stepped on campus," McCullough said. "This is a university on the rise. I am proud of what we have already accomplished, and I am even more excited about what the future holds for this incredible university."
"I knew Florida State was a special place from the moment I stepped on campus. This is a university on the rise. I am proud of what we have already accomplished, and I am even more excited about what the future holds for this incredible university."

— Richard McCullough, Florida State University President
Immediately upon taking office, McCullough began to build an outstanding senior leadership team. Since last fall, he has overseen and completed searches for a new provost, chief of staff, vice president and director of Athletics, vice president for Research, vice president for University Advancement, and dean of Engineering.
The university also hired a new director of Opening Nights, chief audit officer, chief of police, president of Seminole Boosters and head coaches in women's basketball, baseball and soccer.
Under McCullough's direction, the university has initiated a search for a Chief Marketing Officer. This individual is expected to be named this fall.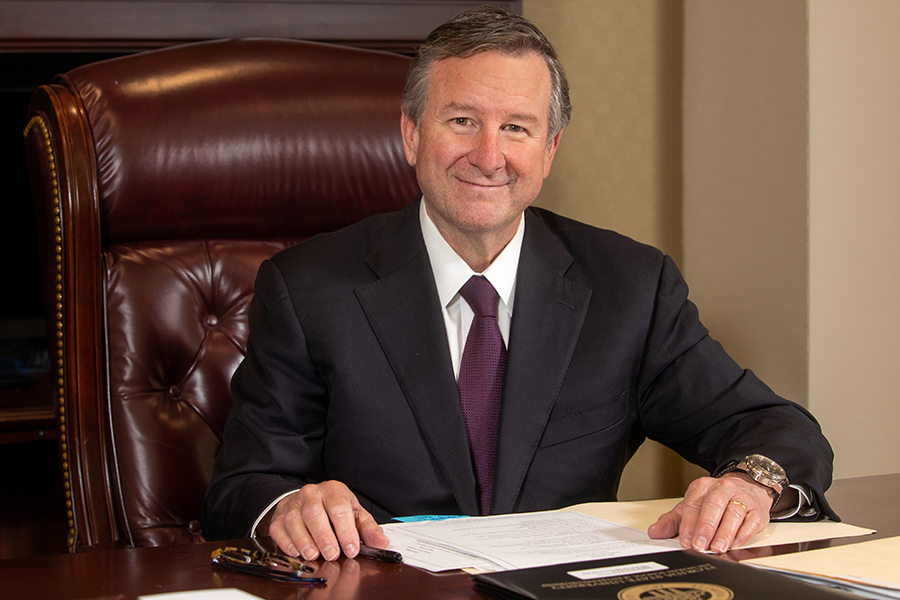 During McCullough's first year, the university continued to raise its profile with a string of significant accomplishments:
U.S. News & World Report again ranked FSU No. 19 among all public universities in America.
The university also posted some of the nation's top retention and graduation rates over the past year, achieving a 94 percent freshman retention rate and a four-year graduation rate of 73 percent, while nearly eliminating disparities across race, ethnicity and income level.
In November, the Association of Public and Land-grant Universities (APLU) recognized Florida State for its efforts to support all students in earning their degrees with the 2021 Degree Completion Award — the top student success award in the country.
FSU received more than 78,000 applications for about 6,000 spots in this year's freshman class — and admitted the most academically accomplished class in university history. The middle 50% of students admitted for Fall 2022 had a core GPA of 4.3-4.6, an ACT composite score of 29-32, and an SAT total score of 1300-1430.
U.S. News ranked 20 of FSU's graduate programs and specialties in the Top 25 among public universities last spring. Programs in education, business, law, and engineering all climbed in the rankings, while specialties like statistics, chemistry, biology, and earth sciences also made big gains.
Applications to graduate programs were up 23 percent compared to last year, contributing to the university's increasing graduate student enrollment. This year's graduate student cohort is expected to be the university's largest with more than 2,900 incoming students.
---
"It's becoming increasingly clear that undergraduate and graduate students want to come to FSU because they know they will receive a world-class education that will prepare them to compete and lead anywhere," McCullough said.
Over the past year, McCullough has made it a top priority to establish relationships with students across campus and to attend student events. He has reaffirmed the university's commitment to student success by investing in the academic advising staff and expanding FSU's nationally recognized Center for Academic Retention & Enhancement (CARE), which provides programming and support for first-generation students.
McCullough also continued to prioritize recruiting the most academically talented students to FSU by allocating resources and raising $15 million in gifts to increase funding for Presidential Scholars — FSU's premier undergraduate merit scholarship — and doubling the incoming Honors Program cohort, the largest in school history.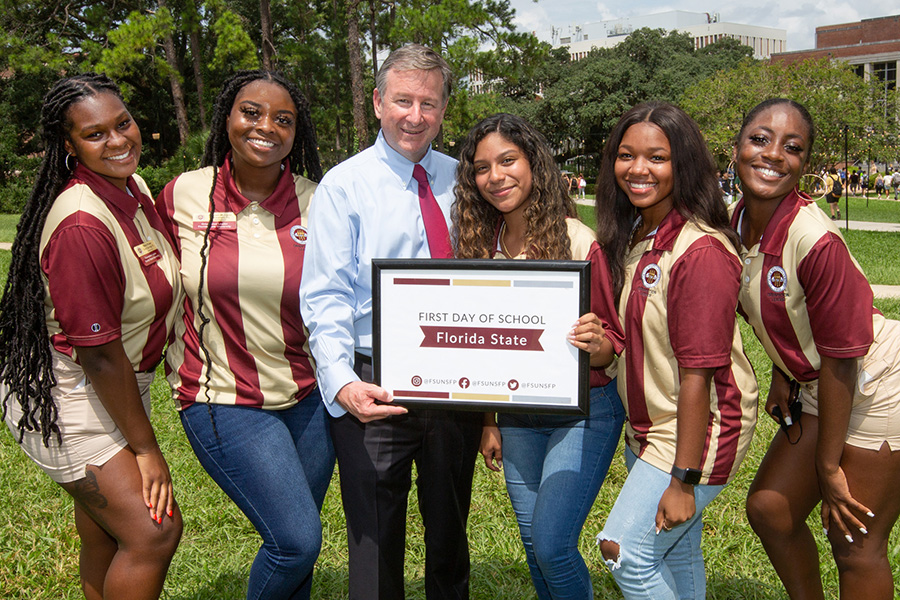 Another top priority of McCullough's is recruiting and retaining world-class faculty who will help grow Florida State's research and development enterprise.
"We're doing everything we can to keep our best faculty and reward those who are working the hardest and achieving at the highest levels," McCullough said.
This year, the university hired 155 new faculty members, which puts FSU in the position to secure more research funding in the future.
The university's research portfolio increased to record numbers this year, and McCullough is working to expand the university's external financial support, especially from the National Institutes of Health.
Additionally, the university has taken giant steps to create new research initiatives in the life sciences, medical research, health data sciences, aerospace and quantum science, and engineering.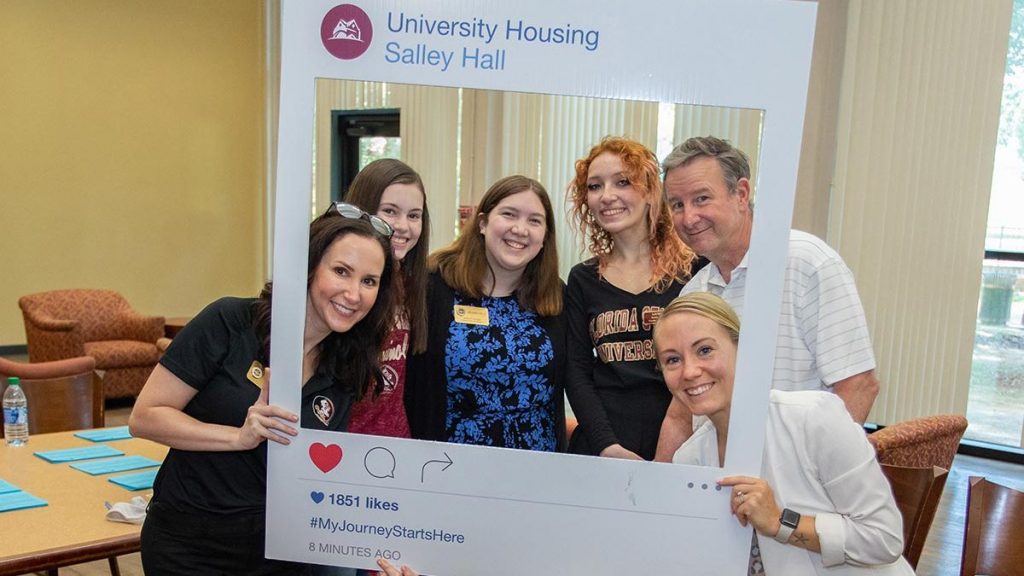 "One of my major goals is to build initiatives at this university by developing the infrastructure needed to attract more research dollars," he said.
One example of this is the new FSU Health initiative, a partnership with Tallahassee Memorial HealthCare, which has the potential to transform health care delivery, education, and biomedical research in the region. To support the FSU Health initiative, the Florida Legislature appropriated $125 million to FSU for a new academic health center in Tallahassee.
The appropriation from the state for FSU Health was part of FSU's most successful legislative session in university history. In addition, FSU received $45 million in recurring operational funds, $6.6 million in recurring funds for the FAMU-FSU College of Engineering, $16.8 million for the National High Magnetic Field Laboratory and approximately $90 million in capital funding for deferred maintenance at the Tallahassee campus, Panama City campus and FAMU/FSU College of Engineering and for critical infrastructure upgrades at the Mag Lab.
Other noteworthy accomplishments during McCullough's first year as president include:
The FSU Foundation raised $95.7 million during FY 2022 — the second-highest giving year in a decade, resulting in fundraising totals of over $136 million for university advancement.
The fundraising campaign for the new College of Business building, Legacy Hall, was revitalized, and the groundbreaking will take place Oct. 14.
The university took over the State Data Center, including the transfer of nearly 100 employees, and roughly $200 million of expenditures to the Northwest Regional Data Center.
Resources were invested to support the completion of North Florida Innovation Labs, a community-wide collaboration that will house start-ups and growing technology companies in need of specialized space.
Significant investments were made in faculty and staff including salary increases and compensation structure.
An update to the university's strategic plan from 2017 was initiated. The Strategic Plan 2022 will focus on the university's challenges and opportunities for the next five years.
FSU undergraduate students created about 100 new start-up companies.
Florida State Athletics maintained its position as one of the nation's premier Division I programs. Women's soccer won its third NCAA championship, and FSU Athletics finished 14th nationally in the Learfield Directors' Cup standings, which measure the overall strength of NCAA programs.