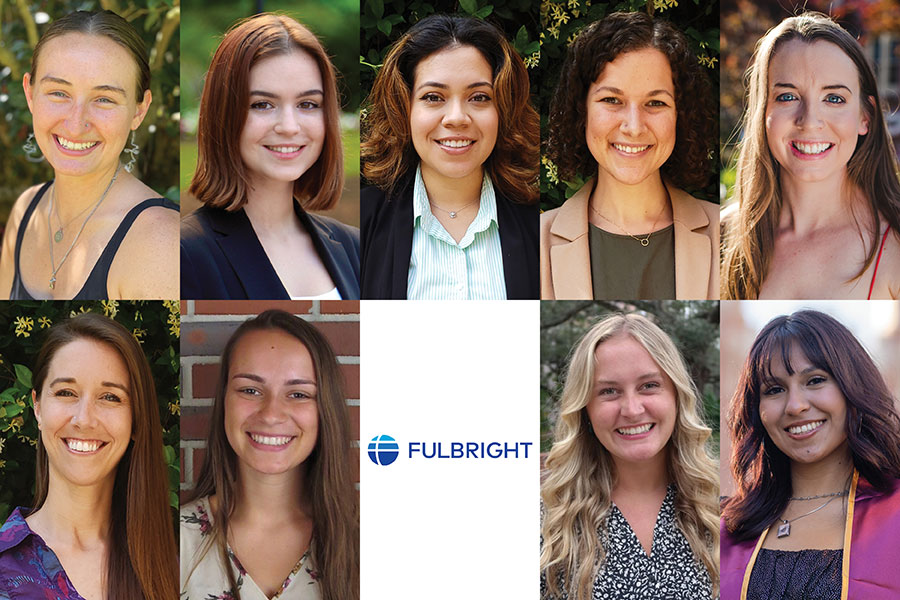 Nine current and former Florida State University students are recipients of scholarships through the prestigious Fulbright U.S. Student Program. 
The students hail from colleges and departments throughout the university, and through Fulbright funding, they'll research and teach in designated countries all over the world. Three of the recipients will travel to Brazil, two to Spain and the others to Ecuador, Denmark, Austria and Canada. 
"It is a great honor to have so many FSU students recognized this year and a testament to our commitment to engage globally as researchers, teachers, and students at the highest level," said Craig Filar, director of FSU's Office of National Fellowships. "The nine students awarded Fulbright student awards this year epitomize the innovative scholarship being done by our graduate and undergraduate students across campus."
Filar added: "I am incredibly proud of the resilience and commitment of our Fulbright student scholars as they head out across the globe this fall." 
Since 1945, the Fulbright program has provided students and young scholars opportunities to develop research, study and teach all over the world. The scholarship is overseen and funded by the Department of State's Bureau of Educational and Cultural Affairs and is the largest U.S. exchange program in the nation, with partnerships in 140 countries.
This year's Fulbright winners are: 
Alexandra Artiles, of Port St. Lucie, Florida. She's a doctoral candidate in political science who will travel to Ottawa, Ontario. 
"I have always admired Canadian culture, and I am so grateful to spend the academic year conducting my dissertation research in its capital city, Ottawa. Thank you to my mentors, Dr. Carol Weissert, Dr. Amanda Driscoll and Dr. Lonna Atkeson, for shaping me into the scholar I am today." 
Emily Eubanks, of Harrah, Oklahoma. She's a Ph.D. candidate in musicology who will travel to Austria. 
"I am incredibly grateful for the opportunity to travel to Austria and carry out my dissertation research. Beyond conducting my archival research, the Fulbright Award will allow me to make connections and form meaningful relationships with scholars and musicians in and around Austria."
Emely Galan, of Tallahassee, Florida. She earned an MBA from the FSU College of Business in 2021 and will travel to Spain. 
"Special thanks to Jesse Weiland at the Office of National Fellowships who transcends as an advisor. Additionally, I'm thankful to my loving mother for teaching me that with God all things are possible. This will be my first time in Spain. I look forward to immersing in the culture and gaining new perspectives. Upon my return from the grant I'll be applying to law schools and pursuing immigration law. Congratulations to the fellow FSU grantees of 2022-2023. Go Noles!"
Julia Kershaw, from Baltimore. She's a fourth-year doctoral student of art history who will work in Brazil. 
"I am very thankful for the support and encouragement of my directing professor, Dr. Tenley Bick, the Department of Art History and the Office of National Fellowships throughout the application process. I am looking forward to changing how scholars think about one of postwar and contemporary art history's most important artists, Lygia Clark, through archival research in Rio de Janeiro."
Lauren "Kinsey" Kuhlman, of Bartow, Florida. She will work in Brazil after earning a bachelor's degree in international affairs last spring.
"This achievement is an awesome reward for years of hard work, especially since I struggled to maintain my passion for learning during the pandemic. I am thrilled to practice Portuguese and engage with whatever Brazilian community I am placed in."
Elaine Melgarejo, of Miami. She will travel to Spain after earning a bachelor's degree in international affairs in December. 
"Spanish has been a language of intimacy for me; a language that nurtures my relationships with my family and ethnicity. My Fulbright award to Spain will allow me to indulge in my first native language while pursuing my passion in international education. I would like to thank Dr. Craig Filar for his encouragement and support, and I would like to thank my mom, who kept me rooted in my identity and taught me how to be proud of it."
Abby Rehard, of Macon, Missouri. She's a doctoral candidate in musicology who will work in Brazil.  
"As part of my dissertation research, I'll be working closely with Baque de Mina, an all-women's maracatu group based in the city of Belo Horizonte, Minas Gerais, Brazil. I will explore how their drumming, in very public places throughout the city, creates liberating spaces that embrace a spectrum of womanhood and challenges gender, racial and sexual oppression in Brazil. I am honored to receive this opportunity to learn from these incredible musicians, scholars and social activists from Fulbright. I'd like to thank my advisor, Dr. Paddy League, for helping me develop this project, as well as Daniela Ramos, musical director of Baque de Mina, and Dr. Lúcia Pompeu de Freitas Campos at the Universidade do Estado de Minas Gerais for their support. 
Alexa Scalchunes of Land O'Lakes, Florida. She will work in Copenhagen, Demark, after earning an undergraduate degree in international affairs. 
"I applied to Fulbright for a master's program in global development at the University of Copenhagen, in Denmark. When I began the application process, I wasn't sure which country or program I would apply to, but with the help of the CRE (Center for Undergraduate Research and Academic Enhancement) I was able to learn more about my goals for furthering my education to apply to an amazing program. I look forward to learning more about Scandinavian culture during my time in Copenhagen while continuing in the field of ethical development work. I am incredibly grateful to receive this award and look forward to the upcoming academic year." 
Courtney Whitcher, of St. Clair Shores, Michigan. She is doctoral candidate in ecology and evolutionary biology who will travel to Ecuador.

"I am so honored to have been awarded the opportunity to increase the scientific and cultural scope of my dissertation via the Fulbright Award. I am excited to acquire knowledge, make connections, and gain insight that will improve my professional and  personal view of the world."