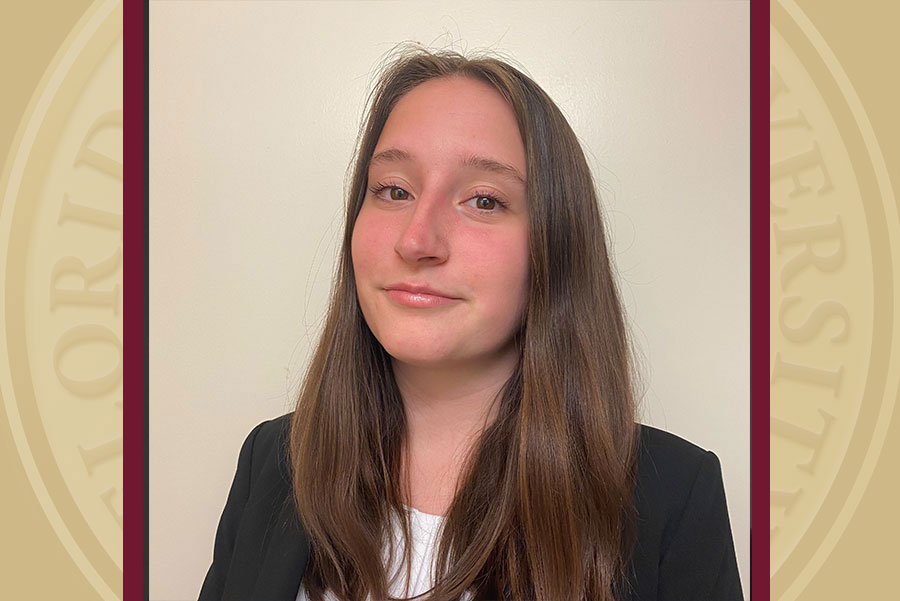 A Florida State University student with a lifelong passion for weather has won a Hollings Scholarship, bestowed by the National Oceanic and Atmospheric Administration.
Hanna McDaniel, a meteorology major from Atlanta, called the scholarship a dream come true and noted that, as a toddler, her parents used to turn on The Weather Channel to help her sleep.
The Ernest F. Hollings Undergraduate Scholarship will provide funding and an internship at a NOAA facility to parlay her passion into the career she has envisioned since childhood.
"This is a scholarship that I have been dreaming about applying to since my sophomore year of high school," said McDaniel, a rising junior. "I want to eventually work with NOAA, and getting this scholarship is a big step toward that goal. It means the world to me."
The Hollings Scholarship Program provides successful undergraduate applicants with awards that include up to $9,500 a year in financial assistance for two years of full-time study and a 10-week, full-time paid internship at a NOAA facility during the summer. 
The internship between the first and second years of the award provides the scholars with hands-on, practical experience in NOAA-related science, research, technology, policy, management and education activities.
Bonnie Garcia-Gloeckner, assistant director of FSU's Office of National Fellowships, said McDaniel is perfect for the Hollings Scholarship.
"We are so incredibly proud of Hannah," she said. "It's a fantastic opportunity and great honor for her. We are just so excited to see what she does next." 
McDaniel has a couple years to figure out her next step, though she's certain she'll pursue a doctorate in meteorology. Through that pursuit and beyond, she said, she knows the scholarship will help her for years to come.
"This scholarship gives me more freedom to pursue my passion doing research instead of finding an outside job," she said. "This obviously opens up so many doors to me right now and in the future."