A weekend of pomp, pageantry and celebration concluded at Florida State University Sunday as newly minted graduates, friends and family gathered for Spring 2022 commencement.
FSU President Richard McCullough presided over the weekend's five ceremonies at Donald L. Tucker Civic Center. This spring, FSU is awarding degrees to nearly 7,200 graduates: 5,560 bachelor's degrees, 1,373 master's degrees and 230 doctoral degrees.
---
Sunday, May 1
FSU Trustee Vivian de las Cuevas-Diaz delivered the Sunday morning commencement address to graduates of the colleges of Fine Arts; Communication & Information; Criminology & Criminal Justice; Social Work; and Music. 
A Florida State alumna, de las Cuevas-Diaz graduated with a bachelor's degree in political science and went on to earn a law degree from Tulane University. Now an attorney in Miami, de las Cuevas-Diaz in 2021 became the first Hispanic woman appointed to the FSU Board of Trustees.  
In her remarks, de las Cuevas-Diaz recounted her experience as the child of Cuban refugees. She said her parents brought her to Tallahassee so she could earn something that could never be taken from her — a world-class education.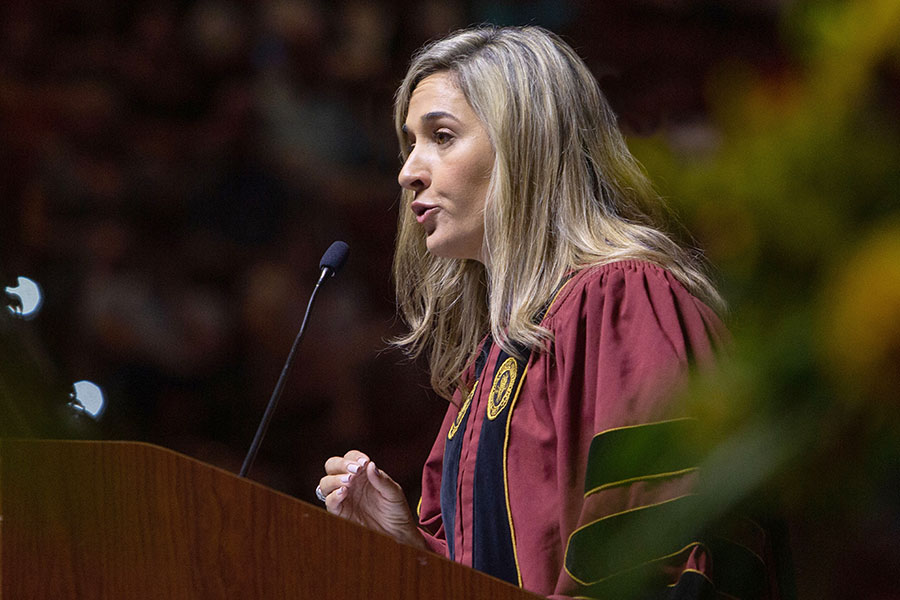 "My parents and grandparents always reminded me that everything is possible and to never be afraid to try," de las Cuevas-Diaz said. "However, this university showed me that everything was truly possible. If you are willing to work hard, you will be given opportunities that you must take, as those are the doors that shape who you are and what you do for this country and your community." 
De las Cuevas-Diaz challenged graduates to be critical thinkers and leaders, to be passionate and deliberate and to be grateful. She also reminded graduates that they sometimes will fail, and she called on them to remember the FSU motto of "Vires, Artes, Mores" — which translates to strength, skill and character — when they do.   
"When the day or days come when you fail or things are simply not going your way, please remember you have the strength to get up, the skill to assess what you should do and the character to succeed," she said. 
Saturday, April 30
Angela Santone, senior executive vice president for human resources at AT&T, delivered the Saturday morning commencement address to graduates of the Dedman College of Hospitality, Jim Moran College of Entrepreneurship and the colleges of Applied Studies, Medicine, Motion Picture Arts and Social Sciences & Public Policy.  
In her remarks, Santone drew upon her humble upbringing in rural Florida and reminded graduates that the past doesn't predict the future, it prepares you for it.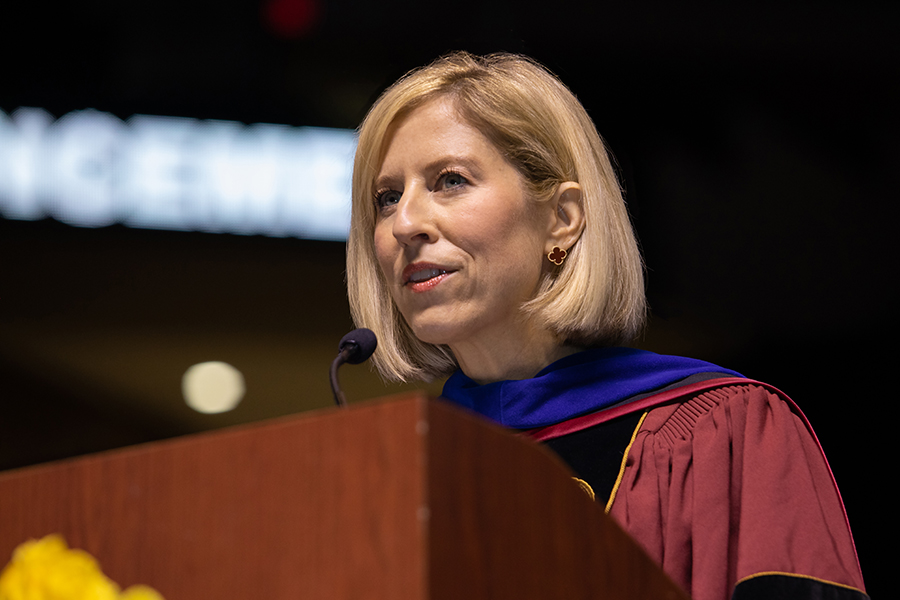 "Never underestimate what you can do," she said. "I grew up in a small farming community in the panhandle of Florida and attended a Title I school. I was blessed to grow up with a family and a community that were loving and supportive. But if I am being honest, none of us could've imagined the places I would go."   
In her current role, Santone oversees AT&T's global human resources strategy. She also leads a Women of AT&T circle mentoring group and serves on the national Board of Governors for the Boys and Girls Clubs of America and the Board of Directors for the Jed Foundation, focused on suicide prevention on college campuses and in high schools. 
"Hard work, discipline, luck and an ability to be comfortable in my skin, which hasn't always been easy, enabled me to become the head of HR at a Fortune 9 company in 2019," she said. "Your past doesn't define your future. Your past prepares you for your future."   
Santone urged graduates to remember that mistakes are part of life but so is perseverance. 
"You will make mistakes — the key is learning from them," she said. "You will have days that you feel like you can't go on, but I am here to tell you, you can, and you must. "You will have days that you are feeling like you are killing it because you are. Your journey will be made of many experiences, many emotions and many ups and downs. You will be okay." 
Laura Greene, chief scientist of the FSU-headquartered National High Magnetic Field Laboratory, or MagLab, spoke to graduates of the FAMU-FSU College of Engineering and the colleges of Nursing, Health and Human Sciences and Education during Saturday afternoon's ceremony.  
Greene, who is also the Marie Krafft Professor of Physics at FSU, is a widely respected researcher on quantum materials and the mechanisms of unconventional superconductivity. In September, President Biden appointed Greene to the President's Council of Advisors on Science and Technology or PCAST, which advises the President of the United States on matters involving science, technology and innovation policy. 
Greene congratulated graduates on their "tremendous day," and for showing strength and resilience over the past two years during a global pandemic. But Greene reminded graduates that it's "not the bad things that make you stronger — it's the good things!"   
She said, "Resilience is being strong in a world where things go wrong — so now, I want to remind you how you can build up a dividend of resilience."  
Greene said graduates have added to their "resilience dividend" by earning their degrees. 
"So, my advice to the Great Class of 2022 is to keep those good memories in your head," Greene said. "And when life presents you with yet another bump, just remind yourself of how you navigated through the earlier ones, of your successes. And the joy and satisfaction you felt by making it through."  
Former FSU Trustee and Student Body President Nastassia "Tazzy" Janvier addressed her fellow graduates during Saturday's two ceremonies. Last week, Janvier, who graduated with a master's degree in Public Administration, was one of 10 students in the country to receive a Marshall-Motley Scholarship from the NAACP Legal Defense and Educational Fund, awarded to promising future civil rights attorneys. 
She advised graduates to dream beyond their current circumstances, always remember their greatest fear is "not that we are inadequate, it is that we are powerful beyond our measure" and remember to love and love hard.  
"Love yourself, love your village and love your Seminole family," Janvier said.
Like Janvier, with a new bachelor's degree in economics from the College of Social Sciences and Public Policy now on his resume, Ronny Legare is also headed to law school. Legare, who hails from Jacksonville Beach, Florida, also shares Janvier's love of FSU.  
"Wherever I go, I'm forever bleeding garnet and gold," he said. "I am looking forward to being part of Florida State's alumni."  
The unconquered spirit of FSU is what Legare said attracted him to Tallahassee, and that it's a sentiment he said he would be taking with him and sharing with the world.   
"I was fortunate enough to get accepted into all the Florida schools I applied to, and when I visited them, each told me how great they were," he said. "When I came to FSU, they told me how great I could be." 
He added: "From Ms. Killings telling you that she loves you every day to the professors who help you out, everyone here wants you to have success."
---
Friday, April 29
FSU Board of Trustees Chair Peter Collins delivered the commencement address to College of Business graduates during Friday afternoon's ceremony. Collins earned a bachelor's degree in finance and an MBA from FSU and is a 2021 inductee of the College of Business Alumni Hall of Fame.
Collins took a moment to acknowledge that he was serving dual roles: that of commencement speaker and proud father. Collins' son was in the crowd and the recipient of a finance degree, the same degree his father earned 30 years ago.
Collins encouraged graduates to set goals, not quit until they've achieved them and take risks in their pursuit.
"You've all heard the quote that nothing good comes easy — well, nothing great comes without great risk or sacrifice. How far are each of us willing to go, how uncomfortable are we willing to be and what risks are we willing to take in order to achieve great success?"

— Peter Collins, FSU Board of Trustees Chair
"You've all heard the quote that nothing good comes easy — well, nothing great comes without great risk or sacrifice," he said. "How far are each of us willing to go, how uncomfortable are we willing to be and what risks are we willing to take in order to achieve great success?"
In pursuit of their goals, Collins reminded graduates that they will face the prospect of regret.
"The entire world would be a better place if we could go back and make different decisions with the benefit of understanding what those decisions would lead to," he said. "Unfortunately, we don't have the benefit of hindsight in particular moments so, as I've grown older, I have also focused on forgiveness — forgiving myself and forgiving others. Forgive people for their shortcomings because you will have yours, and you will crave forgiveness."
Dr. Andrea K. Friall addressed graduates of the College of Arts and Sciences on Friday evening. Friall, a member of the FSU Foundation Board of Trustees, graduated with a bachelor's degree in biological science from FSU before earning her medical degree at Howard University. Board-certified in obstetrics and gynecology, Friall has been a physician with North Florida Women's Care since 2001. She has served as chief medical officer at Tallahassee Memorial Healthcare since 2016.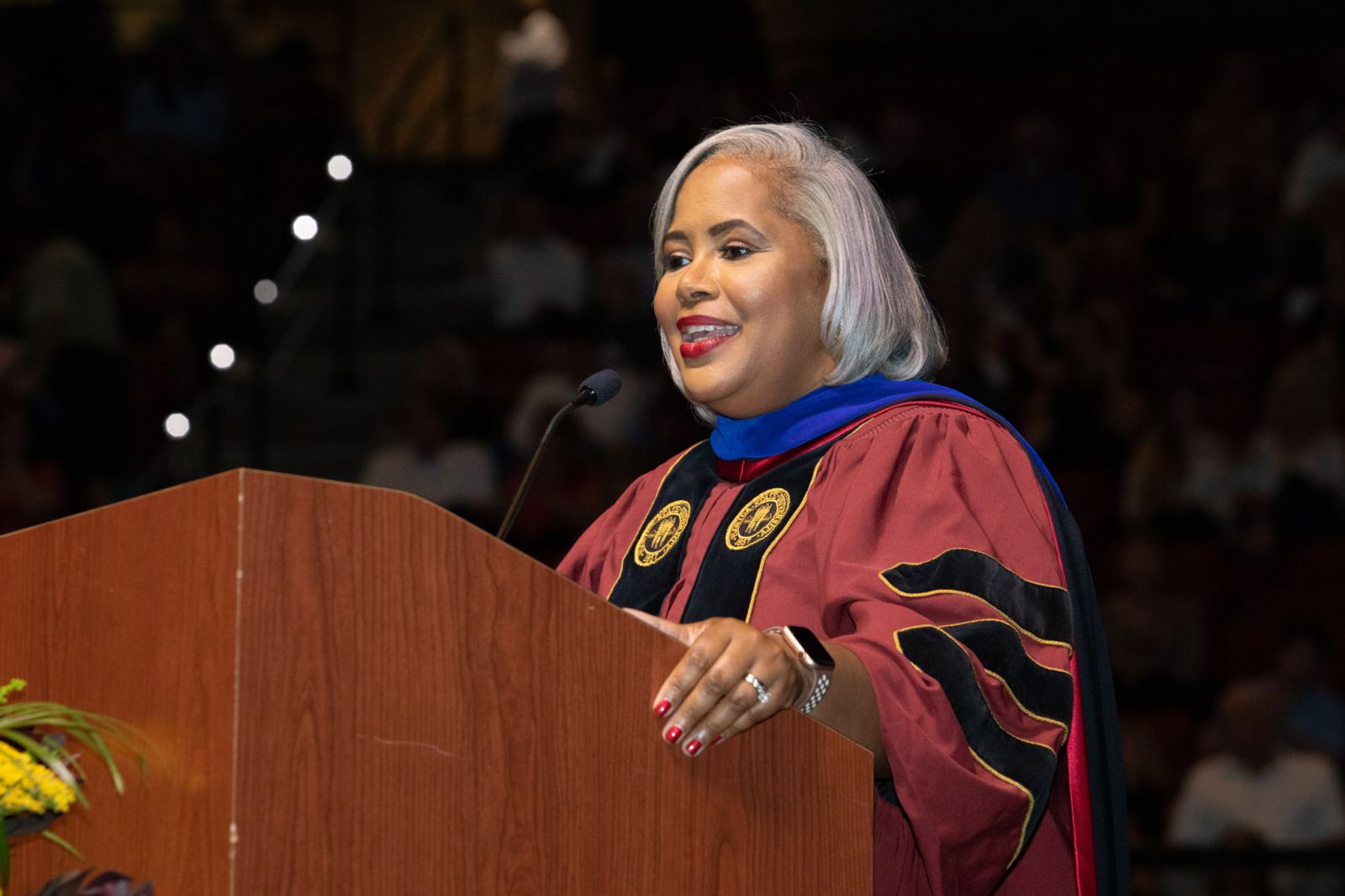 Friall shared three life lessons with graduates: Surround themselves with creative, genuine, supportive people who make them feel good; be prepared for the unexpected; and remember their journeys may be filled with multiple paths.
In an homage to her medical expertise, Friall told graduates to embrace leaving the womb of FSU.
"You are sitting in these seats today because of your determination, resilience and dedication," Friall said. "This achievement is yours and cannot be taken away. You have faced unique challenges other generations will reference for years to come, and you have conquered each obstacle along the way."
"You are sitting in these seats today because of your determination, resilience and dedication. This achievement is yours and cannot be taken away. You have faced unique challenges other generations will reference for years to come, and you have conquered each obstacle along the way."

— Dr. Andrea K. Friall
Friall encouraged graduates to remember how they feel tonight after all the celebration is over and they venture out into the "real world."
"I hope you remember how you feel at this moment — joy, pride, excitement, accomplished, courageous, unapologetic, fearless and unconquered," she said. "Don't lose that feeling!"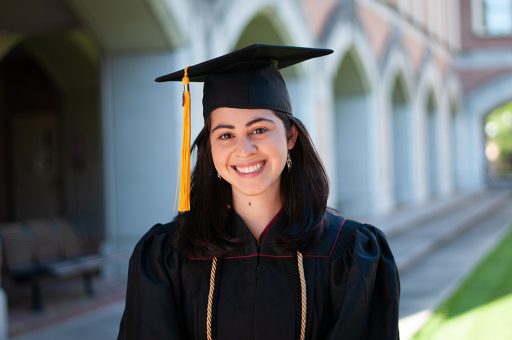 One of Friday evening's graduates was Jessica Dixon, a Presidential Scholar from Melbourne, Florida, who double majored in cell and molecular neuroscience and statistics. Dixon pursued neuroscience after watching her sister recover from a severe stroke and learning how to navigate life with her own Tourette's diagnosis.
"What I have appreciated most about FSU is the mentorship from faculty," Dixon said. "The professors at FSU genuinely care about you as a person and want to help you to reach your professional goals. While I will miss office hours with my favorite professors, I plan to stay in touch via email as I will always benefit from their life experience and advice."
Dixon's time at FSU is marked with achievements such as receiving the Goldwater scholarship, being named the 2022 President's Undergraduate Humanitarian of the Year and completing the SAS Programming and Data Analysis Certificate with Honors. Most recently, she received a Graduate Research Fellowship from the National Science Foundation which will support her pursuit of a doctorate in neuroscience at Harvard University.
"Walking across that stage is a symbol of the closing of a great chapter of my life at FSU and the beginning of my journey into the world," she said. "I have grown so much as a person and a learner at FSU and being able to go up on stage and receive my degree as a recognition of this experience is an honor."
When Beatrice Wallin was 13 years old and living in Gothenburg, Sweden, she dreamed of playing golf and earning her degree at a college in the United States. After four years as a member of FSU's Women's Golf team, Wallin fulfilled her dream Friday evening as she walked across the stage and became a college graduate.
"I am proud of all I have accomplished and the person I have become, so graduation just feels like a culmination of my hard work," Wallin said. "I'm very thankful to my coaches and teammates for challenging me to become a better version of myself these past four years."
With a degree in humanities and a successful collegiate golf career, Wallin is excited for the next chapter in her life. Wallin hopes to become a professional golfer and looks forward to giving back to FSU and the golf program.
"The FSU women's golf program has given me so much, so I would love to give back to future Noles who are as passionate about golf as me," Wallin said.