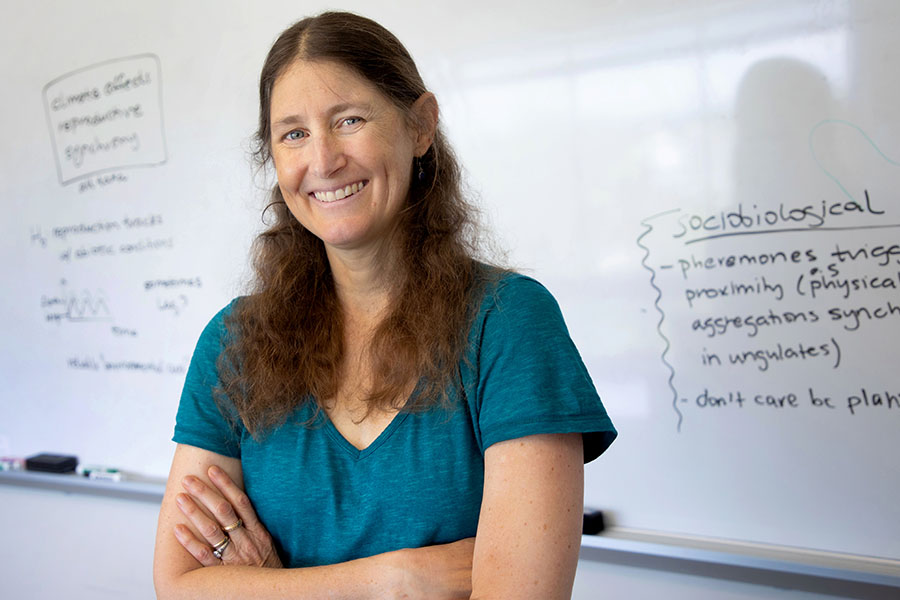 Long before she taught at Florida State University, Professor of Biological Science Nora Underwood led science field trips for elementary school students at a national park.
Learning how to work with children gave her the first glimpse at how to clearly communicate with different audiences. More than two decades later, she is still thinking about the best ways to get her point across with students, even though they are now much older.
In honor of her work in the classroom, Underwood received FSU's 2021-22 Distinguished Teacher Award during the annual Faculty Awards Dinner April 27.
"My teaching is very important to me, and I work very hard on it," Underwood said. "It is nice to know that the students see that."
The Distinguished Teacher Award is the university's most prestigious honor for teaching and includes a $7,500 stipend.
Underwood, an ecologist, started teaching at FSU in 2002 after completing her doctoral studies at Duke University and then working as a postdoctoral fellow and research associate at University of California, Davis. During her time at FSU, she has taught a variety of classes including the Ecology of Food, Conservation Biology and Biology II, plus a variety of graduate classes.
Underwood requires extensive writing from all of her students. In several of her courses, students draft a funding proposal, similar to what faculty members write when they apply for funding from government agencies.
"In most science courses, students don't write as much, but I feel that writing is important for any career," Underwood said. "It may be a proposal for funding, or it may be pitching an idea to your boss."
Underwood said she was honored to receive the Distinguished Teacher Award and noted her appreciation for colleagues who have shared tips and tricks of the profession. She has learned particularly from discussions with Associate Professor Alice Winn and others in the Department of Biological Science Diversity, Equity and Inclusion Committee and from informal "coffee hour" discussions among Biology faculty hosted by Professor Tom Miller. He puts on a pot of coffee in the faculty lounge and invites professors to share challenges and solutions in their research, service and teaching.
"Talking to other teachers and collaborating is so important," she said.
Underwood also received a Graduate Faculty Mentor Award for the 2021-22 academic year.
College of Arts and Sciences Dean Sam Huckaba said the college, which includes the Department of Biological Sciences, prides itself on its teaching.
"As a college that teaches, literally, every undergraduate student at one time or another, Arts and Sciences faculty place high expectations on themselves to deliver excellence in the classroom," he said. "Nora Underwood is an outstanding teacher and a shining example of that commitment. I am so pleased to see that she has been recognized with this award."
Other outstanding FSU faculty members recognized at this year's faculty awards were:
DISTINGUISHED RESEARCH PROFESSOR AWARD
Amy Ai, College of Social Work
Igor Alabugin, Department of Chemistry and Biochemistry
William Dewar, Department of Earth, Ocean and Atmospheric Science
Stephen Hill, Department of Physics
DEVELOPING SCHOLAR AWARD
Sonia Cabell, School of Teacher Education
Mariana Fuentes, Department of Earth, Ocean and Atmospheric Science
Daniel Hallinan, Department of Chemical and Biomedical Engineering
Jeremy Owens, Department of Earth, Ocean and Atmospheric Science
Lingjiong Zhu, Department of Mathematics
GRADUATE FACULTY MENTOR AWARD
Jonathan H. Dennis, Department of Biological Science
Elizabeth Slate, Department of Statistics
Hedi Mattoussi, Department of Chemistry and Biochemistry
Nora Underwood, Department of Biological Science
UNDERGRADUATE RESEARCH MENTOR AWARD
Michael Franklin, Honors Program
HONORS THESIS MENTOR AWARD 
Debra Fadool, Department of Biological Science
OUTSTANDING UNDERGRADUATE ADVISING AWARD
Mia Hines, College of Education
Korey Lowry, College of Health and Human Sciences
OUTSTANDING GRADUATE TEACHING AWARD
Dawn Carr, Department of Sociology
Phil Hiver, School of Teacher Education
Therese Kemper, Department of Psychology
Alexandria Meyer, Department of Psychology
OUTSTANDING TEACHING IN THE MAJOR AWARD
Malia Bruker, School of Communication
Elizabeth Cecil, Department of Religion
Jeffrey Chagnon, Department of Earth, Ocean and Atmospheric Science
Jim Dawkins, Department of Interior Architecture and Design
Keith Ferguson, Department of Marketing
Lisa Griffiths, Department of Nutrition and Integrative Physiology
Patricia Homan, Department of Sociology
Brendan Lantz, College of Criminology and Criminal Justice
Yelena McLane, Department of Interior Architecture and Design
Onsurang Norrbin, Department of Economics
Teresa Roach, Department of Sociology
FOUNDATIONAL COURSE EXCELLENCE AWARD
Kristina Bowers, Department of Mathematics
Joe Calhoun, Department of Economics
Michael Hammock, Department of Economics
Stephanie Sickler, Department of Interior Architecture and Design
Geoffrey Thomas, Department of Anthropology
Yaineli Valdés, Department of Mathematics
Chuck Viosca, Department of Marketing
COMMUNITY ENGAGED TEACHING AWARD
Tisha Holmes, Department of Urban and Regional Planning (Graduate Award)
Laura McTighe, Department of Religion (Undergraduate Award)
Darby Scott, College of Law (Graduate Award)
INCLUSIVE TEACHING AND MENTORING AWARD
Jaclyn Fiscus-Cannaday, Department of English (Graduate Award)
Azat Gundogan, Honors Program (Undergraduate Award)
Lara Perez-Felkner, Department of Educational Leadership and Policy Studies (Graduate Award)
Gregory Springer, College of Music (Graduate Award)
Geoffrey Strouse, Department of Chemistry and Biochemistry (Undergraduate Award)
INNOVATION IN TEACHING AWARD
Erin Ryan, College of Law (Graduate Award)
Jeff Whalen, Jim Moran College of Entrepreneurship (Undergraduate Award)
EXCELLENCE IN ONLINE TEACHING AWARD
Lisa B. Johnson, College of Social Work (Graduate Award)
Charla Perdue, College of Applied Studies (Undergraduate Award)
Svetoslava Slaveva-Griffin, Department of Classics (Undergraduate Award)
Karen Works, College of Applied Studies (Undergraduate Award)
ROBERT O. LAWTON DISTINGUISHED PROFESSOR AWARD
2022-2023, Maxine Montgomery, Department of English