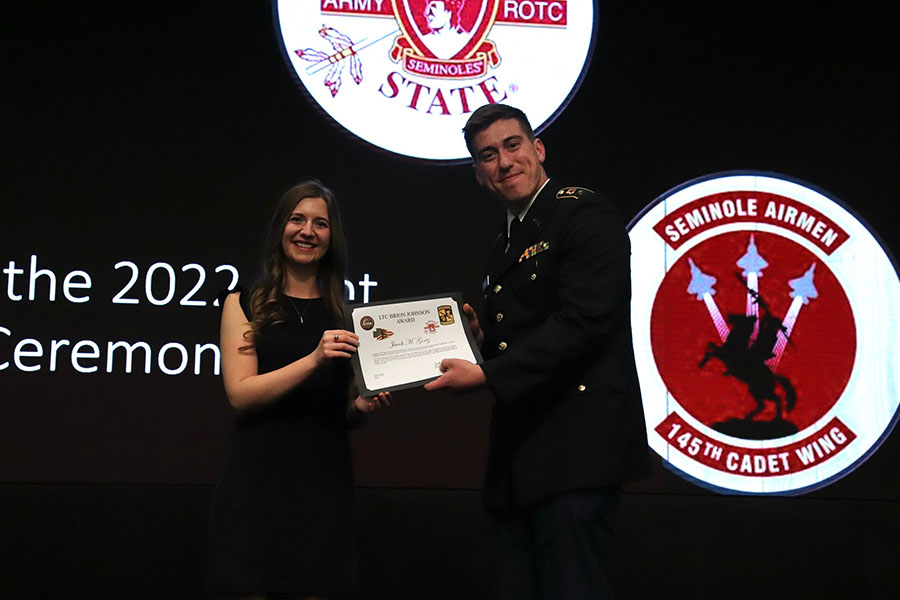 A Florida State University student is paying it forward to help a fellow student and an Army ROTC cadet earn his degree.
Sarah Johnson, director of the FSU Veterans Student Union, grew up as an Army brat. Her father, Lt. Col. (Retired) Brion Johnson, spent 29 years in the Army, deploying six times to Afghanistan, Iraq, Kuwait, Qatar and Bahrain. When she learned that her role with the Veterans' Student Union came with a stipend, Johnson decided to use the entire amount to create the LTC (Ret.) Brion Johnson Scholarship.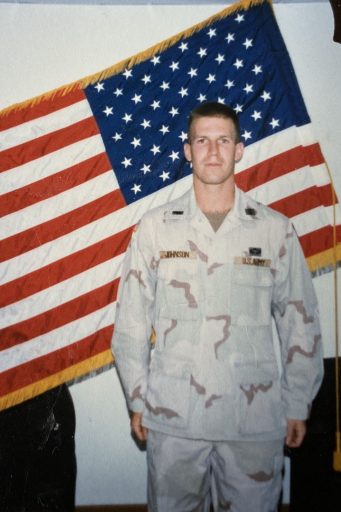 "My dad started out in Army ROTC at the University of Iowa, and for him it was the start of a successful and honorable 29-year military career," Johnson said. "I feel extremely touched to be able to give back to this university in my dad's honor. My hope is that I have made a small impact in someone's life and on this campus."
Johnson asked the university's ROTC leadership simply to select the student they felt was most deserving of the award.
The first recipient of the scholarship, worth $1,500, is Jacob Goetz, a junior from Odessa, Fla., who is studying criminology with a minor in military science. Goetz, who hopes to pursue a career in the military, said he was "over the moon" when ROTC leadership told him he was to receive the scholarship.
"Military service is a tradition in my family with my father and his father serving in the Army," he said. "I wanted to make sure I kept that tradition alive."
ROTC Capt. Marcos Carrillo, who nominated Goetz for the scholarship, has known Goetz for two years and said he considered him an obvious choice for the award.
"Not only is he an awesome cadet and will make a great soldier, but he's a really great person deep down," Carrillo said. "I believe his positive attitude and constant teamwork make him stand out among everybody in the program."
Johnson presented Goetz with the award at the university's Joint Army and Air Force Awards Ceremony in April. She did so in celebration of Goetz and in appreciation for her father, plus his fellow veterans and Florida State University.
"My dad is my biggest inspiration," she said. "He has always instilled great values in me such as 'To whom much is given, much is expected.' My journey as an Army brat has shaped me into the person I am today, and I have my father to thank for that."
William "Billy" Francis, director of the Florida State University Student Veterans Center, likewise salutes Sarah Johnson. A retired colonel in the U.S. Air Force, Francis hailed her gesture to honor her father and help students through the creation of a scholarship.
"In life, actions speak much louder than words, if our actions do not follow our words, it is our actions that will be remembered not our words," said Francis, who has worked closely with Johnson through her role with the Veterans Student Union. "Sarah Johnson's donation of her entire year's salary to an Army ROTC student in honor of her father is an action that will make a real, a tangible difference in the life of the recipient and the recipient's family."