Florida State University celebrated the legacy of President Emeritus John Thrasher Monday, April 25, as it unveiled his portrait during a luncheon at the FSU Alumni Center.
Thrasher became FSU's 15th president in 2014. During his nearly seven-year term, he elevated the university's reputation as a preeminent research institution and led FSU to recognition as one of the nation's Top 20 public universities.
"It's been a glorious, wonderful ride," Thrasher said. "It's been so wonderful to be a part of this university that I love. I've loved it since the first day I stepped foot here in 1961 and will never forget the great opportunity it gave me — as an undergraduate and then in law school. I couldn't be prouder to have been president of Florida State University."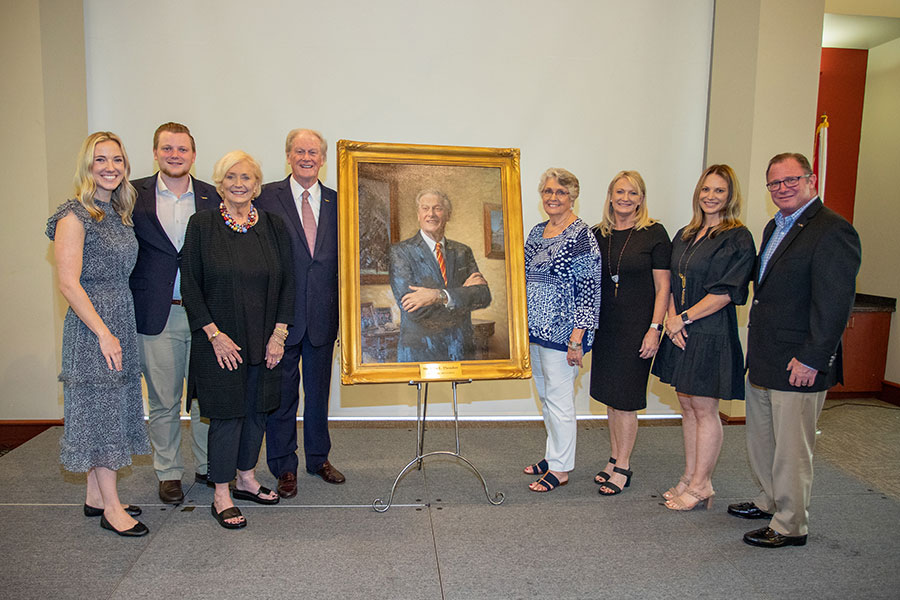 Thrasher was joined by former FSU First Lady Jean Thrasher; their three children, Jennifer Jordan, Jon Thrasher, and Julie Weinberg; granddaughter, Ashley Williamson, and her husband, Matt; grandson Will Jordan; and Jean's sister, Betty Holmes.
"Who would have thought that the stars would align so at the age of 70 you would get your dream job?" Jordan asked her father during her remarks.
Jordan said that her father's faith, leadership and his ability to listen and care are what she'll remember most about Thrasher's legacy.
"We love your amazing heart and the way you care not only for our family but for your FSU family," she said.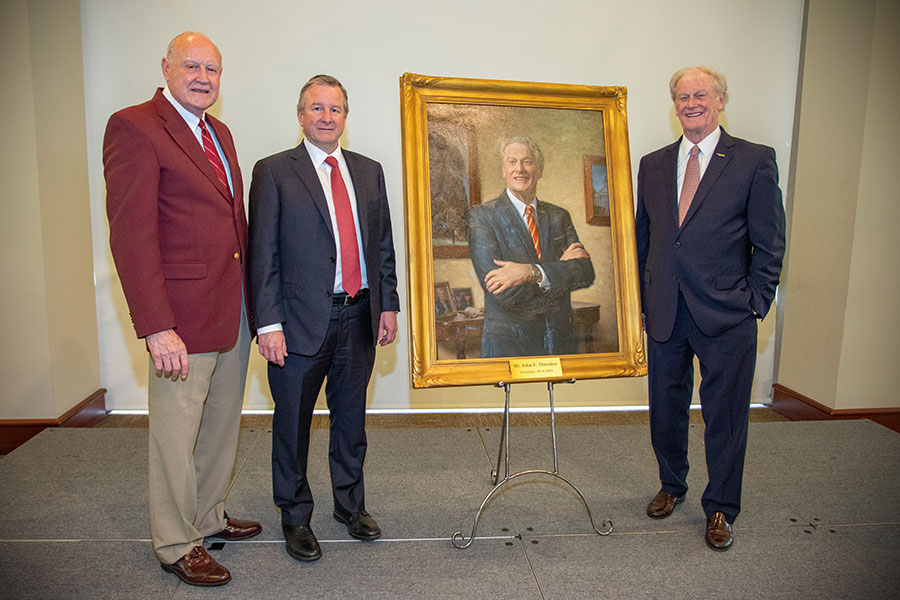 President Richard McCullough lauded Thrasher for leading FSU in its incredible rise in the national rankings and how it's made a tremendous difference for the university.
"John's bold vision guided this university's path of unprecedented academic excellence, and the university community leaned on his strong leadership in times of both celebration and crisis," McCullough said.
McCullough said he admired how Thrasher served the university with warmth, kindness and compassion.
"Those qualities really shine through in the painting," he said.
The university commissioned Paul Newton, an internationally recognized artist from Australia, to paint the portrait. Newton painted the portrait from halfway around the world thanks to several hours of collaboration with the university's photographers, who set up a real-time photo stream during Thrasher's portrait sitting.
The portrait includes personal details such as the two Bronze Stars Thrasher received for his U.S. Army service in Vietnam, a framed photograph of Jean on the table and a painting of the Florida Capitol where he spent many days as a legislator.
"With extraordinary skill and an eye for detail, Paul reveals the humanity of each of his subjects," McCullough said.
Newton, who has painted some of the most notable figures in the world, has won numerous honors, and his work is included in many permanent collections, including the Australian National Portrait Gallery; the Cleveland Clinic; and Princeton, Johns Hopkins, and Columbia universities.
The portrait will be displayed in the Westcott Building, where the Office of the President is located.