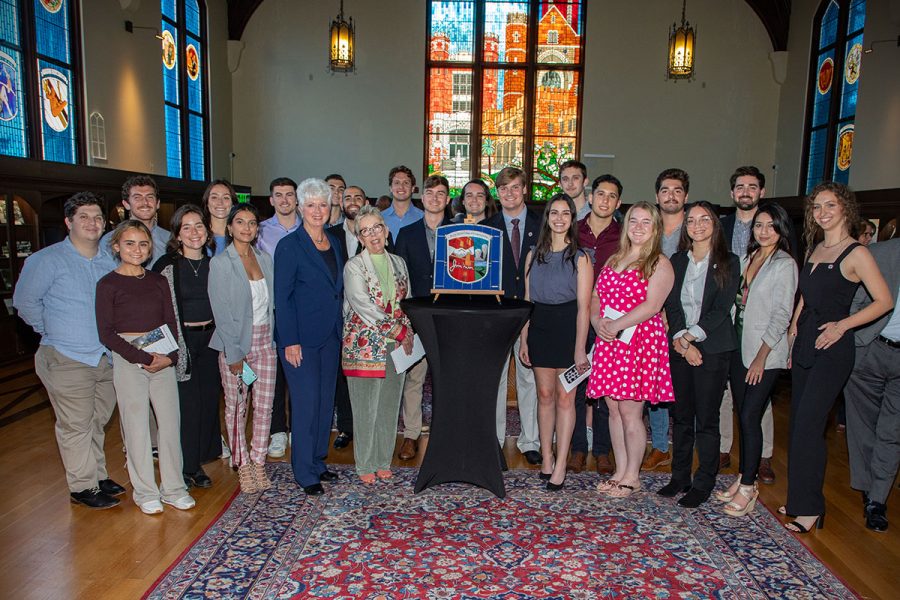 The Jim Moran College of Entrepreneurship has become the latest entity featured among Florida State University's stunning display of stained-glass windows in the Heritage Museum at Dodd Hall.
The window was dedicated during an April 13 reception. The dedication adds to an array of windows that highlight events and entities important and meaningful to the university's history.
The Jim Moran College raised the funds to commission FSU's Master Craftsman Studio to design and create the window in recognition of Jim and Jan Moran's generosity to the university. Their generosity includes a gift, with JM Family Enterprises, to establish the Jim Moran Institute for Global Entrepreneurship in 1995 and a record $100 million donation from Jan Moran and The Jim Moran Foundation in 2015 to ultimately create the first college of entrepreneurship in the country.
"The Jim Moran College of Entrepreneurship is so proud to join the Jim Moran Institute for Global Entrepreneurship in honoring the legacy of Jim Moran and the generosity of Jim and Jan Moran in making possible entrepreneurial education not only to businesses across the nation but also to all FSU students as they endeavor to be a success by following their dreams," said Susan Fiorito, Jim Moran Professor and founding dean of the Jim Moran College.
Melvin Stith, College of Business Dean Emeritus, presented Jan Moran with a replica of the window.
Mrs. Moran talked about her husband's life as a self-made businessman in the automotive industry with a heart for giving back and knew he would never have imagined a window designed in his honor.
"I had seen a drawing, but I have to say, I'm really speechless looking at this window," she said. "It's almost like this is a sacred room here at Florida State. It's been 15 years since (Jim Moran's) passing, and he wouldn't believe that his vision for JMI would continue to have this impact."
She joked that when she, Jim Moran and Stith began talking about starting an institute at FSU, only a handful people even knew how to spell entrepreneurship.
"Now, we have students — young people — coming here because of entrepreneurship," she said. "That's just wonderful. It's amazing."
President Richard McCullough thanked Jan Moran for her contributions that help FSU advance one of its top strategic goals.
"We are honored that you have entrusted Florida State University to carry out your vision and keep Jim's legacy alive," McCullough said. "You and Jim have forever transformed entrepreneurial education at Florida State University, and this window reflects the significance you hold in our history."
The college has played a big role in enhancing the entrepreneurial culture across the university. In only in its fifth year, its undergraduate program is already the No. 1-ranked program in Florida and one of the Top 20 in the nation.
Speakers also included John Thrasher, who served as FSU's president when the Jim Moran College of Entrepreneurship was established; Bob and Vicky Moore, who made a significant donation to the stained-glass-window project; and Jim Moran College students Bree Roberts and Harry Hirst.