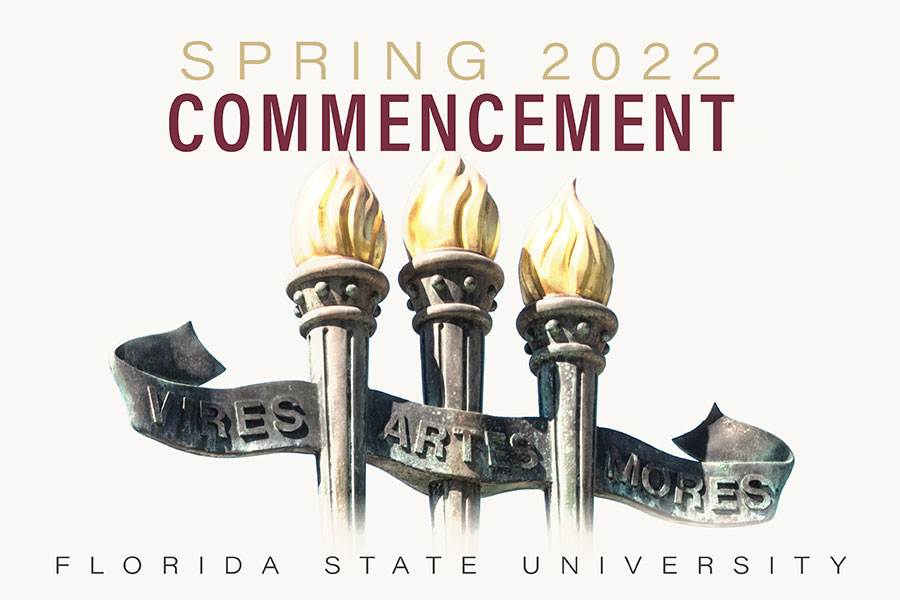 Four distinguished graduates of Florida State University and the chief scientist at the FSU-headquartered National High Magnetic Field Laboratory will be the featured speakers during FSU's spring commencement ceremonies April 29-30 and May 1 at the Donald L. Tucker Civic Center.
President Richard McCullough will preside over this spring's five ceremonies, with about 5,800 students expected to participate. The university will recognize students and student-veterans who have earned academic honors, including induction into the Garnet and Gold Scholar Society.
Florida State this spring will award degrees to nearly 7,200 graduates: 5,560 bachelor's degrees, 1,373 master's degrees and 230 doctoral degrees.

FSU Board of Trustees Chair Peter Collins, who earned a bachelor's degree in finance and an MBA from FSU, will speak to the graduates of the College of Business during the ceremony at 2 p.m. Friday, April 29. Collins is co-founder and managing principal of Forge Capital Partners LLC, a diversified, commercial real estate investment and investment management company. He is a past executive committee member of the FSU College of Business Board of Governors and a former trustee of the FSU Foundation, and he recently completed a two-year term as chair of the FSU Endowment. Collins also is a 2021 inductee into the College of Business Alumni Hall of Fame.
Dr. Andrea K. Friall, an FSU Foundation Board of Trustees member who graduated with a bachelor's degree in biological science from FSU before going on to earn her medical degree at Howard University, will address graduates of the College of Arts and Sciences during Friday's 7 p.m. ceremony. Friall, who is board certified in obstetrics and gynecology, has been a physician with North Florida Women's Care since 2001. She has served as chief medical officer at Tallahassee Memorial Healthcare since 2016. An advocate for women and girls through the American College of Obstetrics and Gynecology, Dr. Friall is dedicated to the community activities that improve healthcare outcomes.
Saturday's 9 a.m. ceremony will feature alumna Angela Riley Santone, senior executive vice president for human resources at AT&T, where she oversees the company's global human resources strategy. She will deliver the commencement address to graduates of the colleges of Applied Studies, Medicine, Motion Picture Arts, and Social Sciences and Public Policy, plus the Dedman College of Hospitality and the Jim Moran College of Entrepreneurship. Santone, who graduated with a bachelor's degree in sociology from FSU, serves on national boards for the Boys and Girls Clubs of America and the Jed Foundation as well as on FSU's Student Affairs Development Council.
Laura Greene, chief scientist of the FSU-headquartered National High Magnetic Field Laboratory, will deliver the commencement address to graduates of the FAMU-FSU College of Engineering and the colleges of Nursing, Health and Human Sciences, and Education during the 2 p.m. ceremony Saturday, April 30. Greene, the Marie Krafft Professor of Physics at FSU and a member of the National Academy of Sciences, is a widely respected researcher on quantum materials and the mechanisms of unconventional superconductivity and has held leadership roles in many of the most prestigious science organizations nationally and internationally. Greene presently serves on President Biden's Council of Advisors on Science and Technology (PCAST).
Vivian de las Cuevas-Diaz, an FSU alumna and the first Hispanic woman to be appointed to the FSU Board of Trustees, will speak to graduates of the colleges of Fine Arts, Communication and Information, Criminology and Criminal Justice, Social Work and Music at 10 a.m. Sunday, May 1. An attorney from Miami, de las Cuevas-Diaz serves as the firmwide deputy section leader of Holland & Knight's Real Estate Section and assists in managing the firm's nationwide real estate practice. In addition to her legal practice, she is a past president of the Cuban American Bar Association and a member of the Federal Judicial Nominating Commission for the Southern District of Florida.
For more information, visit commencement.fsu.edu.