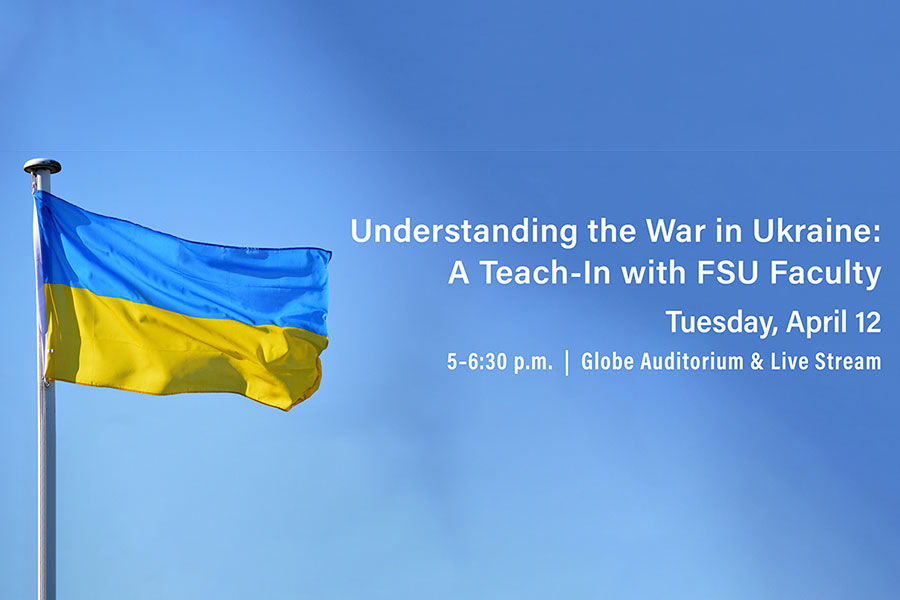 Florida State University's Center for Global Engagement will host a teach-in featuring an interdisciplinary panel to discuss Russia's invasion of Ukraine Tuesday, April 12. 
Panelists will represent disciplines from across FSU including history, international affairs, communications and modern languages and linguistics. Together, the group will attempt to offer context and perspective to several different aspects of the conflict.
The event, which is open to the public to attend in person or via livestream, will take place at 5 p.m. Tuesday, April 12 at the Globe Auditorium in the Center for Global Engagement at FSU.
FSU Provost Jim Clark said he hopes the event will yield engaging, informative conversation on a vital topic.
"This discussion is an opportunity to provide our students and the broader university community with a deeper understanding of what's happening in Ukraine and the other affected countries in Europe," Clark said.
Organizer Leslie Richardson, director of the Center for the Advancement of Teaching, said understanding the war in Ukraine is difficult even for those people following it closely. 
"Things are changing really rapidly there, and students are nervous and concerned," she said. "We are hoping we can draw on the vast expertise we have on campus to make sense of what's going on and provide historical and cultural context to help interpret the messaging we are getting that is often conflicting or contradictory," Richardson said.
The teach-in panelists are Liz Dunne (Strozier Library), Jonathan Grant (History), Svitlana Jaroszynski (School of Communication), Michael Launer (Modern Languages & Linguistics), Patrick Merle (School of Communication), Lee Metcalf (International Affairs), Na'ama Nagar (International Affairs) and Robert Romanchuk (Modern Languages & Linguistics). 
Questions for the panelists should be submitted in advance at: https://bit.ly/3Jgmh6r.
For more information or to livestream, visit https://global.fsu.edu/war-in-ukraine.