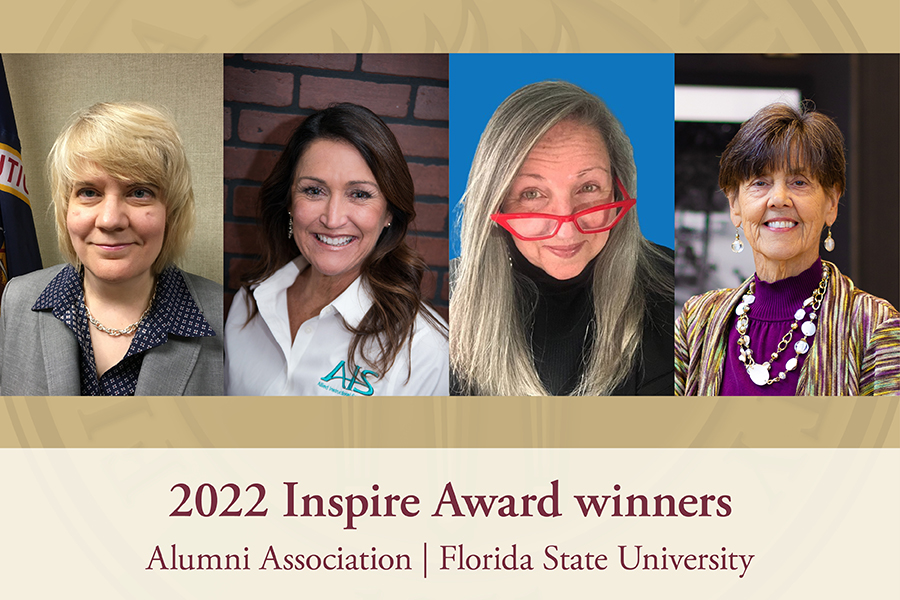 The Florida State University Alumni Association's sixth annual Inspire Awards, presented by the Women for FSU, will recognize alumnae who have distinguished themselves as leaders within their fields and whose hard work and determination serve as an inspiration to current students and young alumni at FSU.
The Inspire Awards are presented annually during Women's History Month to FSU alumnae who have "shattered the glass ceiling" in their respective industries and given back to the university. The FSU Alumni Association will honor four women who have excelled in their professional accomplishments and community engagement while serving as mentors to others.
---
The 2022 Inspire Award Honorees are:
Linda Alexionok (B.S. '77)
College of Education
Tallahassee, FL
Linda Alexionok began her career as a public school teacher before transferring to the field of banking. Alexionok was the first female community bank CEO in Tallahassee, Florida, and the first female bank president in the North Florida region. Following her banking career, Alexionok became engaged in public policy and best-practice program development using a human-centered approach which she applied to her role as the president of Voices for Florida, the backbone for The Open Doors Outreach Network. This program offers trauma-competent care to children in 32 Florida counties. She also is the co-founder of SIE CoLab, an organization that has partnered with the FSU College of Communication and Information to build the Technology Architecture Committee which provides apprenticeship opportunities for students.
Lisa Brock (B.S. '80)
College of Criminology & Criminal Justice
Tampa, FL
Lisa Brock, a public relations and marketing professional with more than 35 years of experience, was the first woman and non-business major to be hired by Procter and Gamble and complete their executive management training program. Currently, she serves as the Principal of Brock Communications, a full-service firm specializing in strategic communications and crisis management. Brock is a mentor and founding member of Frameworks of Tampa Bay, which uses social and emotional learning to help today's youth grow into the leaders of tomorrow. She serves on multiple boards, including the College of Criminology and Criminal Justice Board at Florida State University.
Melissa Van Dyke (B.S. '90)
FAMU-FSU College of Engineering
Madison, AL
Melissa Van Dyke, known nationally for her work in Space Nuclear Propulsion, is the manager of the Science and Technology Chief Engineers Office at NASA. In this role, she is responsible for executing authority for programs with a total yearly investment value of over $400 million, supporting a workforce of over 200 engineers and scientists. Van Dyke has authored and co-authored over 15 papers and has received NASA's Exceptional Achievement Medal, NASA's Outstanding Leadership Medal, NASA's Space Flight Awareness Management Award and the American Institute of Aeronautics and Astronautics Alabama-Mississippi Section Aerospace Engineer of the Year Award. She is the winner of the 2017 Distinguished Alumni award from the FAMU-FSU College of Engineering and remains connected with FSU faculty and students, inspiring and recruiting individuals, especially young women, into future careers in the space industry.
Karen Walker (B.S. '87, M.S. '88)
College of Education
Tallahassee, FL
Karen Walker, an expert in the field of blindness and visual impairments, founded Allied Technologies, a company specializing in the sales and training of low-vision electronic magnification systems and software. After selling Allied Technologies, she founded Allied Instructional Services, where she holds the role of president. Walker's company was recognized for four consecutive years (2018-2021) on the Seminole 100 list of the fastest-growing companies owned or led by FSU alumni. Walker's drive to do more for the field of disabilities motivated her to create her nonprofit organization, Enhance Ability, which she later expanded to include the Able Artists Gallery. Walker also serves as an adjunct faculty member and internship supervisor at the Teacher of the Blind and Visually Impaired Teach Preparation Consortium at George Mason University and is a member of the FSU College of Education Dean's Circle.
---
This year's honorees will be recognized during a celebratory brunch at 10:30 a.m. Friday, March 25, in the Alumni Center Ballroom. Honorees will speak about their diverse experiences in a panel discussion led by Julie Decker, President and CEO of the FSU Alumni Association.
Event registration for the Inspire Awards Brunch runs through Saturday, March 19. Guests can register to attend here.
For questions regarding the Inspire Awards Brunch, please contact events@alumni.fsu.edu.