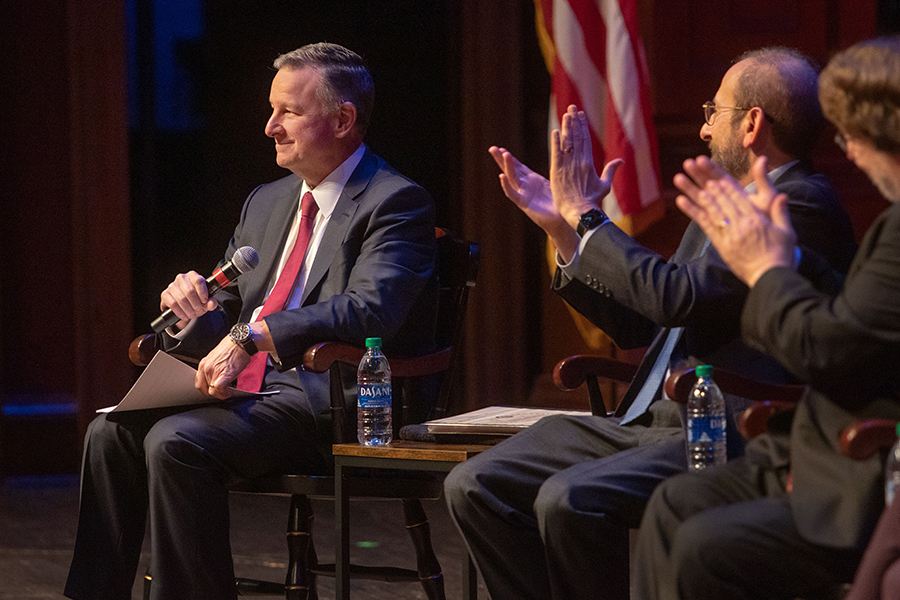 With Florida State University celebrating the inauguration of its 16th president, a panel of higher education leaders gathered to consider the challenges and opportunities facing universities and the critical need for a liberal arts education to help solve 21st-century questions.
FSU President Richard McCullough moderated the discussion during "The President's Symposium: The Future of Higher Education" Friday, Feb. 25, at Ruby Diamond Concert Hall.
He was joined by Interim Vice President of Research Laurel Fulkerson, Dean of the College of Fine Arts James Frazier, Harvard University Provost Alan Garber, Carnegie Mellon University Provost Emeritus Mark Kamlet and Holden Thorp, the editor-in-chief of the Science Family of Journals.
Harvard University President Emerita Drew Faust also provided a taped introductory message where she outlined the importance of scholarship in a variety of areas including climate change, the pandemic and international conflict.
"Higher education has never mattered more," Faust said. "University research and teaching have the power to change the world."
The group tackled a wide variety of complex issues facing higher education including funding for basic research, technology transfer and the importance of arts and humanities in the university sphere. The speakers all noted that though universities need to train students with the technical skills necessary in a data-driven world, the skills learned in social sciences, humanities and liberal arts were equally important.
McCullough, who took office in August, has laid out an ambitious agenda for the university that honors the university's history in the arts and humanities while enhancing the research portfolio and FSU's start-up culture.
"One thing that the arts contribute is really developing creating thinkers, critical thinkers, problem solvers – learning in standard and nonstandard ways," Frazier said.
Research and courses that promote critical thinking, flexibility, information integration and creativity will teach students skills that will serve them no matter what field they enter upon graduation and beyond.
"We need to be preparing students for their seventh jobs and their eighth jobs and the jobs that we don't know exist yet," Fulkerson said.
McCullough holds multiple patents and is the founder of two companies. As a professor and Vice President for Research at Carnegie Mellon, he developed a vibrant innovation ecosystem, including the Greenlighting Start-ups Initiative that exponentially increased the generation of university spin-out companies and corporate engagement. He also continued overseeing technology transfer operations as vice provost for research at Harvard University.
Kamlet, who as provost of Carnegie Mellon worked closely with McCullough on commercialization of university research, said that moving work out of the lab shows the fundamental role universities can play in improving lives.
"America is outstanding in what it has in higher education, but the world is a broad place," Kamlet said. "If there is anything that can change the world, it is what we can contribute to the world — bringing what we can do to other folks."
Garber noted that there may be a popular belief that administrators or politicians just need to get out of a brilliant thinker or inventor's way and let business flourish. He said there needs to be an ecosystem of support from universities — financial assistance, technical and legal support and more.
"You need access to capital and have know-how…you have to have all these pieces, and they just don't happen on their own," Garber said.
Because of his experience running start-up companies and facilitating technology transfer at two different universities, McCullough is perfectly positioned to do this work at FSU, Thorp said.
"A place like FSU is brimming with good ideas," he added. "It's great for FSU that you're going to be the president and have done all those things."
To view a recording of the event, visit https://president.fsu.edu/inauguration/symposium/.