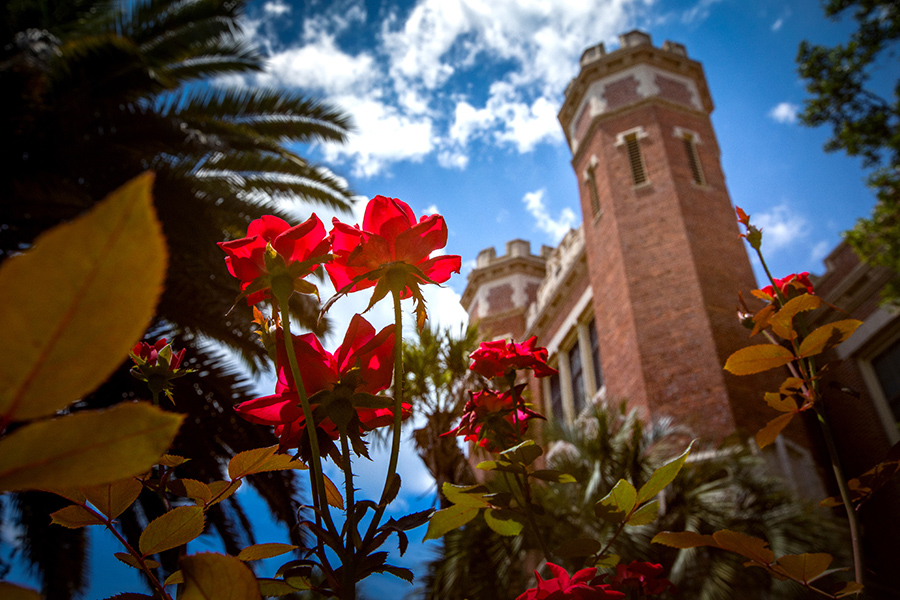 University Admits Most Academically Accomplished Class in its History
Florida State University admitted the most academically talented and geographically diverse class in its history after receiving a record number of first-year applications for the sixth consecutive year.
The university released its priority admissions decisions Feb. 17, admitting over 17,000 students.
The admitted class reflects unprecedented geographic diversity with students from all 50 states; Washington, D.C.; U.S. territories: Puerto Rico, Guam, U.S. Virgin Islands; and 42 countries around the world. Seventy-nine percent of the admitted class comes from the state of Florida with all 67 counties represented.
"It is no exaggeration to say that Florida State University is one of the most popular schools in the country," said John Barnhill, associate vice president for Enrollment Management. "The quality of our academic programs, our supportive student environment, our great value and our successful student outcomes have not gone unnoticed."
FSU has received more than 74,000 first-year applications for 2022. That number is already ahead of last year's record total of 66,033 applications with across-the-board increases from in-state, out-of-state and international students. This year's total is expected to surpass more than 75,000 applications as prospective students still have until March 1, 2022, to submit an application.
Since 2016, FSU has seen an astounding 157% increase in first-year applications.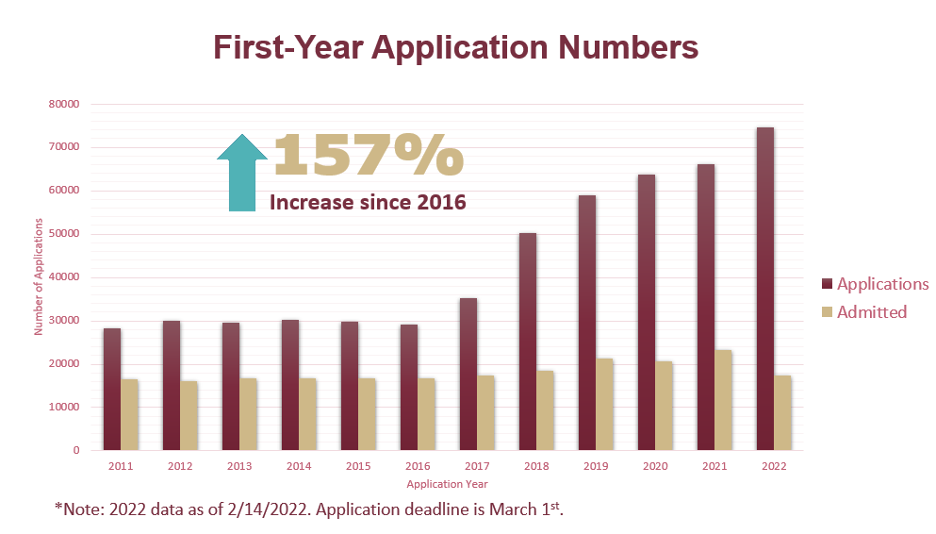 "We are honored by the continued interest in Florida State University," said Hege Ferguson, director of admissions at FSU. "While it is incredible to have such a large number of applications, we have been blown away by the talent of the students who have applied. As a Top 20 public university, it is exciting to be able to identify those students who we believe will excel not only at FSU but in the world. I have been amazed by what all these students have been able to accomplish, the resilience they have demonstrated during these very challenging times, and the drive they have to improve their communities and help others."
This year's admitted students make up the most academically accomplished class in Florida State's history. The middle 50% of students admitted for Fall 2022 had a core GPA of 4.3 – 4.6, an ACT composite score of 29 – 32, and an SAT total score of 1300 – 1430. Admitted students have taken an average of 9 AP, IB, AICE, or dual-enrollment courses while in high school, and 79% of the admitted students earned all A & B grades. The top three areas of study for admitted students were business, biological science and engineering.
The admitted class also reflects FSU's commitment to expanding access across all communities in Florida. Of the admitted students, 3,703 are first-generation college students and 1,940 are from rural communities.
"For months, we have had the privilege of learning about the individuals behind the grades and test scores," Ferguson said. "It is a big task selecting students from such an accomplished applicant pool, but I feel strongly that we have found the best students for our university."
An additional 5,000 students who applied for priority admission received a deferral to regular decision. These applicants will still be given full consideration for admission to Florida State.
Ferguson said students who receive a deferral should not be discouraged.
"A deferral is not a denial. It is an opportunity for those students to share more information with us as we continue to review their application and finalize our first-year class," she said.
Students with admission notices have until May 1 to confirm their decision to attend Florida State. FSU expects to enroll approximately 6,200 first-year students.
The final application deadline is March 1. Rolling admissions decisions for deferred applicants and those who applied after the priority deadline of Nov. 1, 2021, will be announced starting in late March.