Academic Symposium to Feature National Higher Education Leaders
---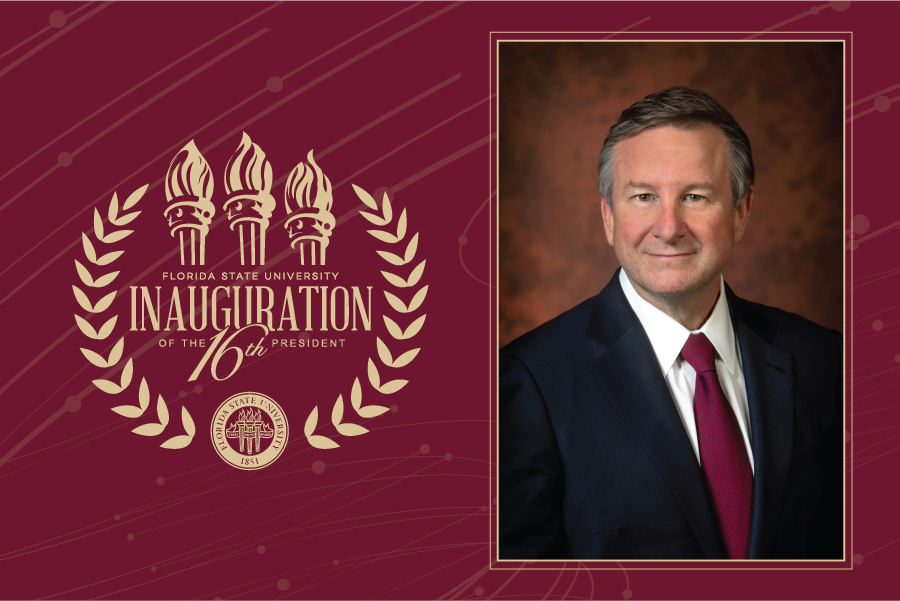 Florida State University will celebrate the inauguration of its 16th president, Richard McCullough, with a day of festivities Friday, Feb. 25.
The celebration will begin at 11 a.m. with "The President's Symposium: The Future of Higher Education" at Ruby Diamond Concert Hall, featuring a panel of national leaders in higher education. McCullough will lead the panelists in a discussion of the future of the university.
The panel, which includes participants with close ties to McCullough's academic journey, will bring together academic leaders from Harvard University and Carnegie Mellon University and Florida State University, along with the editor-in-chief of Science magazine.
McCullough spent 22 years at Carnegie Mellon, rising through the ranks from assistant professor to vice president for research, before he was appointed vice provost for research and professor of materials science and engineering at Harvard in 2012. McCullough started as the 16th president of Florida State on Aug. 16, 2021.
The investiture ceremony will take place from 2:30 to 4 p.m. at Ruby Diamond Concert Hall. The event will highlight university traditions such as the awarding of The President's Medallion and the lighting of the three torches, which appear in Florida State University's seal and represent the university's motto, "Vires, Artes, Mores" — or strength, skill and character.
Distinguished speakers will include Lawrence S. Bacow, president of Harvard University; Jared L. Cohon, president emeritus of Carnegie Mellon University; Alan M. Garber, provost of Harvard University; Marshall M. Criser, chancellor of the State University System of Florida; Peter Collins, chair of the FSU Board of Trustees; Nastassia Janvier, student body president and FSU trustee; Rev. Dr. R.B. Holmes, Jr., pastor of Bethel Missionary Baptist Church in Tallahassee; FSU Professor of English Maxine Montgomery; and Mike Norvell, head football coach of Florida State University.
FSU Provost and Executive Vice President for Academic Affairs Jim Clark will serve as ceremony host. The event also will feature a poetry reading by David Kirby, Robert O. Lawton Distinguished Professor of English, and a musical performance by Assistant Professor of Voice Marcy Stonikas.
A reception on Westcott Plaza will immediately follow the ceremony.
More information is available at https://president.fsu.edu/inauguration/. Events are open to the public. Attendees are asked to pre-register through the website.
Symposium speakers will include two of McCullough's former colleagues from Harvard — Provost Alan Garber and Dean of Social Science Lawrence D. Bobo — as well as Mark S. Kamlet, provost emeritus at Carnegie Mellon, and Holden Thorp, former Chancellor of the University of North Carolina at Chapel Hill and current editor-in-chief of Science family of journals. They will be joined by FSU's Interim Vice President for Research Laurel Fulkerson and College of Fine Arts Dean James Frazier.
A complete list of academic symposium panelists and their bios is available at https://president.fsu.edu/inauguration/symposium/.