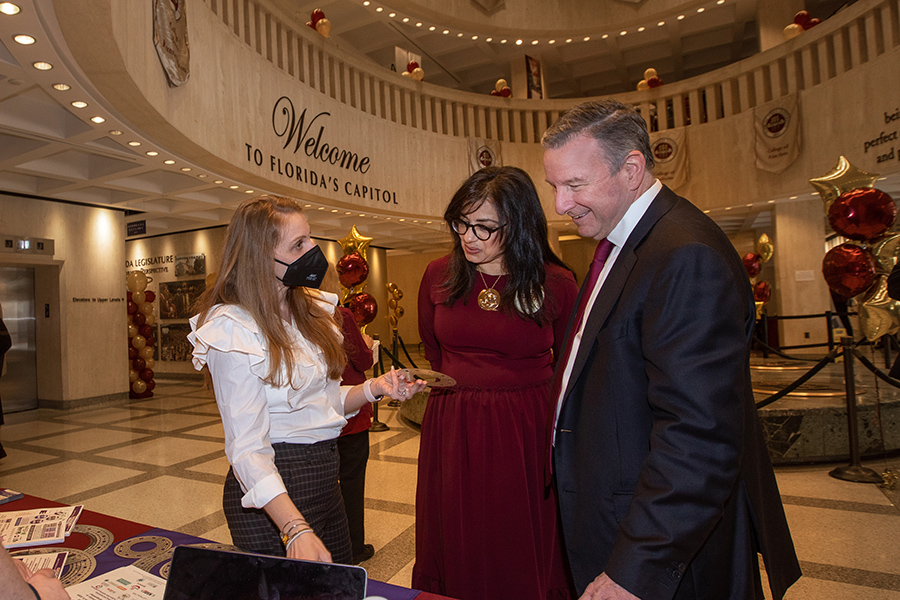 After a year of virtual celebrations, the Florida Capitol once again gleamed garnet and gold Feb. 9 as lawmakers and hundreds of Florida State University alumni and friends came together to celebrate FSU Day.
In honor of FSU's tremendous accomplishments and high-achieving students, athletes and faculty, the first three levels of the Capitol Rotunda were lined with booths showcasing FSU's world-class colleges and programs, led by faculty members who are pioneers in their professions.
President Richard McCullough highlighted FSU's competitive spirit, which has helped the university maintain its position among the nation's Top 20 public universities, during an outdoor pep rally that featured music by the FSU pep band Seminole Sound, and performances from the FSU Cheerleaders, Golden Girls and Flying High Circus.
"There is no university that I can think of that has risen so fast in the rankings," said McCullough, who was celebrating his first FSU Day at the Capitol. "Our student success is the driving force for what we do at Florida State University. We want to make sure that every single student who comes to FSU is successful, graduates and gets a good job — becoming a lifetime Nole."
He also noted FSU's outstanding graduation rate, which ranks as the best in Florida and among the Top 10 in the country.
McCullough honored FSU's National Champion Soccer team and Head Soccer Coach Mark Krikorian for their unparalleled success and shared his excitement about the across-the-board strength of Seminole Athletics.
"We are so incredibly proud of the athletes that come to Florida State University," McCullough said. "They essentially have two full-time jobs — an athlete and a student — and continue to thrive and set a standard at Florida State University. They also thrive and do exceedingly well at their craft."
Chief Financial Officer Jimmy Patronis, an FSU alumnus, showed off his Seminole pride and reminisced about his time as a student.
"This is one of the largest outpourings of support for the Seminoles that I have ever seen," Patronis said. "I look at my own public service and there is no way I could be where I am today if it wasn't for what I learned at Florida State University."
Members of the FSU Board of Trustees, including Chair Peter Collins and former FSU Football quarterback Drew Weatherford, were recognized at the event as well as Florida State alumni and friends who serve in the Florida Legislature.
Toni Moore, program coordinator for the Office of Governmental Relations, was acknowledged for more than 20 years of service at FSU. Moore, who planned her final FSU Day at the Capitol, will be retiring in two months.
McCullough closed by thanking legislators for investing in FSU.
"When you come to Florida State you can feel that it is a very special place, and I thank everybody for all that you do for the university."