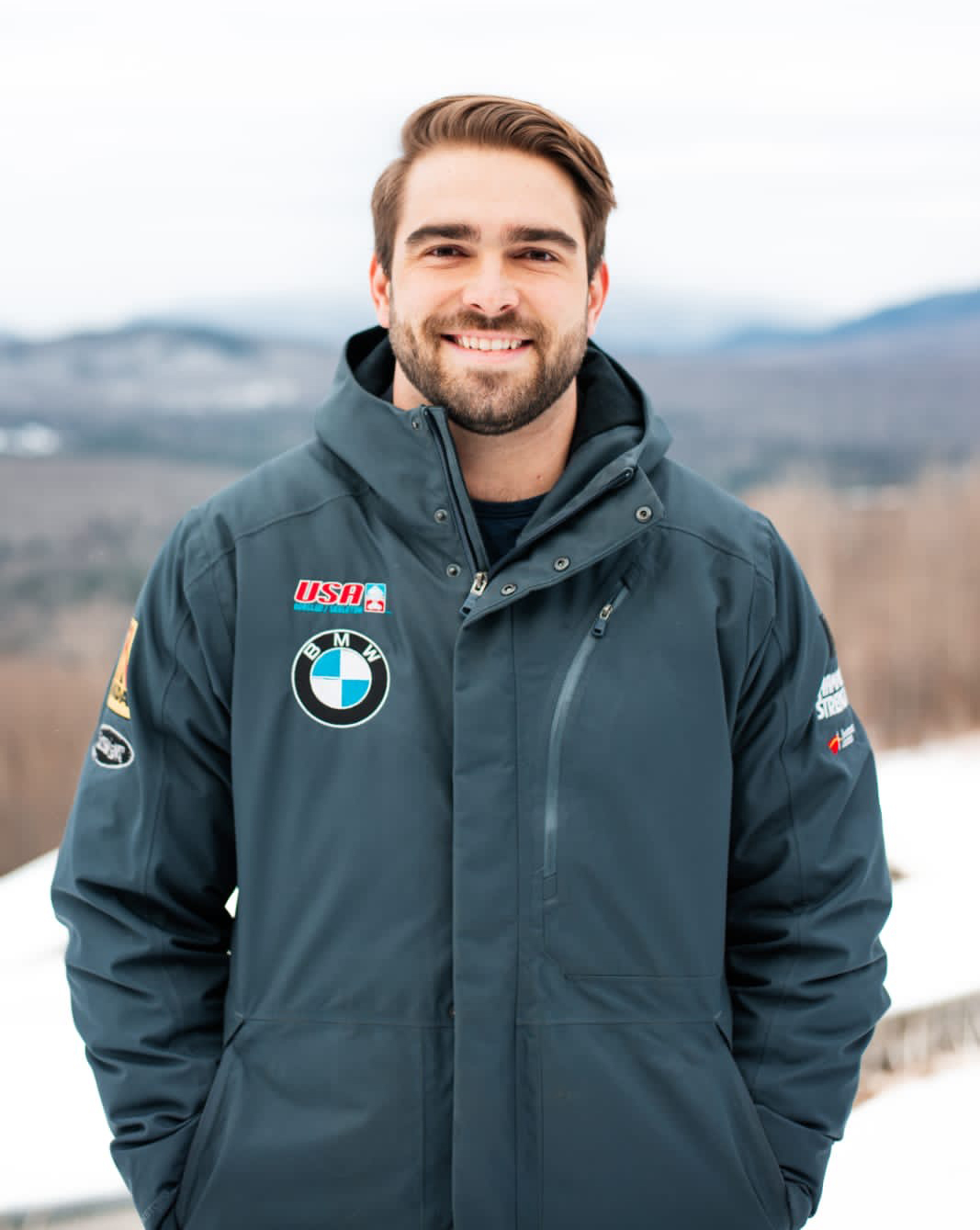 Florida State University student and athlete Josh Williamson always knew competitive sports would play a large role in his life. Now, four years after beginning his bobsled training, Williamson, who holds two World Cup bronze medals, will make his Olympic debut at the Beijing 2022 Winter Olympics.
Williamson credits FSU's constant support for much of his success as an Olympic athlete and aims to use his marketing degree to make a lasting impact on other athletes like him after graduation.
Bobsled is a team winter sport that involves making timed runs down narrow, twisting, banked, iced tracks in a gravity-powered sleigh. Believed to be the first FSU student to compete in the Winter Olympics, Williamson joins a long list of FSU Olympians who have competed in past Summer Olympic Games.
---
How has Florida State University helped you on your journey to the Olympics?
I enrolled at FSU in 2016, but my path changed once I began bobsledding my sophomore year. Since then, FSU has been incredible — willing to work with me every step of the way. While I had to take off school this past year to focus on training for the Olympics, I plan to complete my degree in marketing in December. My goal has always been to graduate from FSU and to be able to say I am an alumnus. 
What do you plan on doing with your degree once you graduate?
I have always been interested in strength conditioning and exercise science, but initially chose to major in business since it is such a versatile degree. Even though I know I won't be able to compete in sports for the rest of my life, I still want to be involved in some way. Many sports rely heavily on donations and private sponsorships; therefore, marketing is very important. Finding sponsors to fund seasons and athletes is a constant challenge for Olympic athletes, so I believe marketing could be extremely valuable to the Olympic movement.  
I had the opportunity to intern with the USA Bobsled and Skeleton Federation's marketing director, which was a really valuable experience. I was also able to learn from the Olympic and Paralympic marketing teams and see behind-the-scenes of what goes into their marketing efforts. Upon graduation, I want to keep looking for ways to combine my passion for athletics with my interest in marketing and business, and I'm hoping to find a unique fit somewhere in the middle. 
What made you choose to bobsled?
I played Division I lacrosse at Mercer University during my first year of college, which had always been a dream of mine. Although it was a great experience, I decided to stop competing and transferred to Florida State after suffering a lot of injuries. 
After only one semester at FSU, I realized I needed to compete in something so I could continue to work out and train in a gym. I have always enjoyed heavy weightlifting, sprinting and jumping, so I followed a few people on Instagram who did similar workouts. Those same guys also happened to be on the bobsled team, which interested me considering I was shopping around for a new sport.  
All of the workouts I had been doing were unknowingly preparing me for a career as a bobsledder, and with a little more work, I was able to contact the coaching staff and make it a reality. Even though I never knew bobsledding was an option, I can't imagine doing anything else. 
How does it feel to be representing Florida State University and the United States at the Winter Olympics?
It means the world to me, especially since I first started training for bobsledding here at FSU. One night during a late-night workout on the track field, I saw a wall with the names of FSU athletes who had competed in the Olympics. From that point on, competing in the Winter Olympics has been a goal of mine.  
Looking back on those late evenings at FSU where I would train alone is surreal; FSU is where my passion for this sport began. I could not have made it to the Olympics without the resources and facilities offered here on campus. FSU immediately comes to mind when I think of this journey because it is where it all began for me. 
To watch Williamson and Team USA fight for gold, tune into NBC Feb. 4–20. 
Photos provided by Josh Williamson