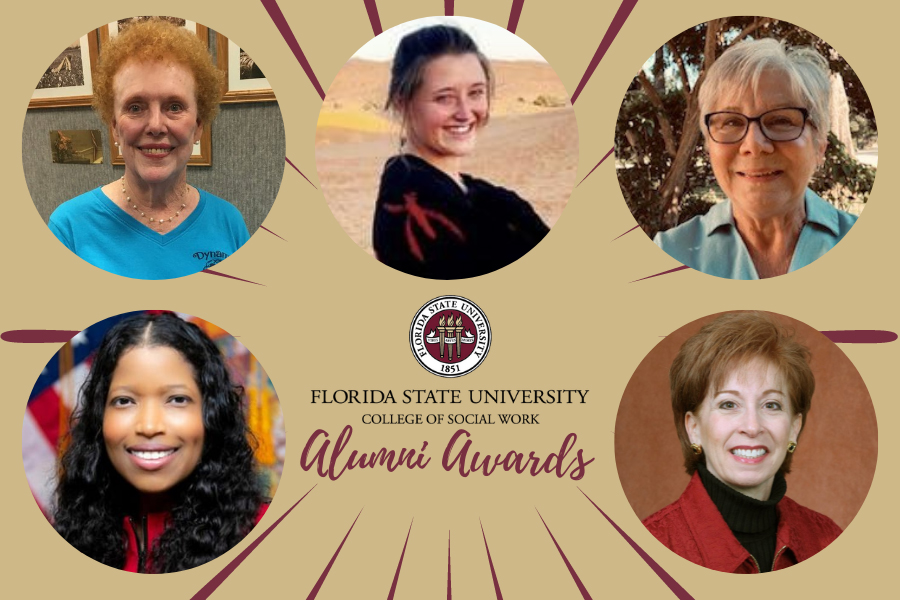 The FSU College of Social Work hosted its 2021 Distinguished Alumni Award and Student Scholarship event Tuesday.
The virtual event honored more than 120 student scholars. Over $128,000 in awards were given to support FSU College of Social Work (CSW) students with focuses including international programs, child welfare, social policy and military veterans.
The event was hosted by CSW Dean Jim Clark and faculty members Carol Campbell Edwards, Keithen Mathis and Vicky Verano who serve on the college's Student Affairs Committee.
The five CSW Alumni Award recipients included:
Distinguished Emeritus Alumni Award
Joy Jinks (MSW, 1975) is a native of Colquitt, Georgia who served the State of Georgia of a child protective services worker and community mental health services supervisor. As an international volunteer with the Institute for Cultural Affairs, Jinks realized the importance of revitalizing rural areas, including her hometown. With a knack for community organizing, she created The Mayhaw Tree, a gourmet food manufacturing company providing jobs to unemployed women in Colquitt. She also co-founded "Swamp Gravy: Georgia's Official Folk Life Play," telling local stories that helped Colquitt create an alternative economy based on cultural tourism that has become a national model for community revitalization. In 2007, Jinks developed the Building Creative Communities Conference focused on community development through the arts. She is also the author of "Dynamic Aging: I Intend to Live Forever, So Far So Good," published in 2015.
Distinguished Young Alumni Award
Jessica Anne Harbour (BSW, 2017; MSW, 2020) is a Peace Corps volunteer from Jacksonville, Florida. She intends to continue her studies in social work after completing her Peace Corps mission. Harbour is currently residing in a town in southeastern Morocco and serves as the call coordinator for the Peace Corps initiatives there. This year, she is planning to work with middle school-aged girls in several female empowerment programs, teaching yoga and working with nurses on a women's health curriculum in the local women's center.
Distinguished Social Work Educator Alumni Award
Pamela Graham MacDill (MSW, 1977) served the College of Social Work for more than 25 years in various positions including her final dual role as director of the Bachelor of Social Work program and Office of Professional Development before retiring in 2020. She elevated the BSW Program to a limited access program, developed a Minor in Social Welfare and created and chaired the Child Welfare Practice Certificate and Leadership in Executive and Administrative Development (LEAD) Certificate. She played an active role in the development of the FSU Unconquered Scholars Program, which serves at-risk students who come from homelessness, foster care, kinship care or wards of the state. She was also the first recipient of the Jeanene M. Janes Fellowship in Child Welfare (2011).
Distinguished Social Work Practice Alumni Award
Pamela Brooks (MSW 1994) is a licensed clinical social worker and was the Orlando area coordinator for field education for the College of Social Work from 2003 until 2019, working with students interning in eleven counties in Central Florida. She has also been a psychotherapist and clinical supervisor in private practice for more than 22 years in Orlando. Through her extensive social work career, she also worked in child welfare, victim advocacy, counseling for sexual trauma survivors and law enforcement, and was an adjunct professor at Palm Beach Atlantic University and volunteer instructor at the BETA Center in Orlando. She is also a supporter of the College of Social Work Arts & Athletics program.
Distinguished Social Policy and Administration Alumni Award
Shevaun Harris (B.A. 2002; MSW 2004) was appointed in February 2021 by Florida Governor Ron DeSantis to serve as the Secretary of the Florida Department of Children and Families, the agency responsible for the state's child welfare system, food and housing assistance benefits, and substance abuse and mental health services. Secretary Harris has made holistic care for families a priority by strategically working to integrate systems and services at DCF. She continues to enhance policies, practices, and community partnerships to drive innovative prevention and early intervention efforts for the families of Florida. Previously, she served in several roles at the Agency for Health Care Administration (AHCA), including acting secretary, where she was responsible for administering the Florida Medicaid program and regulating over 40,000 licensed health care facilities. Secretary Harris has also served as an adjunct professor at the College of Social Work and as a case manager for Big Bend Cares.