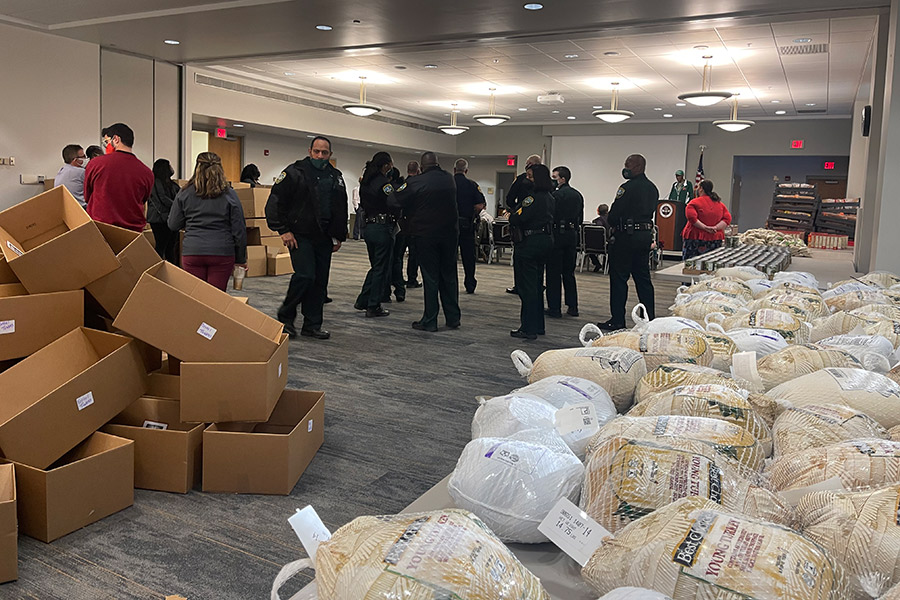 Florida State University hosted the 7th Annual Larry Campbell Thanksgiving Drive on Tuesday, Nov. 16. Over 50 volunteers gathered to help including FAMU and FSU staff and students as well as the FSU Police Department, the Tallahassee Police Department, the Leon County Sherriff's Office and State Attorney Jack Campbell. Volunteers assembled a total of 201 boxes filled with a turkey, bread, cranberry sauce, green beans, rice and stuffing.
With a primary focus in helping those in need in the 32304 zip code, local charities that received Thanksgiving boxes include Bethel Towers, Elder Care Services and the Tallahassee Urban League.
"We do this event because we know we are surrounded by area code 32304, which is the poorest zip code in the state," said Brandon Bowden, associate vice president for student affairs at FSU and one of the event's organizers. "We know that food insecurity is a real thing and that we all have a duty to help our neighbors and our communities in need when we can."
This Thanksgiving meal boxing event originally began over 30 years ago under the guidance of Ray Bellamy, of FAMU. The Thanksgiving meal box drive was named under Sheriff Larry Campbell seven years ago after his passing. FSU began hosting the event in 2018.