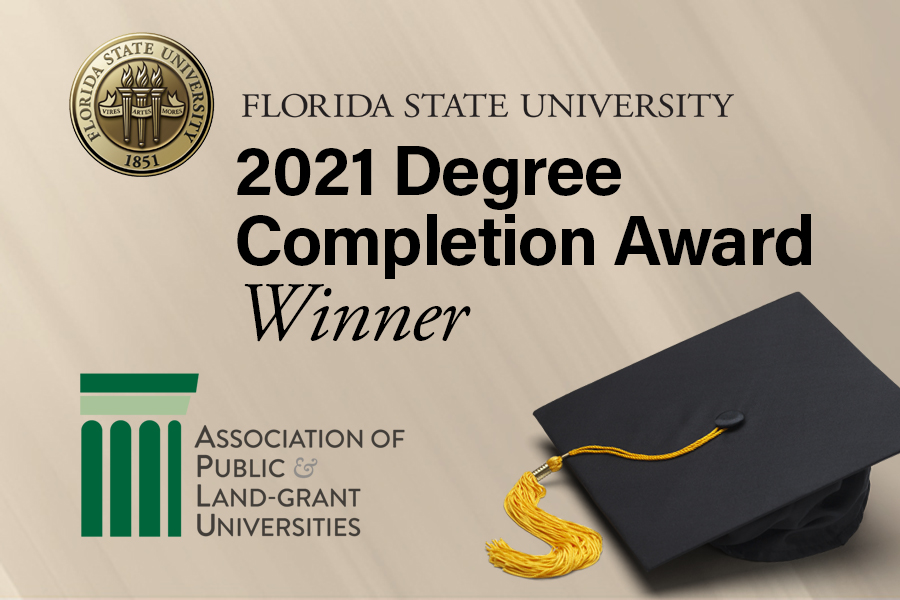 The Association of Public and Land-grant Universities (APLU) honored Florida State University with a national award acknowledging the university's comprehensive efforts to support all students in earning their degrees.
Florida State was announced as the winner of the APLU 2021 Degree Completion Award in a virtual ceremony during the association's annual meeting Nov. 16. The award is recognized as the most prominent in the country for student success.
The APLU selected FSU for achieving a record-high 74 percent four-year graduation rate last year while nearly eliminating gaps by race, ethnicity and income level.
"Student success is at the heart of Florida State University's mission and addressing equity gaps is one of our top priorities, so it is especially meaningful to be recognized by the APLU with the Degree Completion Award," said President Richard McCullough. "Public universities are amazing engines of social and economic mobility, and that's why we've worked so hard to achieve one of the top graduation rates in the country."
FSU worked holistically, inside and outside the classroom, to redesign the way the university supports, engages, and challenges students. The efforts were driven by data and assessment, collaborative partnerships across campus, and a sustained commitment to shared goals.
"Our 74 percent four-year graduation rate is the best in Florida and among the top 10 in the nation, and we've raised these numbers while virtually erasing disparities between underrepresented and traditional student populations," said Sally McRorie, provost and executive vice president for Academic Affairs. "That's a testament to the commitment we have to help our students — no matter their background."
Analyzing student success data is an integral part of FSU's efforts to address and track inequities in graduation rates. Students who entered in 2009 had a 62 percent graduation rate overall, but that rate was 53 percent for Black students and 58 percent for Pell-eligible students, with transfer students even further behind.
"We set out to prove that demographics were not destiny, that all of our students, regardless of their background, could grow to their fullest potential at FSU and achieve at the highest levels," said Joe O'Shea, associate provost and dean for Undergraduate Studies.
The university expanded first-year student engagement programs, invested in experiential learning, adopted new approaches to advising, and leveraged its longstanding CARE program, which supports first-generation college students from transition to college through graduation.
"We expanded access to experiential learning and elevated the financial aid that we provide to students so that they can participate in internships, undergraduate research, and international study at much higher rates," O'Shea said.
FSU launched its Center for the Advancement of Teaching to support faculty as they redesigned courses around students' needs and created more inclusive learning environments. The university also founded a Learning Assistant Program in which undergraduates who have successfully completed courses are invited back to work in them, helping students learn the material.
"We applaud Florida State University for their critically important work to advance students' success, equity and completion," said APLU President Peter McPherson. "The university's comprehensive approach to increasing support for students and addressing equity gaps stands as an important example of how institutions can take a campus-wide approach to advancing equity and degree completion."
The Degree Completion Award is one part of APLU's robust work to advance college access, equity, and completion. The award complements the association's broader student success work, including its Powered by Publics initiative, which convenes 125 APLU member institutions collaboratively working to tackle barriers to student success in the areas of affordability, teaching and learning, and holistic student supports. Collectively, the schools have pledged to aim to increase college access, cut the equity gap in half, and award hundreds of thousands more degrees by 2025.
A panel of reviewers examined the applications to determine the finalists. Florida Atlantic University and the University of Illinois Chicago were the other finalists for the 2021 Degree Completion Award.
APLU is a research, policy, and advocacy organization dedicated to strengthening and advancing the work of public universities in the U.S., Canada, and Mexico.  With a membership of 244 public research universities, land-grant institutions, state university systems, and affiliated organizations, APLU's agenda is built on the three pillars of increasing degree completion and academic success, advancing scientific research, and expanding engagement.  Annually, member campuses enroll 5.0 million undergraduates and 1.3 million graduate students.