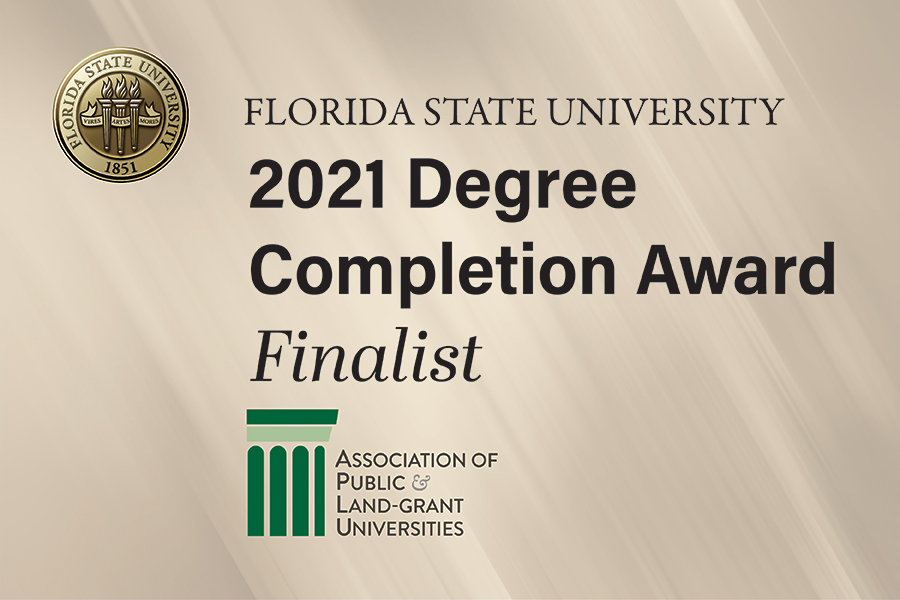 As part of its ongoing efforts to increase degree completion, the Association of Public and Land-grant Universities (APLU) today named Florida State University a finalist for its 2021 Degree Completion Award.
The annual award works to identify, recognize and reward institutions that employ innovative approaches to improve degree completion while ensuring educational quality. Student success is at the heart of FSU's mission and addressing equity gaps among different groups is one of the university's top priorities.
"This recognition from the APLU is a testament to FSU's commitment to educational equity, and I'm so proud of our faculty, staff and students for their dedication and hard work in carrying out our mission," said Sally McRorie, provost and executive vice president for Academic Affairs. "We are proving that demographics are not destiny — that with the right levels of engagement, challenge and support, all our students can achieve at the highest levels."
In 2009, students who entered the university had a 62 percent graduation rate overall, but that rate was 53 percent for Black students and 58 percent for Pell-eligible students, with transfer students even further behind. Now, FSU has virtually eliminated graduation gaps by race, ethnicity and income level and leads the state of Florida with a record-high 74 percent four-year graduation rate, which is also among the best in the nation.
"Florida State has increased graduation rates by creating a culture of student success," said Joe O'Shea, associate provost and dean of Undergraduate Studies. "Every day, our university community asks what else we can do to help our students reach their full potential. There are so many ways in which we are supporting students, in and out of the classroom — expanding first-year student engagement programs, redesigning courses and the way we teach, investing in experiential learning, adopting new approaches to advising, and helping first-generation college students from transition to college through graduation."
In addition, FSU launched its Center for the Advancement of Teaching to support faculty as they redesigned courses around students' needs and created more inclusive learning environments and founded a Learning Assistant Program in which undergraduates who have successfully completed courses are invited back to work in them, helping students learn the material.
Florida Atlantic University and University of Illinois Chicago are also finalists for the annual Degree Completion Award, which is open to all APLU members. A panel of outside reviewers examined the applications to determine the finalists. The winner will be announced at the APLU Annual Meeting, Nov. 15-17, which will be held virtually.
"Public universities have made progress in increasing college access, equity, and completion, but the need for faster and greater progress is clear," said APLU President Peter McPherson. "Florida Atlantic University, Florida State University, and University of Illinois Chicago serve as important examples of how public universities can implement effective institution-wide efforts to advance student success and completion. We congratulate our Degree Completion Award finalists on critical gains in student success they have enabled."
The Degree Completion Award is one part of APLU's robust work to advance college access, equity and completion. The award complements the association's broader student success work, including its Powered by Publics initiative, which convenes 125 APLU member institutions collaboratively working to tackle barriers to student success in the areas of affordability, teaching and learning, and holistic student supports. Collectively, the schools have pledged to aim to increase college access, cut the equity gap in half, and award hundreds of thousands more degrees by 2025.
Association of Public and Land-grant Universities (APLU)
APLU is a research, policy, and advocacy organization dedicated to strengthening and advancing the work of public universities in the U.S., Canada, and Mexico. With a membership of 244 public research universities, land-grant institutions, state university systems, and affiliated organizations, APLU's agenda is built on the three pillars of increasing degree completion and academic success, advancing scientific research, and expanding engagement. Annually, member campuses enroll 5.0 million undergraduates and 1.3 million graduate students, award 1.3 million degrees, employ 1.3 million faculty and staff, and conduct $49.2 billion in university-based research.