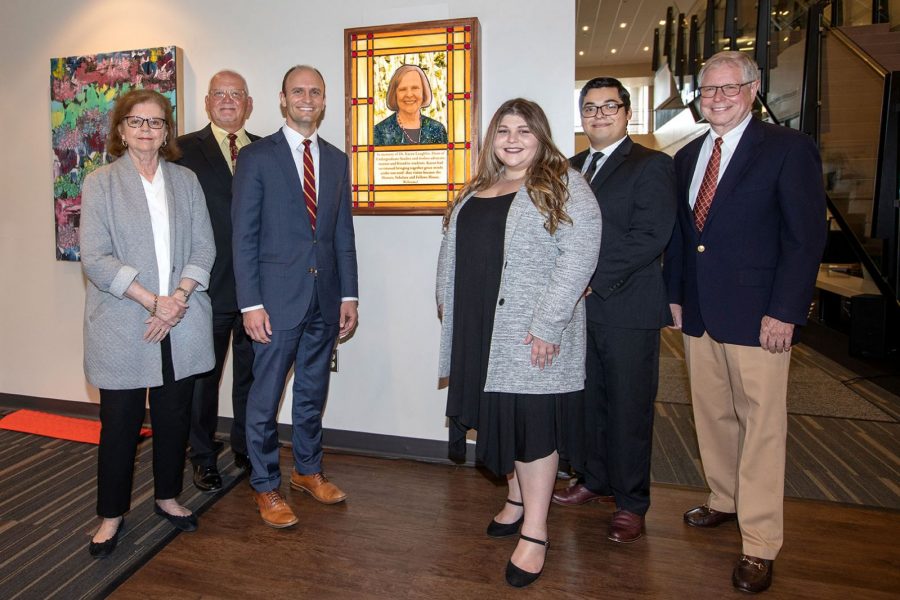 Teacher, colleague, collaborator, innovator and friend — these were some of the words used by colleagues to describe the late Karen Laughlin during a celebration of her legacy Oct. 21 at Florida State University's Honors, Scholars and Fellows house.  
Laughlin, an enthusiastic educator and literary scholar who transformed the student experience at FSU, passed away May 4, 2020. She served as dean of Undergraduate Studies for 17 years and held a tenured position as associate professor of English.  
A stained-glass window was unveiled at the beginning of the ceremony to commemorate and immortalize the woman who was known as the "steely" dean of undergraduates.   
"We're proud to dedicate this work today so that her light will shine in brilliant color to inspire generations of students for years and years to come," said Craig Filar, associate dean of Undergraduate Studies and director of the Office of National Fellowships. Filar gave welcoming and closing remarks during the ceremony.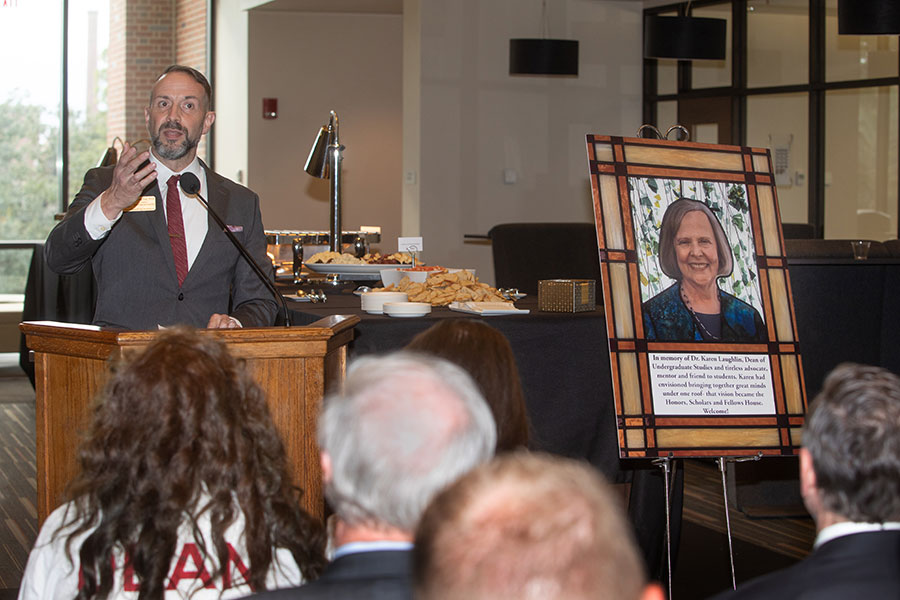 Designed and constructed by the Master Craftsman Studio, the illuminated garnet and gold panes display a photo of Laughlin smiling with text below that reads:  
"In memory of Dr. Karen Laughlin, Dean of Undergraduate Studies and tireless advocate, mentor and friend to students. Karen had envisioned bringing together great minds under one roof — that vision became the Honors, Scholars and Fellows House. Welcome!" 
As dean, Laughlin focused on boosting retention and completion rates by making sure students were supported and connected to the university. She strengthened FSU's advising process and implemented academic mapping to help students graduate in four years, and under her leadership, FSU's freshman retention rate and four-year graduation rate reached all-time highs. 
Laughlin also advocated for more programs to promote student engagement on campus to ensure every student found their home at FSU. She directed the Office of National Fellowships, the Center for Undergraduate Research and Academic Engagement, the Honors Program, Global Scholars, Unconquered Scholars, the Center for Academic Retention & Enhancement (CARE), the Academic Center for Excellence and Freshman Interest Groups. 
Speakers included Associate Dean of Undergraduate Studies Bruce Janasiewicz, Chair of the Division of Undergraduate Studies Development Council James "Jim" Lee, Admissions Counselor Cara Axelrod and Dean of the Faculties Emerita Anne Rowe. 
Rowe was already at FSU when Laughlin arrived in 1982 as a young assistant professor with a joint appointment in English and the Humanities. The two colleagues became good friends and Rowe described her as unflappable.  
"Karen was always in control, always unflappable and wonderful, and I will sorely miss her," Rowe said.  
Associate Provost Joe O'Shea, who succeeded Laughlin as dean of Undergraduate Studies, presented the inaugural Karen Laughlin scholarship to Brendan Gonzalez, a hospitality and tourism student.
"Serving in the position that Karen once held is the greatest honor I've had in my life so far," O'Shea said. "As you can see from everybody here today, I inherited an incredible team that she helped build over many years. She helped shape FSU's commitment and culture of student success of making sure that every day we are asking ourselves what can we do to help our students grow up to their full potential. 
"We knew Karen would appreciate her legacy living on through scholarship in the programs that she championed for a student who embodied the values that she used to build her legacy. Brendan personifies the unconquered spirit — he refuses to surrender to hardships and he persists in his pursuit of knowledge, equity, and excellence." 
Gonzalez arrived at Florida State in 2018 with the aspiration of becoming the first in his family to earn a college degree. He promptly found his campus family in the Unconquered Scholars Program, where he now serves as the president of the Unconquered Scholars Student Advisory Board. Determined to change the stereotypes about foster care alumni and homeless college students, Gonzalez presented at the 2021 NASPA national conference about improving access and support with higher education for this population. He will graduate with a bachelor's degree in hospitality and tourism management in spring 2022.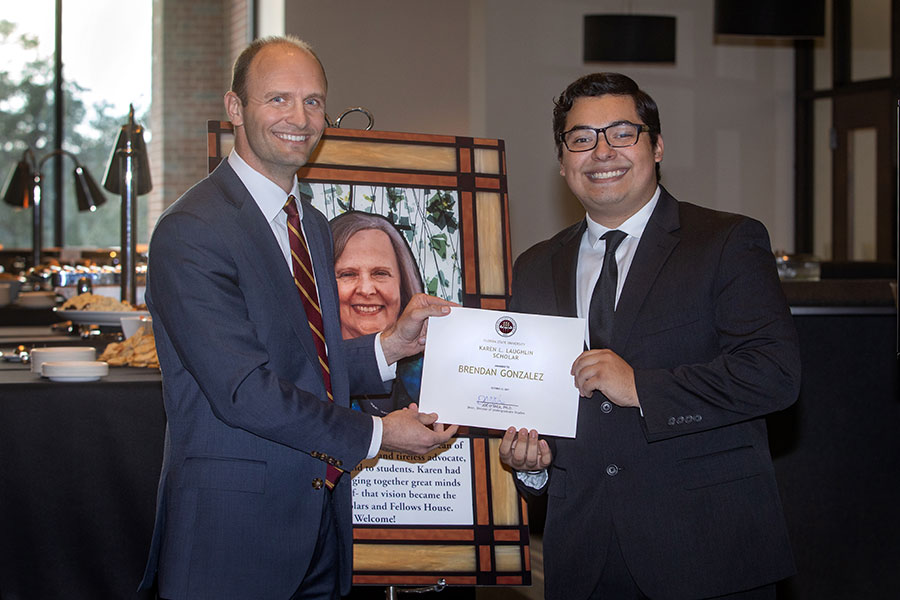 "He is a natural leader and will achieve his dream of earning a college degree and will undoubtedly go on to serve as an inspiration to unconquered qualified college students throughout our state," O'Shea said. 
The Karen L. Laughlin Scholars is a capstone scholarship for an incoming senior (or seniors) who has participated in one of the programs championed by Laughlin and who embodies her values: pursuit of knowledge, equal opportunity, leadership, kindness, justice, parity and graciousness. 
Part of Laughlin's legacy is the Presidential Scholars program, FSU's premier merit scholarship program, which invests in undergraduate students with extraordinary potential to be the transformational leaders of their generation. Alumnus Cara Axelrod graduated from the program in 2020.  
Axelrod attended the Presidential Scholars Senior Send-Off, which was held virtually in 2020 due to the pandemic. The event was Laughlin's last engagement as the dean of Undergraduate Studies, and when it was her turn to share a few words, Laughlin's cat jumped up on her lap and did a big stretch in front of the screen. Instead of being upset or flustered or shooing her cat away, Laughlin was calm and found humor in the situation. This is how Axelrod remembers Laughlin — with poise and a level head.  
"Just like she let her cat take the space she needed to stretch on camera in front of 100 people, she gave her students that same opportunity to stretch, too," Axelrod said. "It didn't feel like we had to be the perfect scholars they brought us here to be — it felt like we could just be regular students, and more importantly, we could be human. I'm honored to be here to witness a tangible token of the legacy that she left behind forever become a part of the Honors, Scholars and Fellows not house, but home."