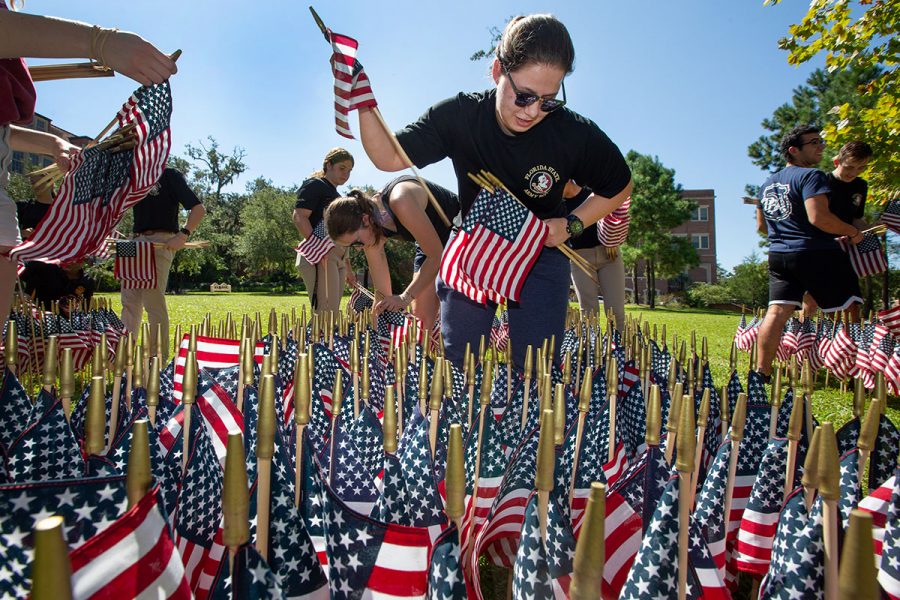 As people around the world recognize the 20th anniversary of September 11, Florida State University students planted American flags on the campus Friday to remember those who lost their lives in the tragedy.
Organized by the Collegiate Veterans Association and Veterans Student Union, the annual flag display honors the 2,977 lives lost 20 years ago. Under the leadership of Collegiate Veterans Association President Julian Olivar and Veterans Student Union Director Sarah Johnson, 25 cadets from the FSU Army and Air Force ROTC created the display on Mina Jo Powell Green.
The flags are displayed as 9/11.
"On this anniversary, FSU also reaffirms its commitment to being a national beacon of veteran success through our support of students affiliated with the military," said FSU President Richard McCullough said. "These students have done so much for our country and our university, and we are proud of their service and sacrifice."
On Saturday, the students will hold a ceremony commemorating the anniversary programs. The ceremony will begin at 8:46 a.m., the time the first plane hit the World Trade Center. The ceremony will include a presentation of colors from FSU's Army ROTC Color Guard, a moment of silence and remarks from Billy Francis, director of the FSU Student Veterans Center.
At the conclusion of the ceremony, students will read the names of those who lost their lives that day.
Francis, who served in the Air Force for 26 years, said September 11 often makes him reflect on his own service and those he served with during his military career.
"Each September 11 is an opportunity for us — a university community, a family — to remember loss and the incredible cost we have paid for the liberties we have and that so many around the world long for," Francis said.
Florida State has long prided itself in being one of the most veteran friendly university's in the nation. In 2021, Military Times ranked FSU as a top 10 school for veterans.
Focused on cultivating and sustaining relationships between student veterans and the FSU community, the Student Veterans Center is the hub for veteran support on campus. The Student Veterans Center aids in helping student veterans attain exceptionally high retention and graduation rates.