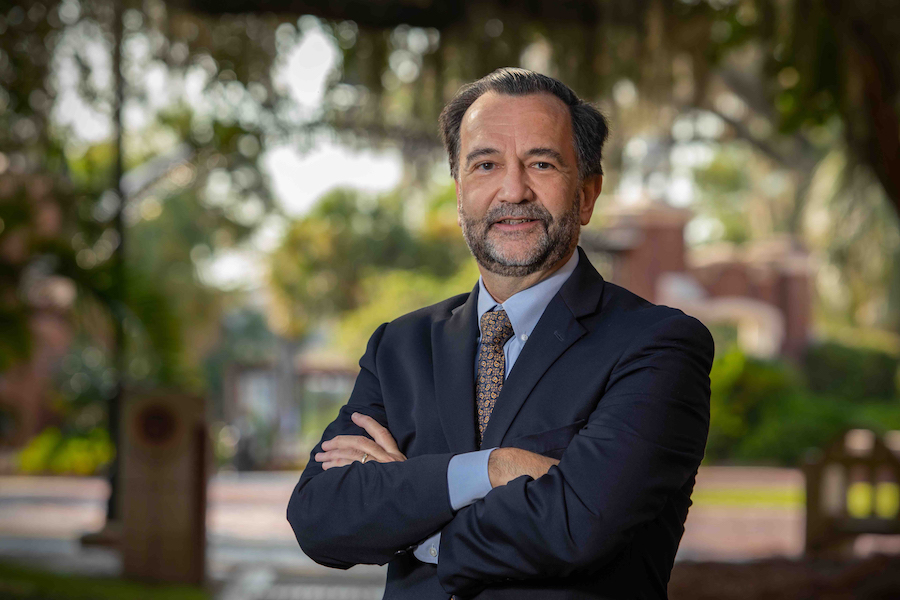 Joe Brigham, program director for the Information Security & Privacy Office at Florida State University, is the 2021 winner of the Max Carraway Employee of the Year Award. 
Brigham, who was selected by FSU President John Thrasher for the honor, joined Information Technology Services at FSU in 2015. A few months later, he was named the program director of the ISPO, which is responsible for the security of the university's technological resources. 
Brigham has been essential to that mission, said FSU Associate Vice President for Human Resources and Finance and Administration Chief of Staff Renisha Gibbs. 
"With the major shift to hybrid work and reliance on technology during the pandemic, the importance of data security cannot be underscored enough," Gibbs said. "The university is grateful for exceptional employees like Joe Brigham who help us continue our work safely."
Since 2008, the Carraway award has recognized employees who exemplify a caring attitude and provide consistent service excellence to FSU customers. As the award recipient, Brigham will receive two football tickets, a $1,000 stipend and a reserved parking space for one year.
In his nomination letter, Vice President and Director of Athletics David Coburn described the broad scope of responsibilities under Brigham's purview, which include  spearheading initiatives in the critical areas of disaster recovery, cybersecurity and privacy, payment card information, health data sciences and compliance.  
"Joe is a highly effective leader, skilled at creating an excellent team within his unit, who model Joe's strengths of accessibility, open communication and customer support," Coburn said. "This has resulted in improved services across campus." 
Several of Brigham's nominators commended his efforts leading major ITS security projects, such as the award-winning Seminole Secure program, PCI system upgrades, and the FSU Health Data Sciences Initiative. 
Kennetha Anderson, an ITS colleague, said she's known Carraway for more than 15 years, and that she's not surprised by the honor. 
"I personally worked with Max Carraway when I started at FSU back in 2005," she said. "I believe that Joe Brigham embodies the same qualities and characteristics that made Max Carraway exceptional in customer service."
Brigham deflected praise onto his colleagues.   
"Cybersecurity, information privacy, technology and compliance programs are inherently complex and cross-functional in nature," he said. "FSU faculty, staff, administrators and students have proven to be effective collaborators on these initiatives, offering invaluable insight, input and support that we continue to learn from and apply to our programs on a regular basis."  
Associate Provost for Strategy and Analytics and Interim Chief Information Officer Rick Burnette said Brigham's expertise and work ethic have been vital assets for the office. 
"(Brigham) continually impresses all of us with his extensive knowledge, diligence, perseverance and passion around the rules and standards that we should adopt to assure the effective and secure management of PHI and HIPAA data," he said. "The requirements to conduct research on these data are complex and difficult to attain. Joe has helped us navigate the data standards, the organization of the process of securing data and advice on how to create a secure enclave as if he had just finished his dissertation on the topic."
Echoing Burnette's sentiments, Chief Information Security Officer Bill Hunkapiller said, "Over the past eight months, Joe has proven to be invaluable to the forward progression of this project in the area of Compliance and Organizational Management."
In addition to being a gifted data innovator, Brigham's nominators also offered resounding praise for his patient and collegial attitude. 
Chief Compliance and Ethics Officer Robyn Blank wrote, "Joe is a true servant leader. 
No project is too big or too nebulous for him to take on. He works as hard as anyone but remains humble about his successes, attributing them to the group at all times. His thoughtful nature and engaging personality make people want to get things done for him, and he has the unique ability to bridge the communication gap between the technical and non-technical groups."
Brigham attributed his success to his colleagues across campus.
"To the extent I have been able to continue to develop professionally and achieve any successes, I attribute this to the people of FSU I have been privileged to work with and call my friends, colleagues and mentors," he said.