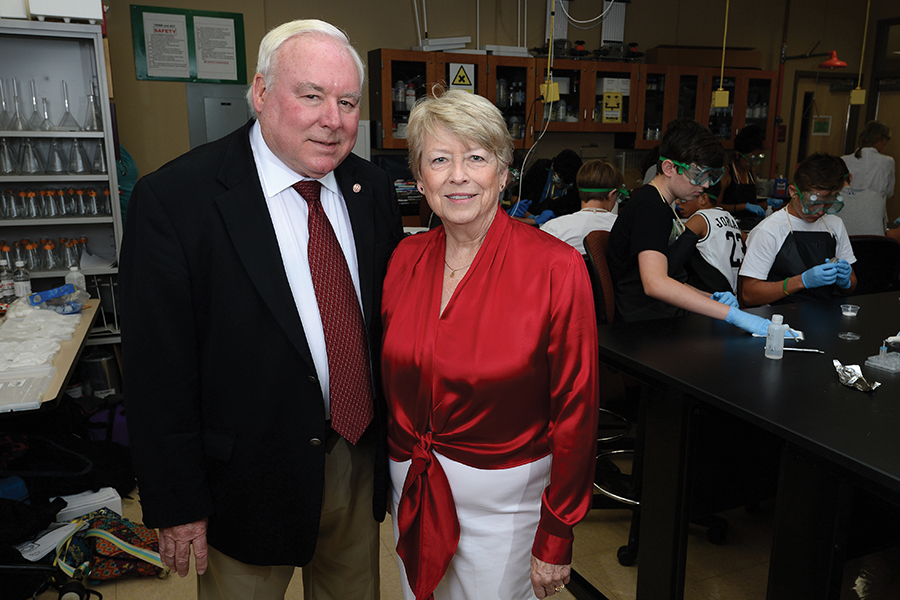 Florida State University Panama City announced the naming of the Library and Learning Center as the "Dr. and Mrs. James T. Cook Library and Learning Center" in honor of Jim and Jan Cook during the annual Welcome Back Fall Symposium for faculty and staff Wednesday.
Randy Hanna, dean of FSU Panama City, made the announcement with members of the Development Board and Dean's Council in attendance to celebrate.
"What we are recognizing by the naming of the Library and Learning Center is a longstanding commitment to the pursuit of knowledge by Dr. and Mrs. Cook," Hanna said. "Thanks to their generosity, we have been able to offer STEM camps for K-12 students at no cost, purchase equipment for our biology and chemistry labs and fund student-led engineering projects."
With donations dating back to the early 1990s, the Cooks helped fund the endowment for the College of Applied Studies as one of the lead donors kicking off the "Raise the Torch" campaign in 2012.
A founding member of the Dean's Council established in 2015, Jim Cook currently serves as chair and has taken a special interest in FSU Panama City's STEM programs. Cook and FSU physics professor Paul Cottle share a passion for addressing the lack of interest in physics among high school students. With the help of FSU initiatives fueled by the Cooks' support, Bay County's physics enrollment has increased over the years.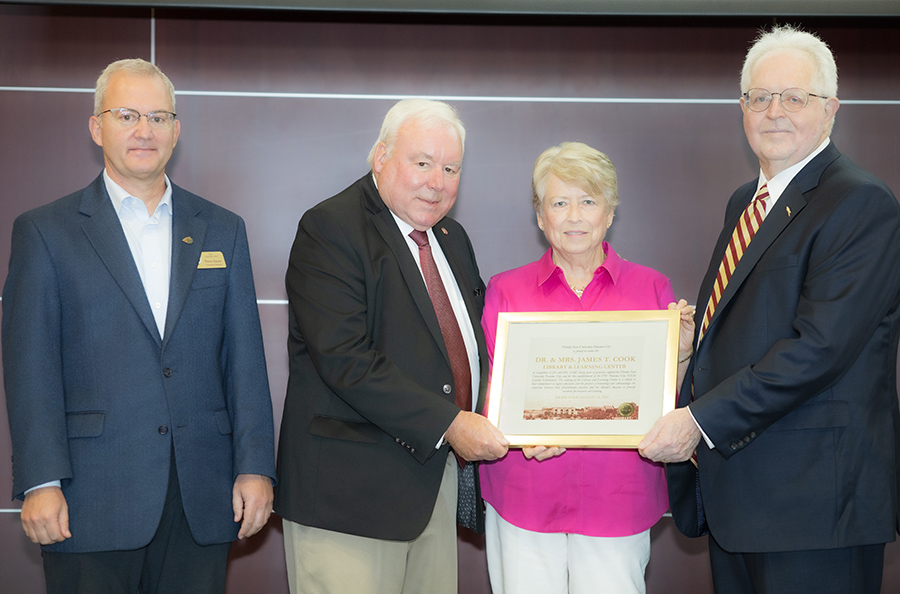 "Physics is how things work; it just ties everything together," Cook said. "I learned of the huge deficit in physics education in Bay County and wanted to make a difference."
Thanks to the Cooks' establishment of the FSU Panama City STEM Institute Endowment, annual funding is available in perpetuity to support STEM activities as well as degree programs. This summer, STEM on the Move took learning opportunities to school districts across the Panhandle after Irvin Clark, associate dean, and Elizabeth Crowe, elementary education faculty, approached area superintendents about bringing STEM to them.
"Little did we know the overwhelming response we would receive," Crowe said. "Thanks to the funding we had available through the STEM Institute Endowment and the Navy base, we were able to conduct camps and visits."
For more information about the FSU Panama City STEM Institute, visit pc.fsu.edu/stem.