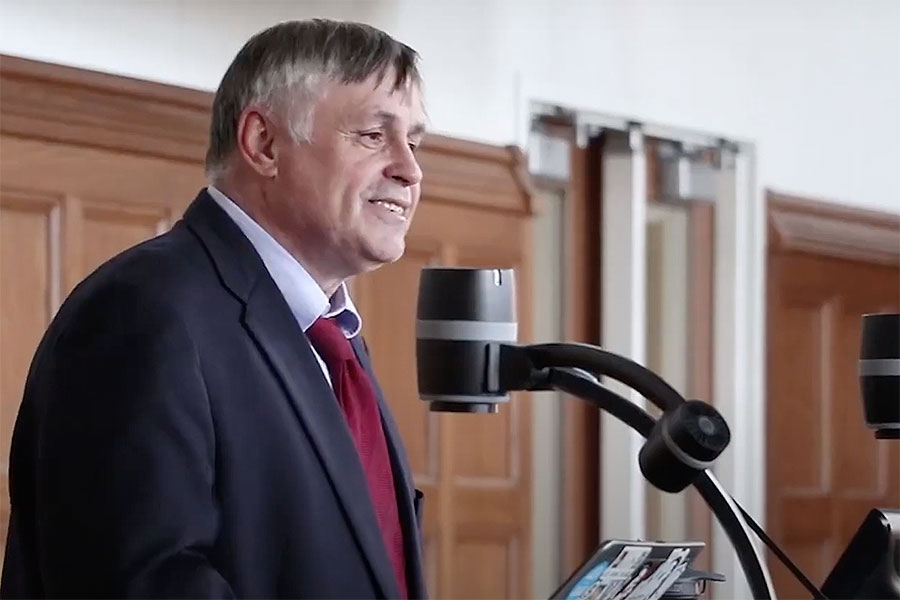 As a nuclear physicist with an interest in information technology education, it's safe to say that Larry Dennis likes to wrestle with complex, ambiguous problems.
Now, after more than a decade as dean of the College of Communication and Information, Dennis has returned to the faculty to spend more time focusing on and solving intricate issues.
"FSU has always allowed me to follow my vision, and as my thinking about the most interesting and important problems evolved, I've been able to find opportunities to pursue here and use the things I've learned about the management of information in other areas of the university," Dennis said.
Dennis arrived at Florida State in 1979 as a postdoctoral researcher in the Department of Physics. He joined the faculty one year later as an assistant professor, occupying an office adjacent to legendary late physicist Paul Dirac. Dennis would go on and teach physics to more than 15,000 FSU students over the course of 20 years before his interests pivoted completely to information technology.
"One of the things that is so exciting about IT is it can really change the way we perform and change our behaviors," Dennis said.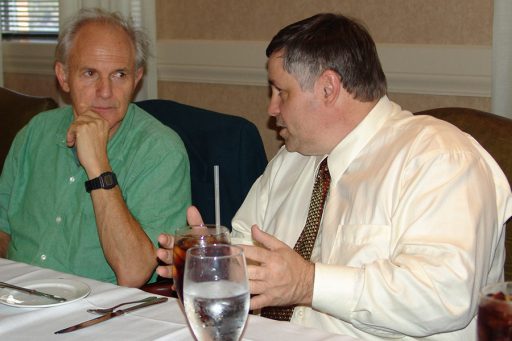 As a researcher, Dennis quickly learned that physics experiments created copious amounts of data. When the Department of Physics upgraded its computing facilities, it allowed researchers to conduct experiments that had previously been deemed impossible.
This made Dennis realize the effect that innovative technology could have on science.
"I found it to be a very interesting connection and was very interested in looking at the problems people had to deal with in science and trying to figure out how to develop new technologies that would let us do things people had never done before," Dennis said.
While working on a project for the Department of Energy in the 1980s, Dennis and his colleagues created a computer system by uploading information subsets to inexpensive computers and connecting them together. Once connected, the data was combined, processed and analyzed electronically.
"Everybody talks about cloud computing and grid computing, well, that really was the first impetus in that," Dennis said.
A few years later in 1991, Saul Youssef, then a postdoctoral researcher at Florida State, was working at the CERN lab in Switzerland where nuclear physicist Tim Bruners-Lee was innovating a new technology called the World Wide Web (WWW). Youssef brought a prototype web server to FSU's campus to test if the WWW could work across the ocean. Dennis watched the prototype succeed and establish www.fsu.edu as one of the first domain names in the world.
"When I saw that tool in operation, it became clear to me that this was the way we were going to solve the problems we were having in physics with managing all our data," Dennis said.
Dennis believed that information, the use of information and the ability to manage information were going to be some of the most critical problems of the next century, and he wanted to help solve those problems.
"There are important problems in physics, but there were a lot of other important problems going on that people weren't thinking about," Dennis said.
Dennis was named director of FSU's Office for Distributed and Distance Learning (ODDL), now the Office of Distance Learning, in 2002. In this role, Dennis developed ways to automate or provide technology to help students and faculty with their classes.
While director of ODDL, Dennis served as chair of the search committee for the new dean of the College of Information for a short time before other members on the committee convinced him to apply for the job.
He was named dean of the College of Information in 2004 and helped establish the STARS Alliance, a network of universities that focus on recruiting, retaining and graduating more women and minorities in IT. The Alliance has grown from its 10 original members to more than 50 colleges and universities.
Dennis also directed the Florida IT Career Alliance, a five-year program that successfully increased the number of students pursuing computing and IT careers and helped them find jobs.
In 2009, Dennis was named dean of the College of Communication and Information after the College of Information merged with the College of Communication.
"The connection to communication was that as technology is changing, those changes need to be communicated to get everyone involved," Dennis said. "Merging and becoming the College of Communication and Information was about figuring out how to bring the expertise of these different faculty and students together to address these problems."
As dean, Dennis led the college to become one of the international leaders in the iSchool movement, a group of information schools dedicated to advancing the information field.
Under his leadership, many of the college's programs have consistently been some of the top-rated in the nation. The online master's program in Information Technology is ranked No. 2 among public institutions, and the School of Communication and Science Disorders is No. 20 nationally and No. 14 among public schools. The Library and Information Studies program was recently ranked No. 11 nationally and No. 10 among public universities, and the School Library Media specialty degree has maintained its No. 1 status for years.
Mark Riley, a longtime faculty member in the Department of Physics who now serves as dean of the Graduate School, described Dennis as a "true Jedi Master among deans."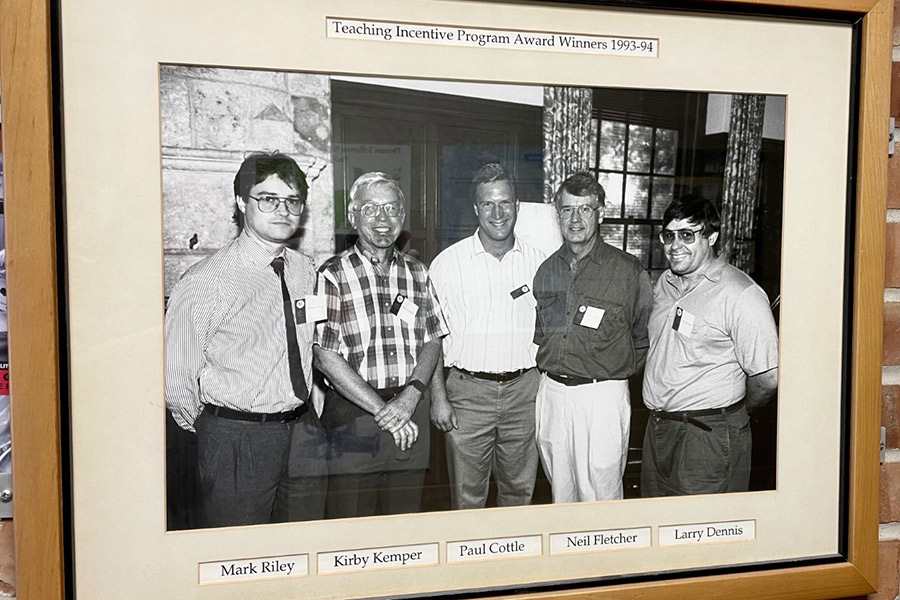 "Larry has been an inspiration to me from the very beginning, having helped mentor and guide me in all things in those early days," Riley said. "His leadership of CCI and the heights to which he has taken it are something no one else could have done. His contributions to FSU are truly extraordinary, and we are so thankful for all he has done for our cherished institution."
While he's stepping down as dean, Dennis made it clear that he isn't retiring. He'll continue teaching classes on information systems and services as a professor in the iSchool, and he hopes to develop more courses in database concepts to meet growing demand.
Dennis also will continue his work on the FSU Health Big Data Initiative, a project intended to create secure computing infrastructure for FSU research and education.
"When I think about my career at Florida State and where it is now and the opportunities I have next, it's clear to me that Florida State is committed to helping make people successful, and I think that's one of the best things about working here," Dennis said.
Steve McDowell will serve as interim dean of the College of Communication and Information while the university conducts a national search for the position.
For more information about the college and its programs, visit cci.fsu.edu.