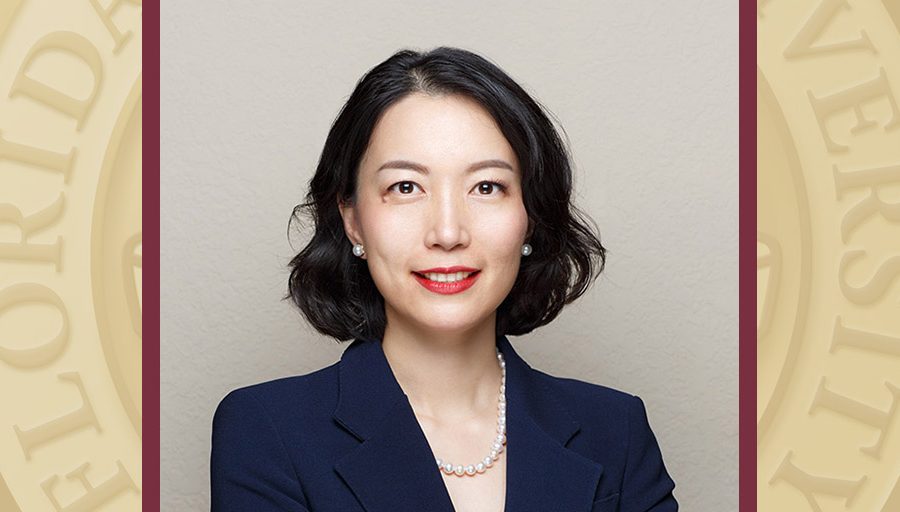 Florida State University Provost Sally McRorie has announced Jing Wang as the new dean of the College of Nursing. She will start the role Aug. 16, 2021.
Wang, an interdisciplinary trained researcher, educator, policy and executive leader in nursing and higher education, currently serves as the vice dean for research at the University of Texas Health Science Center at San Antonio School of Nursing.
"We are excited to welcome Jing Wang to Florida State University and the College of Nursing," McRorie said. "The college is poised for growth, particularly in its research endeavors, and we are confident Dr. Wang is the right leader to move us forward."
A recognized national leader on digital health, which uses computing platforms, connected devices, software and sensors for health care and related uses, Wang said she's excited to join FSU during a time of rapid growth for the university.
"I am very intrigued by the College of Nursing's strong academic nursing programs and strengths on health equity research, as well as Florida State's collaborative spirit and strong focus on student success, especially for the first-generation students, and commitment to serve underserved communities," Wang said.
Wang likes to work collectively, as evidenced by her stimulated synergy with other academic institutions on precision health, artificial intelligence and 5G telemedicine initiatives. She's led academic industry collaborations with leading digital health companies and engaged local innovation hub partners, such as the Texas Medical Center Innovation Institute, in developing interprofessional education on mobile and connected health to prepare the next generation of health care professionals for a digital transformation of health care.
While at UT Health San Antonio, Wang founded the Center on Smart and Connected Health Technologies and held the Hugh Roy Cullen Professorship in Nursing. She oversaw and developed new research/grant infrastructure to support a significant growth in grants and contracts with a portfolio of over $25 million a year in projects ranging from nursing research, education and student success to clinical and community services contracts.
Prior to that, Wang was the John P. McGovern Distinguished Professor at UTHealth Houston, where she founded the Center of Excellence on Mobile and Connected Health within the Consortium on Aging. She was the first to be selected as the Robert Wood Johnson Foundation Nurse Faculty Scholar and Josiah Jr. Macy Foundation Macy Faculty Scholar. She also served as an adjunct faculty member in the School of Biomedical Informatics and School of Public Health.
Wang said she looks forward to bringing her expertise from two large academic health centers to the College of Nursing and plans to encourage new research and form partnerships that will strengthen its research portfolio.
"I hope to continue to foster excellence in research, education, clinical practice and community engagement at the College of Nursing and to lead the college to the forefront of health and health care in the state of Florida, nationally and globally," Wang said.
Wang's expertise focuses on the use of healthcare technology in interdisciplinary research, education and collaborative practice in the areas of aging, chronic illness management and primary care. An accomplished researcher, Wang studies how mobile and connected technology can optimize behavioral lifestyle interventions and improve patient-centered outcomes in chronically ill and aging populations, especially among the rural, underserved and minority populations.
The author of more than 100 peer-reviewed publications and presentations, Wang is the editor-in-chief of JMIR Aging and serves on the editorial board of the Diabetes Educator. Notably, Wang is also a fellow of the American Academy of Nursing and the President-Elect of the Asian American/Pacific Islander Nurses Association.
On the health policy front, she works with Centers for Medicare & Medicaid Services (CMS) as a Health and Aging Policy Fellow and is an American Political Science Association Congressional Fellow, and she serves as a Senior Scientific Advisor to Agency for Healthcare Research and Quality (AHRQ). She will be a Senior Policy Adviser to the Office of the National Coordinator for Health Information Technology (ONC) starting August.
Wang earned her Doctor of Philosophy in Nursing, Master of Science in Nursing, Multidisciplinary Master in Public Health and Graduate Certificate on Clinical and Translational Science from the University of Pittsburgh. She received her undergraduate degree at Jiangxi Medical College in Nanchang, Jiangxi, P.R. China.
Laurie Grubbs, who has served as interim dean since 2019, will remain with the college as a professor emerita.
Storbeck/Pimentel & Associates conducted the national search, and Randy Hanna, dean and chief executive officer of FSU Panama City, chaired the search committee.
The College of Nursing was founded in 1950 and its baccalaureate degree nursing program was accredited in 1952. With more than 7,000 graduates, the college has a proud history of preparing nurses for professional practice and research in diverse settings.
For more information about the College of Nursing, visit nursing.fsu.edu.