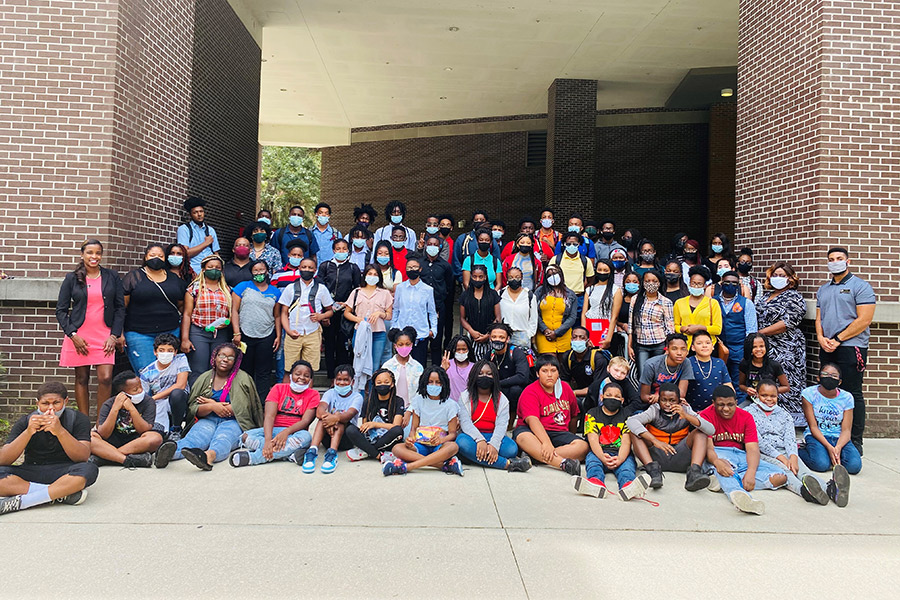 This summer, the Florida State University community welcomed a non-traditional group of students to their residential and lecture halls as part of the university's College Reach-Out Program (CROP).
Leon County students from R. Frank Nims and Griffin middle schools and Gadsden County High School students participated in CROP, an immersive residential summer program on FSU's campus. Implemented in 1992 as part of a statewide initiative funded by the Florida Department of Education, CROP serves schools in Leon, Gadsden and Duval counties and is designed to help students who meet certain education and economic criteria prepare for a successful college education.
Operated by FSU's Center for Academic Retention and Enhancement (CARE), CROP seeks to improve college enrollment for underrepresented populations through intensive outreach services. The project is fully funded and supported by Leon County, the City of Tallahassee and the College Board, and is part of a year-long mentoring and tutoring program at local Title I schools.
"While these students live and attend school just a few miles from FSU, many students have yet to visit a college campus," said Inika Williams, assistant director and director of Pre-Collegiate Programs at the Center for Academic Retention and Enhancement (CARE). "The goal is to change this by introducing the concept of college and college readiness as early as possible and leveraging resources from the community to make the dream of attending college an attainable goal for these students."
In addition to having the opportunity to experience on-campus living and dining, the program teamed up with the FSU National High Magnetic Field Laboratory to offer students its hallmark Camp TESLA curriculum during the day. Students also received specialized music lessons through the College of Music. The summer program closed with students attending an out-of-town college tour with mentors from CARE and participating in a Back-to-School Drive.
"It is at this level of integration and collaboration that a community is transformed," said Benny Bolden, principal of R. Frank Nims Middle School, who came to campus to observe the programming and visit students.
CARE's pre-college programs include CROP and Upward Bound and serve students who attend Title I schools from Gadsden, Leon and Duval counties. This summer, the programs welcomed a total of 90 middle and high school students over seven weeks in an effort to sustain students' academic gains through the summer break.
For more information, visit care.fsu.edu. For enrollment questions or to inquire about opportunities to partner with the pre-college programs, please contact Inika Williams at williamsi@fsu.edu.