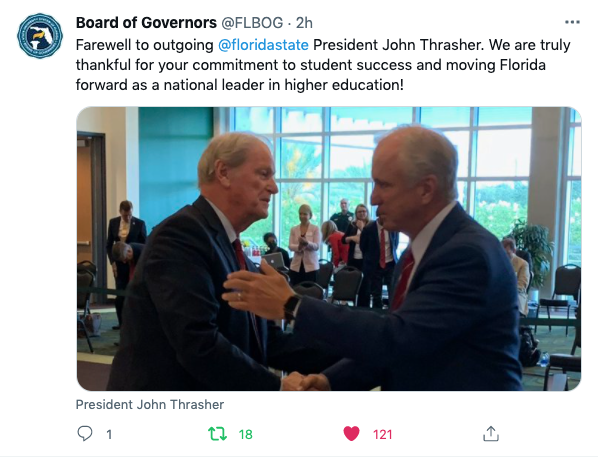 The Florida Board of Governors approved a resolution during its regular meeting Wednesday recognizing Florida State University President John Thrasher's exceptional achievements and service as the university's 15th president.
Syd Kitson, chair of the Board of Governors, thanked Thrasher for keeping students at the forefront of the university's mission.
"I've learned a lot from you," Kitson said. "I've learned about leadership and not being afraid to make difficult decisions. I don't think people realize what a president must face on a daily basis in terms of crisis management. You handled some incredibly difficult situations. It's remarkable to me the way you work with your students and the parents of your students and the experience you've given them at Florida State."
Thrasher thanked the board and said that when he enrolled at FSU at the age of 17, he probably had little appreciation for what it would do for him in his life.
"Education opened so many doors for me," Thrasher said.
In fact, he began his career in public service as a member of the Clay County School Board.
"It impressed upon me then the importance of education and what we can do for our young people," he said.
Thrasher spoke about his years in the Florida Legislature to serving as the first chair of the FSU Board of Trustees and nearly seven years as president of Florida State University.
"While I wasn't an academic when I got this job seven years ago, I did — as all of you do — love education, and it's made a difference in my life."
The resolution reads:
WHEREAS, Mr. John Thrasher has provided dedicated service to the State of Florida and to Florida State University, serving as its fifteenth President from November 10, 2014, to August 15, 2021, a period in which he advanced the school's academic and research mission, championed diversity and inclusion, and welcomed the best and brightest students in the school's history, and
WHEREAS, under Mr. Thrasher's leadership, Florida State University ranked among the Top 20 national public universities in the U.S. News & World Report Best Colleges guides in 2020 and 2021, and
WHEREAS, as Florida State University President, Mr. Thrasher furthered the university's commitment to student success, evidenced by a record number of freshman applications, a graduation rate that is first in the State of Florida and among the best in the country, a 95 percent retention rate of first-year students, and an all-time high enrollment of graduate students, and
WHEREAS, during his tenure, Mr. Thrasher presided over a period of campus growth with the addition of 13 new facilities, 37 major renovation projects, 23 major construction projects and $800 million of new construction, including a state-of-the-art Earth, Ocean and Atmospheric Science Building, a Black Student Union, and modern residence halls.
WHEREAS, to all his activities Mr. Thrasher has brought his personal and lifelong commitment to Florida State University, and during his tenure, he has been an outspoken advocate for excellence at the University; now therefore
BE IT RESOLVED that the members of the Board of Governors, meeting at the University of South Florida, St. Petersburg, Florida, on this twenty-third day of June, 2021, do hereby commend John Thrasher for his contributions to Florida State University and to the State University System, and do wish him well.