It may have come a little later than they expected, but the Class of 2020 gathered Saturday to celebrate their achievement of earning a Florida State University degree with all the pomp and pageantry of commencements past.   
The COVID-19 pandemic denied last year's graduating class the typical send-off but through three separate ceremonies at the Donald L. Tucker Center, they finally got to walk the stage, fist bump FSU President John Thrasher and smile for the cameras of proud friends and family members.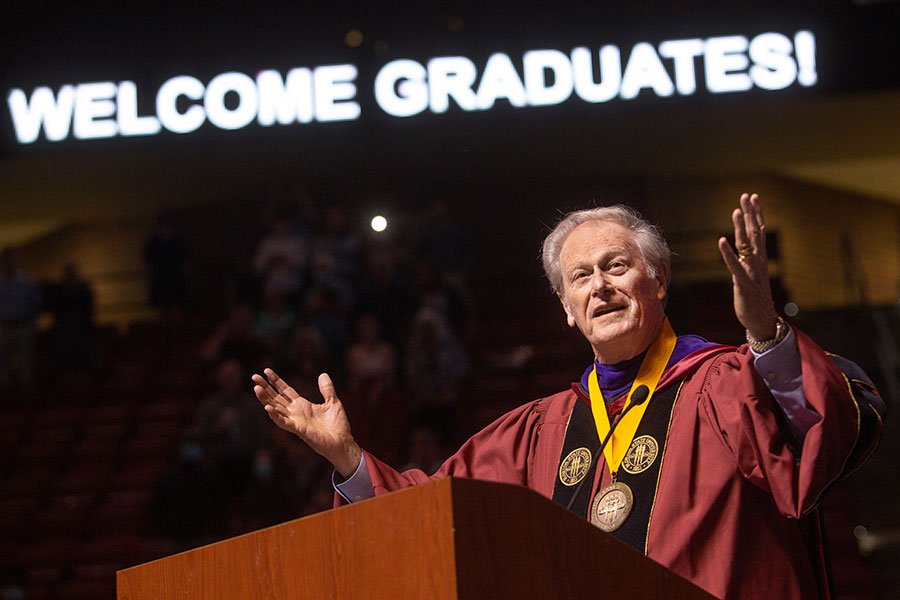 Thrasher presided over the three ceremonies and served as commencement speaker for more than 2,100 graduates who returned to campus to have their special moment. He offered the 2020 graduates his gratitude and admiration, and he wasted no time in setting celebratory tone. 
"After everything you did to finish your degrees amid a global pandemic — remote learning, virtual events, social distancing — you deserve this ceremony," he said. "I know many of you have traveled across the country to be here, so let's have some fun!" 
Thrasher's remarks were peppered with humor as he recounted the familiar points on the path many have taken through the pandemic. 
"In March 2020, when we asked you not to return to campus after spring break, I think we all hoped we would be back in a few weeks. And then the whole country — indeed, the entire world — went on lockdown," Thrasher said. "In between wiping down our groceries, logging onto Zoom classes, and binge-watching Tiger King, we had to figure out how to carry on in a strange, new normal."  
Thrasher commended the class' resilience and shared a secret with the thousands in the attendance. 
"Being a university president is a little like being a parent; you're not supposed to play favorites," he said, "but, Class of 2020, I want you to know that you will always hold a special place in my heart. Because it was your class that had to sacrifice so much so that we could all be safer. You gave up your in-person award ceremonies, your senior toast, and your walk across this stage in your cap and gown." 
Thrasher told graduates that despite the challenges, the pandemic showed us — especially students — that we are flexible, we can succeed in the face of adversity and that we are stronger than we realize.  
"These are the silver linings of 2020," he said. "The lessons you learned this past year — your willingness to adapt, the challenges you overcame, and your determination to persevere — will serve you well in life." 
In addition to commencement ceremonies, the FSU Alumni Association and Division of Student Affairs hosted a Happy Hour on Friday and Diplomas and Doughnuts on Saturday at Westcott Fountain, where graduates took photos and enjoyed refreshments with friends and family. 
Mikayla Owen, a Tampa native, was thrilled to return to campus to celebrate earning her bachelor's degree in information technology from the College of Communication and Information. 
"I am excited to finally fulfill the traditions I missed last year," she said. "I feel like I can experience all the amazing traditions seniors look forward to in their last semester since mine was cut short. I am so excited to be back to finish where I left off." 
Shortly after she left Florida State last year, she received an offer to work with Lockheed Martin as a configuration analyst.  
"The skills that I learned in the classroom have opened unimaginable opportunities for me," she said. "The biggest thing was learning how to build resumes, developing soft skills, network and how to present myself in front of my coworkers. Having that confidence while being the youngest in the room is a great feeling." 
Originally from Mandeville, Louisiana, Harrison Prieto played basketball at FSU for more than five years while simultaneously completing his meteorology degree from the College of Arts and Sciences.  
"The meteorology department allowed me to pursue my lifelong passion to understand the weather, climate and earth science in general," Prieto said. "Playing basketball for FSU has given me a family in Tallahassee that has supported me through school and my time here. The coaching staff has consistently been a point of mentorship for me throughout my career. The school itself has given me lifelong friends that I know I will remain close with forever."  
Since graduation last year, Prieto remained a part of the basketball program while pursuing his graduate degree in meteorology at FSU. 
"It was unfortunate that COVID-19 restrictions did not allow for a true commencement ceremony last year, but it is totally understandable, given a once in a century pandemic," he said. "It is really nice that the school is allowing 2020 graduates the opportunity to have a more typical graduation experience." 
Prieto plans to celebrate commencement by spending time with family and friends.  
"I will forever be thankful to FSU for my undergraduate degree and the life experiences I've gained from being here," he said. "I could not imagine spending my time at any other school. Go Noles Forever!"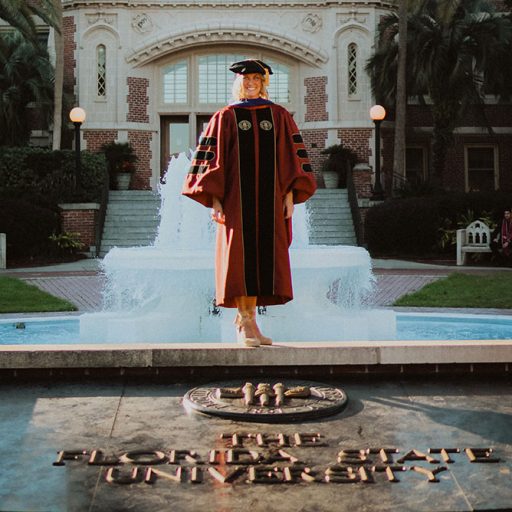 Elise Lael Kieffer, who completed her Ph.D. in art education with a focus on arts administration from the College of Fine Arts, truly enjoyed the ceremony. 
"My family sacrificed much for me to complete this degree," she said. "Through every obstacle, challenge, and change, they supported me. This moment means that it was all worth it, for all of us." 
Even before COVID-19, Kieffer had been unable to walk in any of her previous graduation ceremonies due to multiple factors, so this event was truly special to her. 
"Being able to don my regalia and walk across the stage is priceless," she said. "It is, for me, as if the sum of my entire educational experience is exemplified in that short walk across the stage." 
In July, she begins a new role as program director and assistant professor of nonprofit leadership studies at Murray State University. 
"Day by day, the professors in the art education department were there for me, guiding me; helping me become the researcher they believed I was capable of becoming," she said. "I learned and grew more than I thought possible. I can never convey the depth of my gratitude."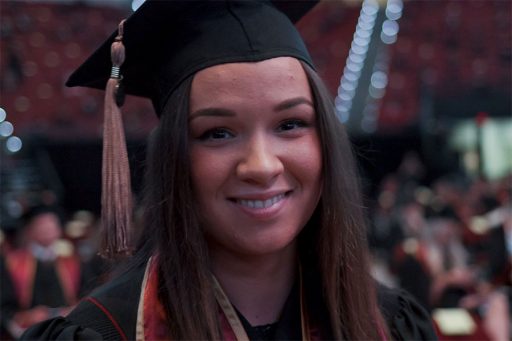 Andrea Duca graduated with a degree in marketing in Spring 2020. Since then, she's been working for Unum, an insurance agency in Tampa, as a small business consultant. As a first-generation college student, participating in the make-up commencement ceremony was an important milestone for Duca and her family.  
"My parents were not fortunate enough to go to college, so it was a big deal for them to pay for my college and to see me walk across the stage and ultimately just be together with my friends at our final ceremony," Duca said. "We didn't see each other when we left, so it's nice to get a one-year reunion and a graduation ceremony in one."

Thrasher was also the recipient of his own special moment in the form of a surprise farewell as deans from multiple colleges assembled onstage at what was scheduled to be the end of the ceremony. Thrasher's wife Jean, a fixture on campus herself over the past seven years, also took the stage.
Mark Zeigler, an alumnus and teaching professor in the School of Communication who'd read the graduates names as they crossed the stage, called for Thrasher to return to the podium.
While reading the "graduation" card for John E. Thrasher, Zeigler praised the outgoing president and Mrs. Thrasher for their service to the university, saying they made FSU and all of us better.
"We are eternally grateful to you, to Jean and to your family," said Ziegler.
A round of applause grew into a standing ovation as students, faculty and administrators sent their thanks to the Thrashers. Seizing the moment, Thrasher moved toward the edge of the stage and led the crowd in the Warchant before taking his own graduation march across the stage and then making his traditional ceremonial exit.