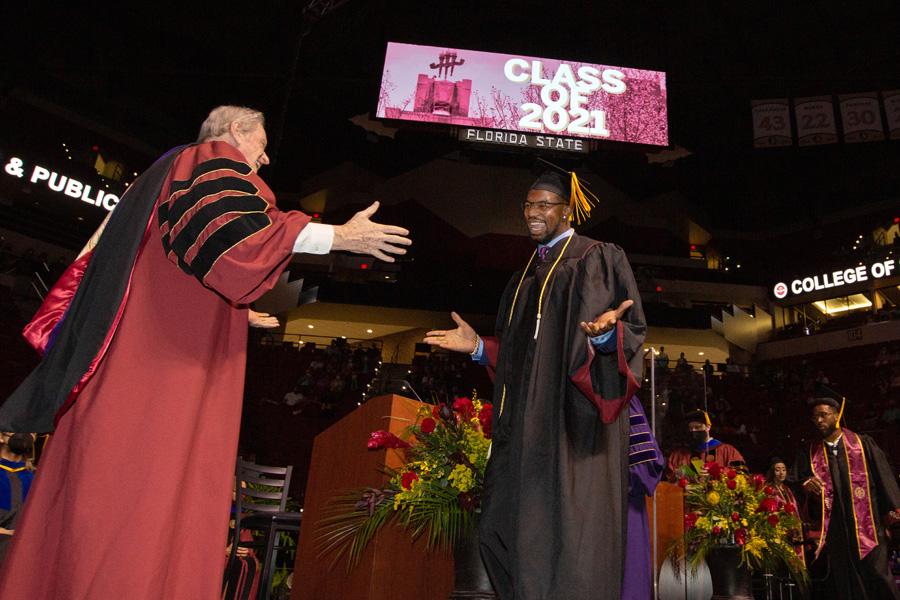 PHOTO GALLERY: APRIL 23-24 | STORY: APRIL 17-18 | PHOTO GALLERY: APRIL 17-18 
Florida State University President John Thrasher urged new graduates to use the knowledge they have gained at FSU to make the world a better place in his commencement address delivered at six in-person ceremonies Friday, April 23, and Saturday, April 24, at the Donald L. Tucker Civic Center. 
FSU held a total of 11 commencement ceremonies this spring, including five ceremonies last weekend, to allow for safe social distancing.  
Thrasher reminded graduates and their guests how special the occasion was in light of the pandemic.  
"I'm absolutely thrilled that we are able to gather together today, in person, for your graduation," he said. "Nothing gives Jean and me more joy than seeing students we have come to know over the years cross the stage in their caps and gowns, having achieved their dreams of a Florida State University degree." 

Thrasher, who has served as FSU's 15th president since 2014, is set to retire this year. 
He presided over each ceremony and served as commencement speaker. 
"These ceremonies for the Class of 2021 will always be extra special to me for another reason — they will be the last that I will preside over as president of Florida State University," he said.  
Thrasher praised the transformative power of universities and said FSU has been part of his evolution since his time here as a student and now as president.  
"And just as the university changed us, we changed the university — we all have left our mark on FSU," he said. "Although this ceremony comes as I wind down my term as president — and it signifies the end of your journey toward earning a bachelor's, master's, specialist's or doctoral degree — I'm reminded of the true definition of commencement. It isn't the end — it's a beginning. The start of something new."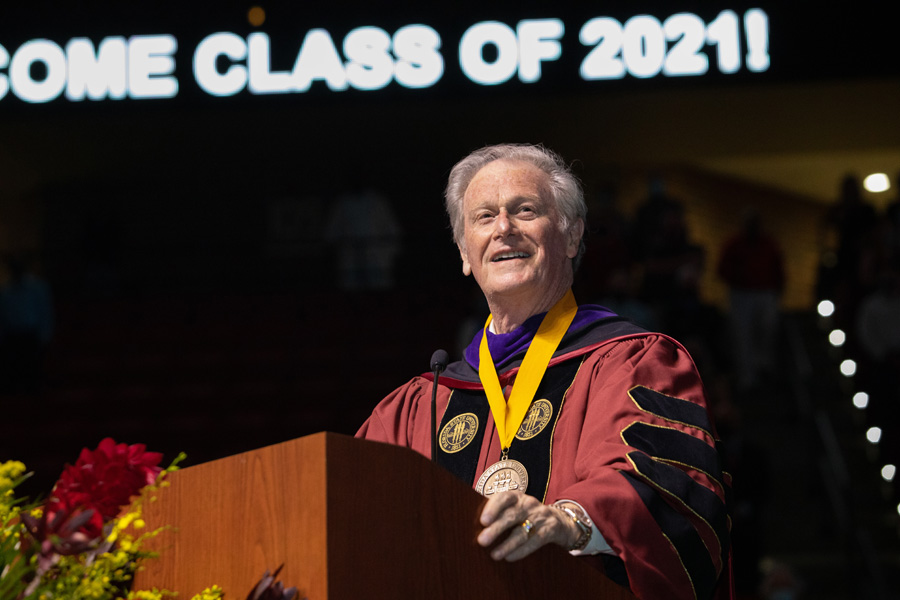 Thrasher also shared some important lessons he learned since earning his bachelor's degree in 1965 and his law degree in 1972. He encouraged graduates to have the courage to step into the unknown. 
"Someone once said, 'There is no failure. Either you win or you learn,'" he said. "That certainly has been true for me. I'm reminded of the first time I ran for state representative, and I managed the campaign myself — I didn't win, but I sure did learn … to hire a campaign manager!" 
Thrasher reminded graduates to balance the passion of their convictions with civility toward others. 
"Stand up for what you believe in, but remember — if you want to be heard, you must also listen," he said. "Think of how much kinder this world would be — and how many problems could be solved — if only we would take the time to truly understand one another." 
He also emphasized to graduates the importance of giving back and believing in something bigger than themselves. 
"Wherever your journey takes you, I challenge you to take what you have learned here and make the world a better place," Thrasher said. "That's what Florida State has prepared you to do. We need you now more than ever." 
Florida State awarded degrees to 7,251 graduates this semester. That includes: 5,531 bachelor's degrees, 1,166 master's and specialist degrees, 180 doctorates, 206 juris doctor degrees, 42 juris master's degrees, 7 LLMs and 119 MDs. 
---
Notably, two of Friday's graduates are members of the Seminole Tribe of Florida.  
Graduating from FSU is especially meaningful, said Kirsten Doney, because of the university's close ties to her tribe. Doney earned a bachelor's degree in interdisciplinary social science with a minor in communications.  
"The connection between FSU and the Seminole Tribe of Florida is so strong," she said. "Because of the relationship of the tribe with Florida State, it's made my connection greater." 
Doney said her experience at FSU has been nothing short of life changing.  
"I'll forever be grateful for the opportunities I've been given, the life-long friendships I've made and the connections I've created in and outside of the classroom," she said. 
Doney's brother, Kyle, graduated from FSU in 2007. 
"We'd always come to football games when my brother was here," she said. "There was always an energy here. You could feel it going to the stadium and seeing the campus. Osceola, who was such a leader of our tribe, for him to be represented at every football game, is very powerful." 
Doney said while the past year has been a tough one for her and her family due to battles with COVID-19, FSU helped her set a solid foundation as she starts the next chapter of her life. 
"I've become a more well-rounded person, gained the confidence that if I set my mind and put my heart into something I am able to achieve my goals," she said. "I've discovered more of my creative side, and I've learned skills that have prepared me for the future to come."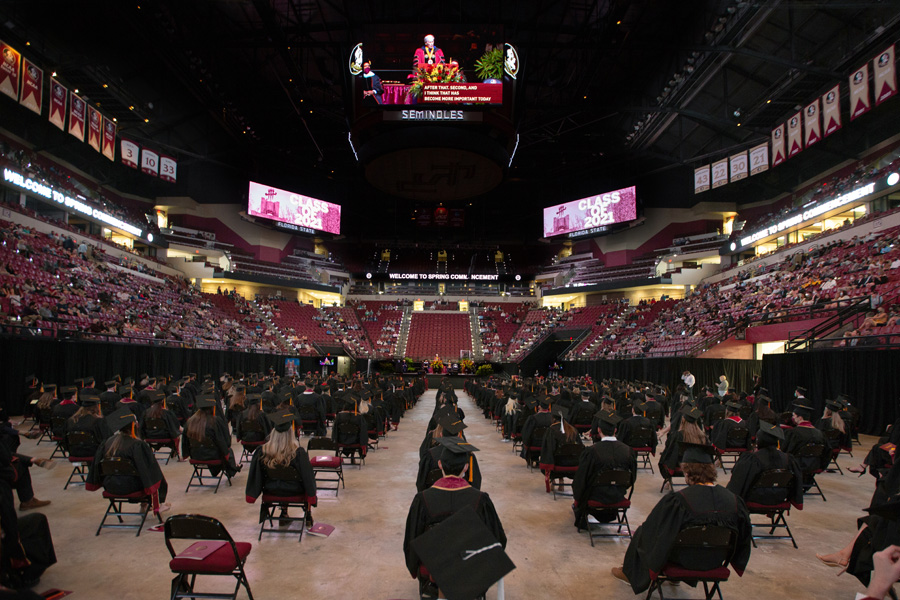 Brady Latchford, also a member of the Seminole Tribe of Florida, said he's proud to have earned his degree from FSU.   
"It's been an honor to attend a school that promotes the name of the Seminoles and represents the tribe with such respect and tradition," he said. "I'm grateful for the opportunity the Seminole Tribe and FSU has given me and proud to say that I received my degree from such a prestigious school."  
Latchford is from a long line of police officers that began with his great grandfather and continued through his grandfather and father. He graduated with his degree in criminology Friday and is excited to continue that tradition later this year when he attends police academy before beginning work with the Santa Rosa County Sheriff's Department.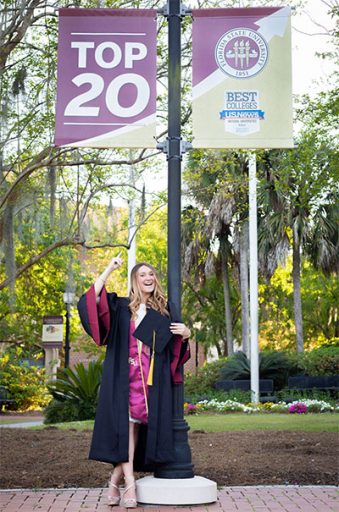 While Latchford's degree in criminal justice may have seemed like a forgone conclusion, he was grateful for the vast opportunities FSU presented. 
"There are so many pathways that I could have taken during my four years here," he said. "I'd had people tell me that my FSU experience would be one that I'd make for myself. It was all up for me to choose. I followed my interests, and I'm happy I did." 
Jennifer Ralph, from Plantation, Florida, graduated summa cum laude Saturday with a bachelor's degree in media communication studies. She was thrilled to celebrate alongside her immediate family and know her extended family was watching the livestream.  
At FSU, Ralph took advantage of the opportunities the university presented to her.  
"My time as an undergraduate student at Florida State has truly shown me that you can do anything at FSU, and the faculty, staff and students will support and encourage you along the way. I have grown leaps and bounds thanks to all the incredible experiences FSU has provided me with over the last three years." 
Ralph completed the FSU Honors Program and Undergraduate Research Opportunity Program (UROP), studied abroad with FSU's Florence program and was inducted into the Garnet and Gold Scholar Society. For the past two years, she's gained valuable professional experience through the InternFSU program as a news writer for FSU's Office of University Communications. 
In the fall, Ralph will start graduate school at FSU as part of the Integrated Marketing Communication program.  
"What I love most about FSU is the beautiful campus and how everyone knows everyone," she said. "Together, these things bring a sense of community and pride that make me excited to continue with my graduate education at Florida State."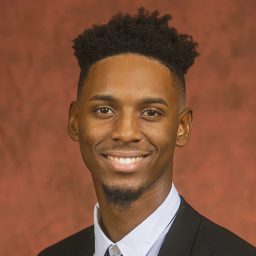 On Saturday, Kenneth Frazier became the first person in his family to earn a college degree. Frazier, from Altamonte Springs, Florida, graduated Saturday with a bachelor's degree in management from the College of Business.  
"The best way I can explain this feeling is, it's surreal," he laughed. "I am super excited and incredibly proud to have done this. It's definitely a milestone for me and my family. It feels like there's a generational barrier that's been broken."  
Frazier said the FSU Center for Academic Retention and Enhancement (CARE) program played a crucial role in attracting him to FSU. CARE's mission includes the retention and success of first-generation and traditionally underrepresented students who have been disadvantaged through economic or educational circumstances. 
"Being a first-generation college student, I learned that being in a community of people makes things a lot easier," he said. "Community is very important to me, and I've learned here the last four years that you can't do everything yourself. I felt very early on that community is something that is emphasized at FSU, and I still feel that way."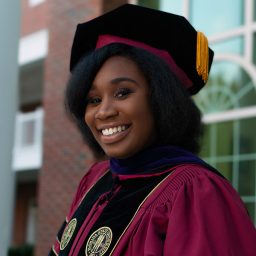 Oluremi "Remi" Abiodun, from New Orleans, graduated this weekend with a joint degree — her Juris Doctorate from the College of Law and Master of Social Work from the College of Social Work.  
"FSU has embraced me in actualizing the dream of my joint-JD and MSW," she said. "These four years have been, although rigorous, one of the most rewarding experiences."  
Abiodun, who was chosen as the student speaker for the College of Social Work's virtual graduation celebration, also participated in Sunday's College of Law ceremony at the Donald L. Tucker Center.   
Abiodun served as the 2020-2021 National Mock Trial Director for the National Black Law Students Association and a teaching assistant for Florida Legislative Practice at the College of Law. She also headed the law school's mentoring program at Griffin Middle School and worked at the Department of Children & Families as Florida Gubernatorial Fellow. 
Next, she will work as a fellow at the Louisiana Center for Children's Rights. In that role, she will advocate for access to education, substance abuse treatment, mental healthcare, healthcare, and programming for juveniles serving life sentences.   
"This is not just about me; it is a dream come true to share this with my loved ones who have been my motivation, loved me and supported me from day one," she said.  
All ceremonies are archived at https://learningforlife.fsu.edu/fsu-graduation/.