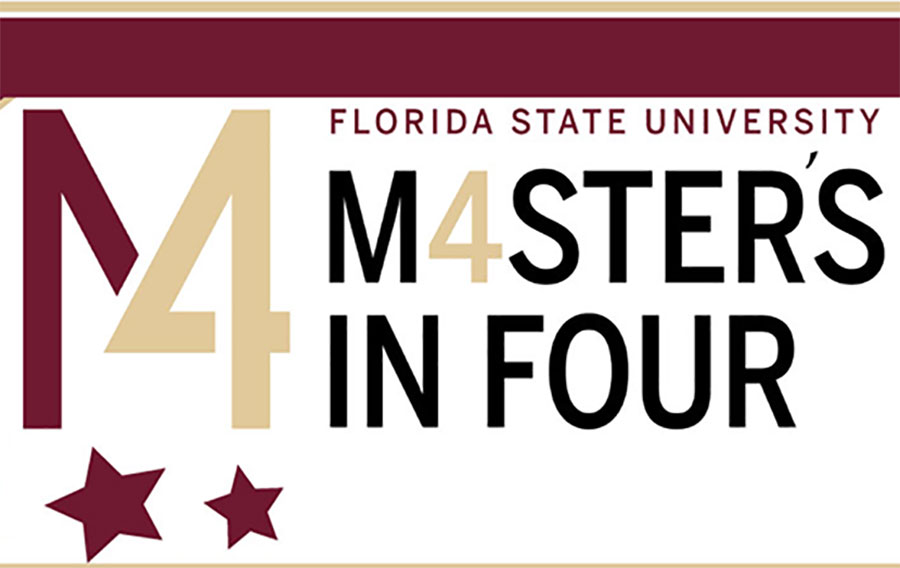 A graduate student from the Department of Religion won first place in Florida State University's third-annual Master's in Four (Min4) competition sponsored by the university's Graduate School.
Guanxiong Qi, an international student from China pursuing a master's degree in religion, won first place for the presentation, "How Buddhist Monasteries Became Tourist Destinations in 17th-Century China."
The competition, for master's students who have earned 18 hours toward their degrees, gives students four minutes to present four slides and clearly and simply explain their specialized research to a diverse audience. Judges assess the effectiveness of each presentation based on numerous criteria, such as the strength of the introduction, how evidence-based information is presented in an easily understandable format, and the overall quality of oral communication.
"I feel really fortunate to participate and share my research in the Master's in Four competition, and I feel grateful for winning first place," Qi said. "I think the Min4 competition is a unique and precious platform for me to communicate with a general audience. Most of the time, academic studies tend to be exclusive, and one only has dialogue within one's disciplinary field. Participating in the Min4 enhanced my ability to convey my research to non-specialists in a short period of time, and it is my honor to be recognized in the contest."
Second place went to Corrie Ostrander's presentation, "Interior Design in State Behavioral Health Facilities: How Interior Design Can Impact Patient Wellbeing," and Briana Acevedo's presentation "Emergent Literacy Training for Parents of Children with Hearing Loss" won third Place.
Quishan Liu, an international student from China concurrently pursuing a master's and a doctorate in the field of psychology, was awarded the People's Choice Award for her presentation, "How Does Inhibition Play a Role in Math?"
"Winning the People's Choice Award encourages me to continue to improve my communication skills and make my research more accessible," Liu said. "I am very grateful for the support I have received from my colleagues, my adviser, my friends and family. I certainly could not win this award without their support."
This year's competition was conducted virtually with the competitors' videos and embedded slides first viewed and ranked by Min4 preliminary round judges.
Seven finalists were selected to compete in the second round of the Min4 Competition: Briana Acevedo, School of Communication Science and Disorders; Quishan Liu, Psychology; Corrie Ostrander, Interior Architecture & Design; Olivia Perron, Interior Architecture & Design; Alexandra Pippin, English; Guanxiong Qi, Psychology; and Jonathan Stern, Educational Psychology & Learning Systems.
The Min4 finalist judges were Professor Debra Fadool, Dean of the Jim Moran College of Entrepreneurship Susan Fiorito, Interim Vice President for Research Laurel Fulkerson, Director of the Center for Global Engagement Cindy Green, Assistant Provost Stephen McDowell, Professor Patricia Warren Hightower and Professor Mark Zeigler.
All four of the Master's in Four 2021 Competition winners will be recognized during the annual Celebration of Graduate Student Excellence event conducted virtually in spring 2021.
For more information and the full list of finalist videos, visit gradschool.fsu.edu/mi4.