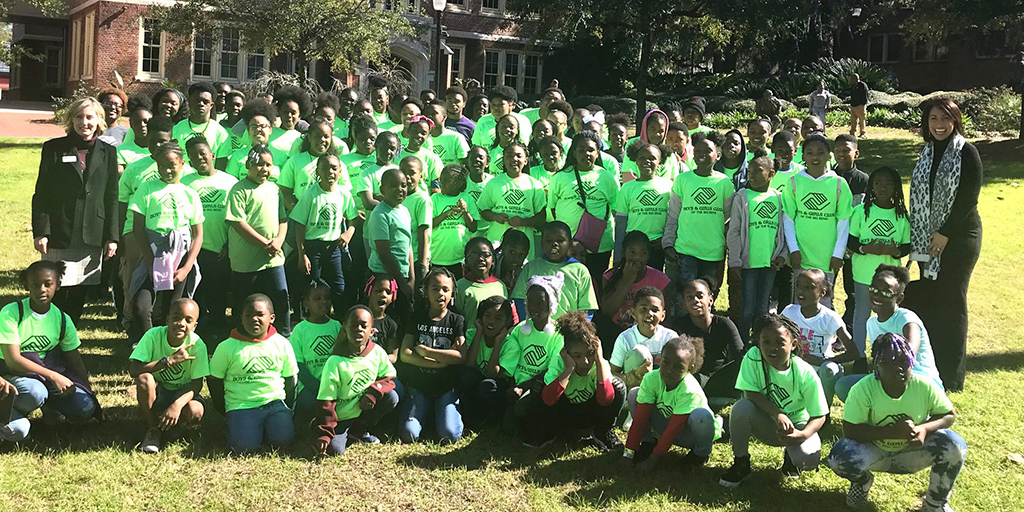 A grant from the Walmart Foundation is enabling 100 members of the Boys & Girls Club of the Big Bend to attend the PRISM show, part of Opening Nights at Florida State University, at 2 p.m. Sunday, April 11. The Boys & Girls Club members will also be provided lunch and enjoy an educational program prior to the performance. 
"As part of our commitment to supporting education, I am thrilled Walmart can partner with Opening Nights to offer Boys & Girls Club members this arts experiential learning opportunity," said Monesia T. Brown, director of public affairs and government relations for Walmart. "We believe exposing students to a variety of experiences – especially in arts and music — will inspire and encourage them throughout their lives." 
Before the concert, members of the Boys & Girls Club will be treated to an educational program about the different instrument families in the band led by Thomas Willmann, a graduate assistant at the College of Music. FSU Marching Chiefs and music student leaders will demonstrate the variety of instruments, play some recognizable FSU music and share the unique experiences that led to their music careers. 
Opening Nights and Walmart partnered in 2020 to provide the Boys & Girls Club of the Big Bend the opportunity to attend the PRISM concert. Due to the success of the event last year, Opening Nights and Walmart are partnering again. 
"Our students had a great time last year," said Kacy Dennis, director of operations for the Boys & Girls Club of the Big Bend. "This kind of in-person, experiential educational programming and performance is inspirational and eye opening for our students. Given that this past year has been so challenging because of the pandemic, the kids are looking forward to being able to attend this event and have some fun!" 
 About Opening Nights at Florida State University 
Opening Nights at Florida State University is the university's official performing arts presenter, bringing world-class talent to campus and the surrounding region. The organization's mission is to present compelling and distinguished artists who provide extraordinary experiences that educate, inspire and connect diverse audiences on and off campus. For more information, visit openingnights.fsu.edu. 
About Walmart in Florida 
Walmart Inc. (NYSE: WMT) helps people around the world save money and live better – anytime and anywhere – in retail stores, online and through their mobile devices. In Florida, Walmart serves customers at 384 retail units and online through Walmart Online Grocery, Walmart.com and our family of brands. We are proud to employ 106,375 associates in Florida. Walmart supports local businesses, spending $7.4 billion with Florida suppliers in FYE20 and supporting 87,793 Florida supplier jobs. Walmart continues to be a leader in sustainability, corporate philanthropy and employment opportunity. In FYE20, Walmart and the Walmart Foundation contributed more than $81 million in cash and in-kind donations to local nonprofits in Florida. Additional information about Walmart can be found by visiting corporate.walmart.com, on Facebook at facebook.com/walmart and on Twitter at twitter.com/walmart. 
About Boys & Girls Club of Big Bend 
The mission of the Boys & Girls Clubs of the Big Bend is to inspire and enable all young people, especially those who need us most, to reach their full potential as productive, caring and responsible citizens. By providing club members with academic support, extracurricular opportunities and positive adult role models, they aim to break the cycle of poverty for future generations of North Floridians. At each of their 7 Clubs, children are given the confidence needed to stay out of trouble, make good decisions and to work toward a healthy adulthood. For more information, visit bgcbb.org.