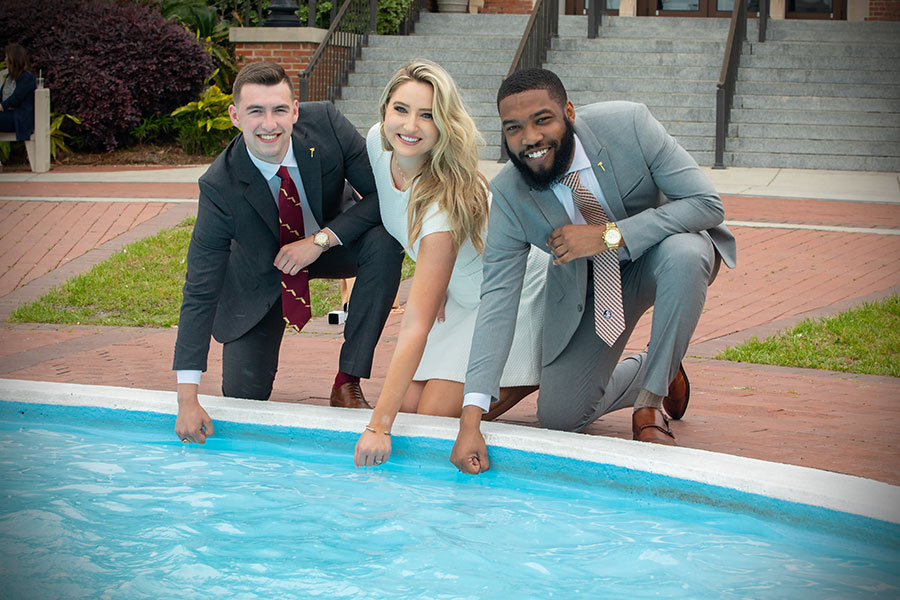 Florida State University graduating students marked an important milestone toward becoming FSU alumni during the annual Ring Ceremony Thursday, April 8.  
A hybrid event allowed students to pick up their rings in the afternoon and dip their rings in Westcott Fountain, as tradition dictates, along with a photo opportunity, snacks and souvenir items, following by a virtual ceremony.  
"The ring ceremony is one of my favorite Florida State traditions because it marks an important milestone as you move from college student to college graduate," said President John Thrasher during the virtual ceremony. "Although we are doing things a little differently this year, I hope you will take this opportunity to reflect on your time here at Florida State University and consider the many opportunities ahead of you." 
The virtual ceremony was broadcast at 6:51 p.m. on the Division of Student Affairs social media channels. The time of 6:51 p.m. is specifically selected because in military time 6:51 p.m. is read as 1851, the founding date of Florida State University. Along with President Thrasher, Vice President for Student Affairs Amy Hecht, and Dan Berger, chair of the FSU Alumni Association National Board of Directors, also delivered remarks to FSU's soon-to-be graduates.  
"I hope you wear your ring with pride, knowing you are part of the enduring legacy and tradition of one of the finest universities in the nation," Thrasher said. "And I hope you wear it with confidence, knowing that you have the knowledge and the skills to achieve your dreams." 
Florida State University will host 11 in-person commencement ceremonies later this month to celebrate its more than 7,000 graduates.