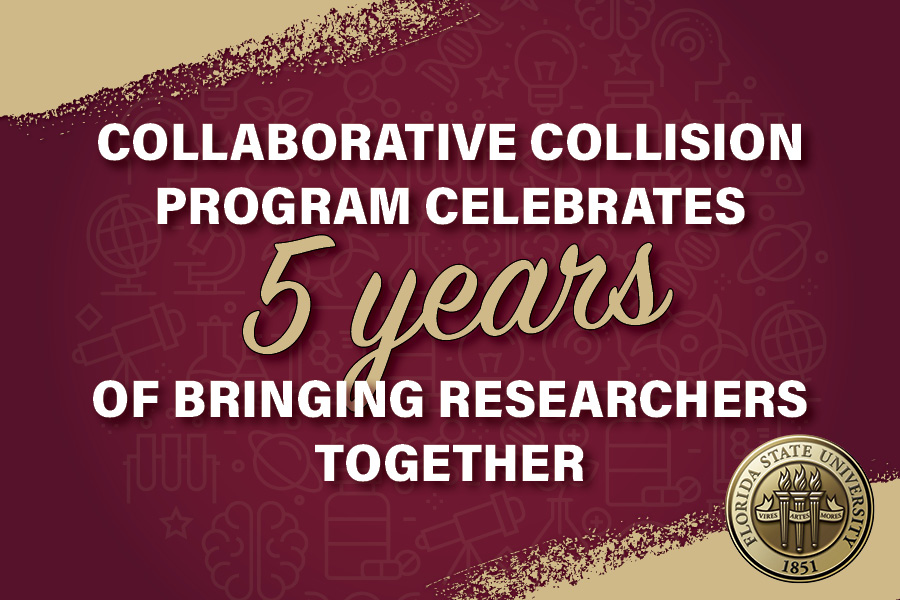 When Marcia A. Mardis and her research team were looking for collaborators for a new research project, they didn't know they would find them in Florida State University's College of Medicine.
Mardis is a professor and the associate dean for research at FSU's College of Communication and Information. Her team, which includes CCI faculty researcher Faye Jones, had been studying the effects of Hurricane Michael in the Panhandle, focusing on how librarians — who are emergency responders in the wake of disasters like hurricanes — were balancing their work and personal recovery.
It was Collaborative Collision, an FSU Office of Research Development (ORD) networking program, that helped her team connect with Scott Pickett, an associate professor in the College of Medicine who had been developing a mental health treatment for use after natural disasters.
"We had the problem, Scott had the solution — now let's figure out how we can help these two things go together," Mardis said.
Collaborative Collision — the program that helped their team get started — is five years old. ORD started the event to connect colleagues from across campus whose research interests might intersect and help them develop new, interdisciplinary research projects.
The program goes beyond basic networking by asking researchers to submit proposals for seed funding, giving them a goal to work toward to help catalyze the team's efforts.
"If you don't have anything to work on, it's difficult to keep that connection going and build a relationship," said ORD strategic initiatives manager Mike Mitchell. "But by offering these kinds of programs, we give them a reason to work together immediately. When they do so, even if they aren't awarded through our program, the experience of having worked with those other people on that team makes it much more likely that they will continue to work together."
Interdisciplinary research teams working on interesting problems also make for more competitive applicants for outside funding from federal organizations like the National Institutes of Health or National Science Foundation in the future.
"Collaborative Collisions have helped us make progress toward FSU's strategic goals," said Laurel Fulkerson, interim vice president for Research. "Building connections between colleges, departments and centers is key to increasing interdisciplinary research and teaching, encouraging entrepreneurship and innovation and fostering a campus culture that celebrates diversity and inclusion, all of which serve to enhance FSU's excellence and reputation, and strengthen our position as a top 20 public university."
Some of the teams that have met through the program include:
A group developing a magnetic nanoparticle application that can be used to determine if food has gone bad or been adulterated. Associate Professor Qinchun Rao from the Department of Nutrition and Integrative Physiology in the College of Health and Human Sciences had been studying the use of a type of spectroscopy to detect adulterants in meat and blood, but his research group had limited experience with nanoparticles. Associate Professor Daniel Hallinan, Jr. of the FAMU-FSU College of Engineering researches nanotechnology and had identified food safety as an ideal application, but he had no expertise in handling biological samples.

"Our meeting at Collaborative Collision was a quite unexpected solution to the problems we faced," Hallinan said. "Richard Liang from FSU's High-Performance Materials Institute also joined our team, and we've been working together ever since. The seed funding from the program has led to two manuscripts in preparation and the foundation for an external funding proposal from the U.S. Department of Agriculture."

A team studying the effectiveness of tornado warnings in the rural South. Researchers from the Department of Geography and the Department of Urban and Regional Planning in the College of Social Sciences and Public Policy are working with a colleague from the College of Social Work to understand how messaging around the threats posed by severe weather are interpreted by the public and how policymakers can make their messaging more effective.

James Elsner, a professor in the Department of Geography, was looking for projects to connect long-term changes in storms to people's lives, and a Collaborative Collision event focused on disaster resiliency brought together a team to look at that issue.

The format of the event "really cut down the friction and made it easier to find someone who might work well in a collaborative venture," Elsner said.
ORD has held more than a dozen Collaborative Collision events so far, including virtual events when the COVID-19 pandemic curtailed in-person meetings. Along with FSU faculty and staff, organizers have invited faculty from Florida A&M University and members of nonprofit organizations.
The latest Collaborative Collision is taking place from April 6 through April 8. In a nod to the program's founding, this event focuses on health, the same topic as the first event in 2016.
"The feedback we have gotten is that these events are helpful for connecting faculty, giving them a goal to work toward and starting them on the road to bigger projects that compete for external research funding," said ORD director Beth Hodges. "These conversations are the beginning of a process that culminates in successful research. FSU is invested in giving our faculty the tools to start those conversations and take them to the next step."
For the team developed by Mardis and Pickett — which has grown to include colleagues from the FAMU-FSU College of Engineering, the College of Social Work and the Department of Geography in the College of Social Sciences and Public Policy — those investments have paid off in the form of a funded grant from the National Science Foundation Civic Innovation Challenge program, multiple submitted proposals and the best paper award at the Association of Library and Information Science Educators' 2020 annual conference.
"Collaborative Collision was really helpful in that process," Mardis said. "For that program, we had to take our ideas and distill them down to about six pages. That helped us to focus on the most essential pieces, and we have taken that into other projects."