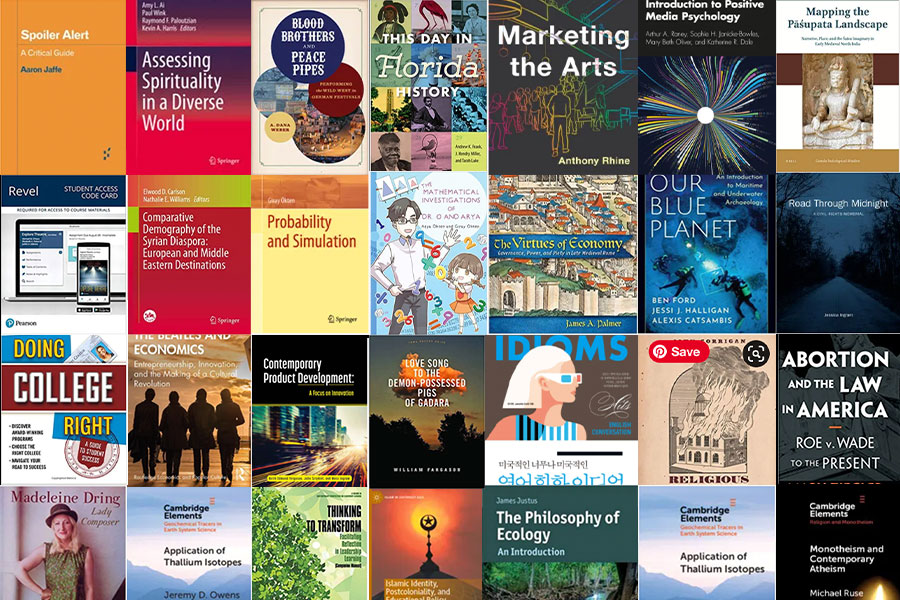 Every year, Florida State University Libraries and the Office of Faculty Development and Advancement host FSU Authors Day to celebrate published accomplishments by FSU faculty and staff.
This year, due to the pandemic, authors were honored digitally in lieu of an annual reception. A full list of FSU authors' works is available at https://fsulib.com/fsu-authors-day-2020-2/.
"The book is perhaps the longest-lived form of academic communication and idea exchange," said Margaret Wright-Cleveland, director of faculty development in the Office of Faculty Development and Advancement. "Its physical presence has grown with the times (e-books and interactive books), while its cultural importance reaches back centuries. These books by FSU authors will bring ideas and beauty to colleagues, students and the general public for years. We celebrate the effort, the accomplishment, and the conversation."
FSU Authors Day celebrates FSU faculty who have published books, scores or CDs in the past year. Focusing on topics ranging from an economic analysis of The Beatles to an introduction to underwater archaeology, this year's published works represent endless hours of research and learning as well as sacrifice, dedication and grit. They also showcase the diversity and variety of scholarship at FSU.
"The Libraries are delighted to recognize and celebrate our FSU authors," said Gale Etschmaier, dean of FSU Libraries. "The creation of new knowledge and scholarship is an important achievement and it is especially appropriate for the Libraries to recognize and honor our faculty and preserve their scholarly works."
Assistant Professor of Art Jessica Ingram published "Road Through Midnight," a collection of landscape photographs of the sites of pivotal events during the civil rights era. "Road Through Midnight" is the result of nearly a decade of research and field work that unlocks powerful and complex histories to reframe commonplace landscapes as sites of remembrance and resistance.
"It is encouraging to not only have my book celebrated by the university but also to have my research supported by the university, my college and department," Ingram said. "Publishing 'Road Through Midnight' required considerable time and focus and being faculty at an institution that prioritizes research is key to accomplishing these major projects and sustaining a successful creative practice."
Keith Ferguson is an assistant lecturer and entrepreneur-in-residence in the Department of Marketing at the College of Business. He co-authored "Contemporary Product Development: A Focus on Innovation," which engages learners with a proven framework to design, develop and go to market with innovative products that solve consumer problems while also supporting the mission, values and brand of the company which created them.
"It is an honor to be recognized by Florida State for the work my co-authors and I put into writing about product innovation," Ferguson said. "We produced a textbook that contributes to theory and practical application and helps students improve their personal lives and careers. I hope this signals to the world the great things that come from this preeminent institution."
Wanda Brister, associate professor of voice in the College of Music, co-wrote "Madeline Dring: Lady Composer," a biography that examines British composer Madeline Dring's life and music. She's been invited to FSU Authors Day previously for publishing CDs and volumes of music, but this was her first time being honored for a book publication.
"I was first invited in 2014 and have found Author's Day at FSU to be one of the most rewarding events the university holds," Brister said.
For more information and a full list of works, visit fsulib.com.