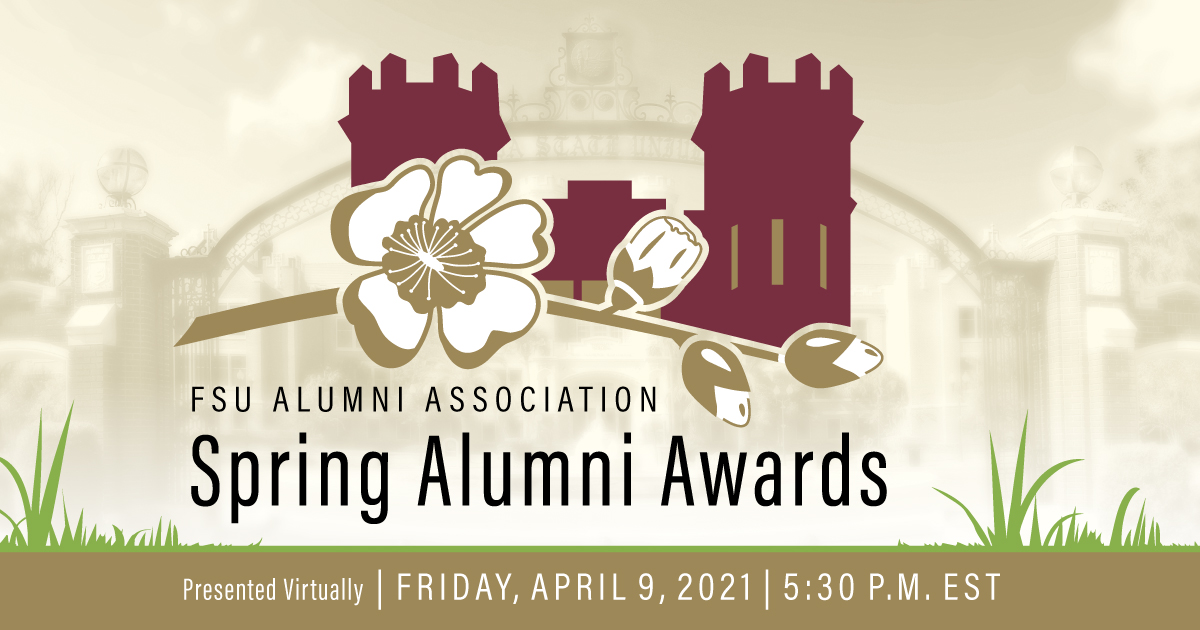 The Florida State University Alumni Association will recognize six members of the FSU family during the inaugural Spring Alumni Awards, presented Friday, April 9. The event will honor recipients of the Grads Made Good award, Alumni Ambassador Award Scholars and the Garnet & Gold Key's Ross Oglesby honoree.
"We are incredibly proud of this year's recipients of the Grads Made Good and Oglesby awards, as well as our scholarship recipients," said Julie Decker, president and CEO of the FSU Alumni Association. "Formerly known as the Homecoming Awards Breakfast, this new event is an exciting opportunity to increase the recognition for our graduates who are making outstanding contributions to their industry and to the FSU campus."
The Spring Alumni Awards will be a hybrid event, featuring opportunities for attendees to join virtually as honorees are recognized in person at 5:30 p.m. Friday, April 9. Access links are free for current FSU students, $10 for Alumni Association members and $15 for nonmembers.
---
Grads Made Good
The Grads Made Good award recognizes alumni who have made outstanding contributions in their community or chosen field. The Florida State University Circle of Omicron Delta Kappa, which originated the program in 1974, joins the FSU Alumni Association to co-present the Grads Made Good awards each spring. This year's recipients are Inez Elizabeth Cohen (B.S. '74), Neil St. John Rambana (B.A. '92, M.A. '96) and Bruce McNeilage (B.S. '88).
Inez Elizabeth Cohen (B.S. '74) is an educational consultant from Apollo Beach, Florida. Cohen has provided technical assistance to failing schools in urban school districts, focusing on the areas of school improvement, charter school development and management, closing the achievement gap and school-to-prison pipeline alternatives. She and her husband, George, have established two fully endowed scholarships at Florida State, determined to help as many students as possible cross the finish line of college completion. Cohen is a member of the FSU College of Education Development Council and the FSU Westcott Legacy Society, as well as a Life Member of the FSU Alumni Association and a former regional director for the FSU National Black Alumni Association.
Neil St. John Rambana (B.A. '92, M.A. '96) is senior partner at Rambana & Ricci, PLLC Immigration Attorneys in Tallahassee. Rambana and Ricci, the law practice he shares with his wife, Elizabeth, has been inducted to the Seminole 100 two years in a row. As a Caribbean-born person with nearly 20 years of practice in immigration law, Rambana regularly provides free legal advice for students from St. Maarten attending FSU and other colleges in Tallahassee and regularly shares his knowledge and experience with aspiring attorneys as a speaker at the FSU College of Law immigration clinic.
Bruce McNeilage (B.S. '88) is CEO and co-founder of Kinloch Partners, LLC in Nashville, Tennessee, which recently celebrated its second consecutive year as a Seminole 100 inductee. His enthusiasm and passion for making the American dream come true for thousands of people struggling with affordable housing has garnered considerable press and media acclaim, including the front page of the Wall Street Journal. McNeilage currently serves on the FSU Alumni Association National Board of Directors and frequently speaks to College of Business students.
---
FSU Alumni Ambassadors Scholarship
The event also will honor two recipients of the 2021 FSU Alumni Ambassadors Scholarship, Madison Fitzpatrick and Chris Hagemeyer.
Madison Fitzpatrick, of Tallahassee, is a senior pursuing a combined pathway master's degree in Communications and Media studies from the FSU College of Communication and Information. She is captain of the No. 2 nationally ranked FSU Beach Volleyball team and aspires to be a broadcast journalist. Fitzpatrick's career goals are to offer unbiased, honest and authentic journalism. She will use this scholarship to alleviate her parents' burden of college expenses for her continued education in graduate school.
Chris Hagemeyer, of Roswell, Georgia, is a third-year doctoral candidate in the FSU College of Medicine's Department of Biomedical Sciences. He plans to pursue an M.D. to increase his capacity to help those affected by cancer. Hagemeyer serves as speaker of the FSU Congress of Graduate Students and research assistant in the College of Medicine, focused on pediatric brain cancer and funded by a grant from the Live Like Bella childhood cancer foundation. He plans to use the scholarship to attend a computational genomics workshop this summer and pay expenses for his clinical research internship.
"The development of future leaders is a priority of the FSU Alumni Association National Board of Directors," said Dan Berger (B.S. '89), 2020-2021 chair of the board. "We recognize that leadership is inspired by an outstanding educational experience. To that end, the board established and continues the Alumni Ambassadors Award, which financially supports the process of leadership development for outstanding FSU students."
Ross Oglesby Award
The Ross Oglesby Award, which originated in 1973, is given each year by Florida State's Garnet and Gold Key Leadership Honorary to a faculty or staff member who has, for 10 years or more, exemplified the highest order of integrity, service and commitment to the university and its students. The 2021 Ross Oglesby Award recipient will be announced at the event.
For more information on the Spring Alumni Awards, visit alumni.fsu.edu/honors/grads-made-good.